Smallville Stars Explain Why They Turned Down Roles On Supergirl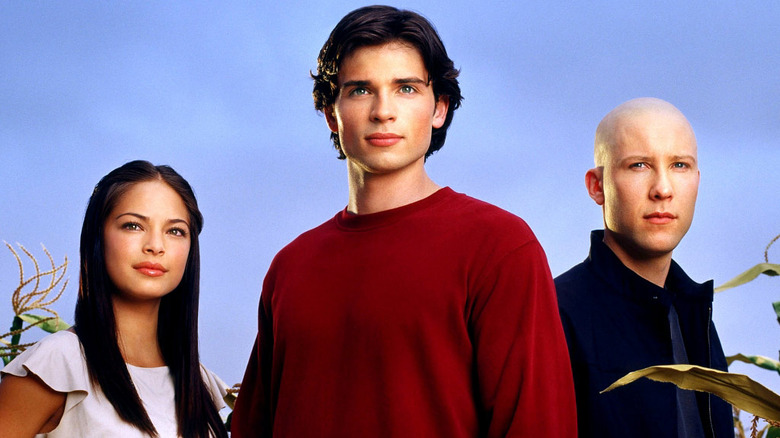 The superhero shows of the CW have a cozy relationship with each other, with crossover episodes between Arrow, The Flash, Legends of Tomorrow and Supergirl becoming increasingly common events. Not only do the shows share a world with each other, they each tip their hat to the past, with actors who previously worked in the world of DC Comics getting cameo spots in the new slate of shows. 
Examples of such cross-generational casting include John Wesley Shipp, who played Barry Allen in CBS' early 90s show The Flash, appearing in the CW's Flash as Barry Allen's father, or Helen Slater, who played Supergirl in the 1984 movie of the same name, and signed up for the Supergirl series as Kara Danvers' foster mother Eliza. But not every actor who's been extended the offer has taken it up, and Smallville leads Tom Welling (Clark Kent) and Michael Rosenbaum (Lex Luthor) recently revealed they'd been asked to appear in multiple shows in the Arrowverse, and declined.
The issue came up during a one-on-one discussion between the two actors on the 12th episode of Michael Rosenbaum's podcast Inside of You, on which they discussed their careers post-Smallville. (Via IBTimes)
"I've been asked to show up on some of these shows, whether it's the Arrow or Supergirl or things like that, and I don't think that's necessarily for me," said Welling.
"That's what they ask me too, and I say the same thing," said Rosenbaum, who then made clear that neither he nor Welling meant any disrespect. "It's because you gave them 10 years, I gave them seven, it was great. Also there's an ego to it. Supergirl is a show with a lead character and I don't want to come in and be a secondary character. That's not me right now."
Smallville premiered on the WB network in 2001, moving on to the CW after the network was created through a merger between WB and UPN. It ran for ten seasons, wrapping up in 2011. 
As for what the actors are up to now, Michael Rosenbaum recently had a cameo in Marvel Studios' Guardians of the Galaxy vol. 2, playing one of the original Guardians, Martinex. Tom Welling has a recurring role in his own corner of the DC Comics universe, with a recurring role on Lucifer on Fox. If you're feeling nostalgic, check out our feature on what the cast of Smallville looks like today.