Benedict Cumberbatch's Will Smith Joke On SNL Is Raising Eyebrows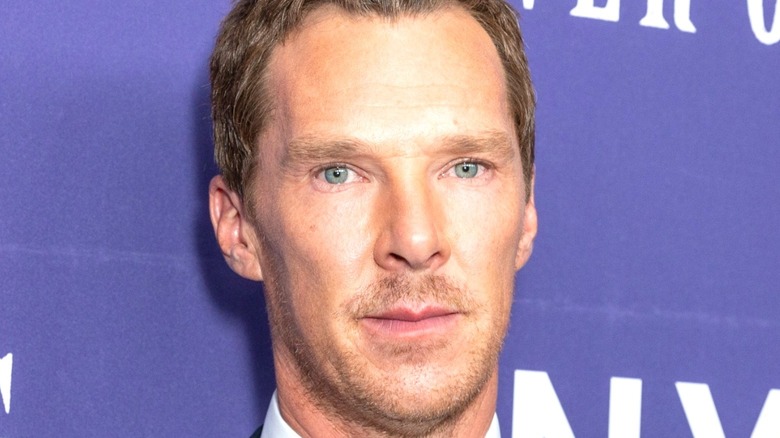 lev radin/Shutterstock
Hosting an episode of "Saturday Night Live" is no easy feat. It requires six days of around-the-clock work to put together a 90-minute show, and hosts have to be involved in the grueling process, as well (per Business Insider). Although it's a lot to take on, being asked to host "SNL" is seen as an honor and typically means you've made your mark as an entertainer.
The latest to grace the "SNL" stage was "Doctor Strange" star Benedict Cumberbatch. The actor hosted the show's Mother's Day episode on May 7 to coincide with the release of "Doctor Strange in the Multiverse of Madness," his latest Marvel Cinematic Universe outing. "SNL" had Cumberbatch in all kinds of sketches, including one in which he hilariously serenades children at Chuck E. Cheese. But before the show kicked into gear, Cumberbatch had the job of opening the episode with a monologue, and as many hosts decide to do, he drew from current events to prime the audience. Cumberbatch took the opportunity to talk about "Doctor Strange," of course, as well as give shout-outs to his mother and wife. And in the midst of it all, he also threw in a jab about the biggest pop culture moment of this year so far.
Viewers are divided about Benedict Cumberbatch's Will Smith joke
On the May 7 episode of "Saturday Night Live," Benedict Cumberbatch took to the stage for his second go at hosting the comedy sketch show. In his opening monologue, Cumberbatch first poked fun at the fact that his role as Doctor Strange in the Marvel Cinematic Universe far outweighs his other projects, including his recent Oscar-nominated work in "The Power of the Dog." It was then that he took the opportunity to reference the most-talked-about moment from this year's Academy Awards: Will Smith slapping Chris Rock on stage. While speaking about the Oscars, Cumberbatch joked, "I didn't win. I was beat by Will Smith ... not physically! Not physically."
Although Cumberbatch's joke was clearly meant to poke fun at the Smith/Rock incident, some on Twitter were shocked by the line. User @GemBiscuits wrote, "I can't believe BENEDICT said that..." Meanwhile, @WhiteGirlDancin insinuated they are done being a fan of Cumberbatch's and tweeted, "More low brow poor taste using Will Smith." And @JessRobyn44 expressed that they are over the Will Smith jokes in their reply to an article on Cumberbatch's line: "Don't they think it's a little stale and overplayed by now."
However, others thought the joke was hilarious, like @dbqandersons, who wrote that Cumberbatch's jab was "chef's kiss..." And @phaylen even proclaimed, "Benedict Cumberbatch wins best #SNL Monologue joke ever!"