The Benedict Cumberbatch Sketch On SNL That Will Live Rent-Free In Fans' Minds For Years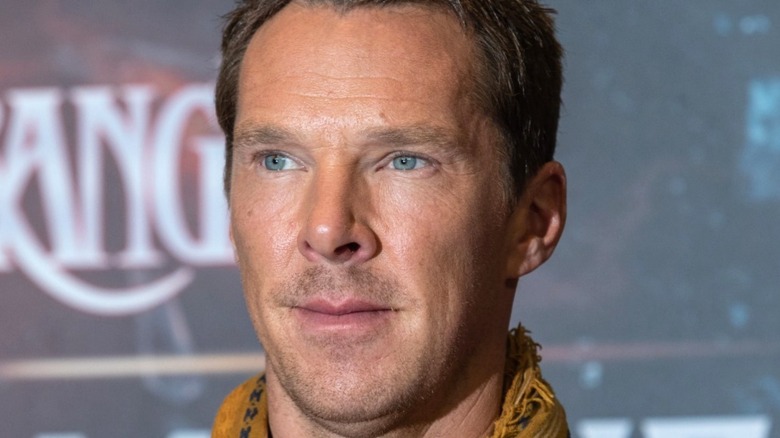 Tamir Kalifa/Getty
Every once in a while, a "Saturday Night Live" sketch comes along that instantly feels like it has the potential to be an all-time classic. No one can say for certain what the future holds, but it's possible that fans were treated to just that caliber of sketch during the most recent "SNL" hosted by "Doctor Strange in the Multiverse of Madness" star Benedict Cumberbatch.
In some cases, it's more than just the comedic value of a sketch that makes it stick in the brain for years to come. A catchy and hilarious song that makes you laugh whenever it plays on repeat in your brain is a great ingredient for a future "SNL" highlight reel. And when you have someone with actual vocal chops like Cumberbatch selling the music as well as the absurd lyrics, well, it's no surprise that fan response has been extremely positive for one particular sketch from the Marvel Cinematic Universe star's hosting stint.
Fans are ready to declare the Chuck E. Cheese sketch an instant classic
The sketch in question, simply titled "Chuck E. Cheese" after the popular children's pizza palace, stars Benedict Cumberbatch and Bowen Yang as Reflection Denied, a British new wave band whose heyday seems to have been in 1983. Due to some technical problems (and the fact that the manager of this particular Chuck E. Cheese is a big fan), they've been called in to substitute for Chuck E. and the Pizza Time Band. That's just the setup. The real brilliance of the sketch comes from the absurdly catchy melody of Reflection Denied's hastily assembled and age-inappropriate ode to the peculiar charms and infinite abyss of Chuck E. Cheese — particularly the salad bar.
Cumberbatch fans should enjoy seeing him flex his musical muscles with lyrics like "Oh pizza pie in the pizza sky," a line that will almost certainly run through your head the next time you order pizza. And according to YouTube comments, even Cumberbatch skeptics appear to be on board with the sketch. "I never cared for Benedict Cumberbatch," said commenter Anton Becker, "but this has won me over." Meanwhile, John Locke wrote in to say, "I would take my kids to chuck and cheese every weekend if these guys existed," while OneJumpFromEden declared, "[I] was extremely unsure of a skit about chuck e cheese, but this got more legendary by the second."