New Mutants Logo Teases A Mutant Bloodbath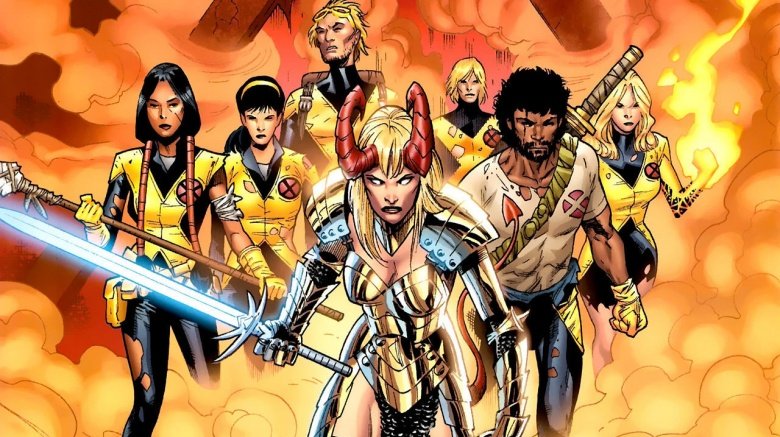 Marvel
The X-Men series has gotten a whole lot bloodier since Deadpool and Logan came around.
After previously saying that the movie would be "a full-fledged horror movie set within the X-Men universe", New Mutants director Josh Boone is doubling down on his promise with the reveal of the first, blood-streaked logo for the movie on Instagram. Take a look below.
On the surface, it's a classic Marvel Comics logo, the likes of which can be found on the covers of The Amazing Spider-Man, X-Men and of course New Mutants. The blood and three claw marks, however, suggest the movie will indeed send its superpowered characters down a dark and violent path. Specifically, the claw marks seem to foreshadow the appearance of the Demon Bear, a monstrous entity that in the comics terrorized the dreams of Danielle Moonstar, eventually threatening the lives of the entire team. 
Does this mean the New Mutants movie is shaping up to be a superpowered redo of The Revenant? We'll have to wait and see to be sure. Though much of the film's plot is shrouded in secrecy, Entertainment Weekly provided this synopsis: "Held in a secret facility against their will, five new mutants have to battle the dangers of their powers, as well as the sins of their past. They aren't out to save the world—they're just trying to save themselves."
Featuring an all-new cast of mutants, the film will star Anya Taylor-Joy of The Witch and Split as Magik, Game of Thrones' Maisie Williams as Wolfsbane, The Originals' Blu Hunt as Dani Moonstar, Charlie Heaton from Stranger Things as Cannonball, and Henry Zaga from 13 Reasons Why as Sunspot.'
New Mutants is set to be released on April 13, 2018, and you can check out a full picture of the logo below. To get a head-start on the new characters' adventures, read up on all the things you didn't know about the New Mutants.