Whatever Happened To SiliDog After Shark Tank?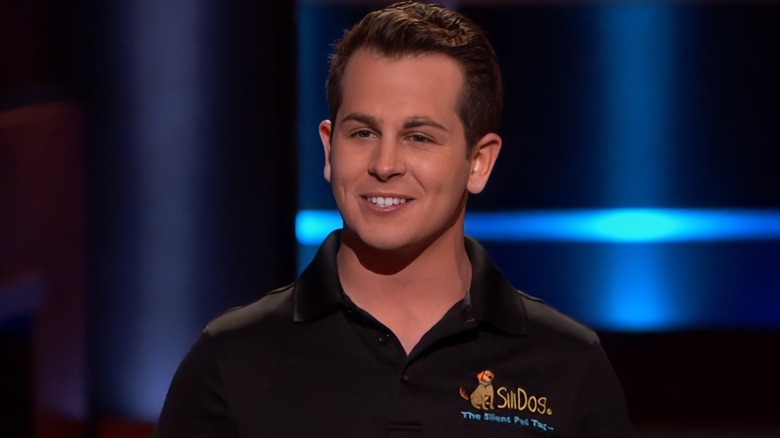 ABC/Christopher Willard
ABC's "Shark Tank" specializes in making the dreams of small business owners come true. One of those small businesses in question is Silidog, a company that sells silicon-based id tags for dogs, cats and other pets, which pitched their company to the Sharks in episode 805.
Silidog tags are unique because they don't jingle like other, metal-based products when a pet moves or scratches itself. Silidog tags aren't just quiet, they're large, easy to read and some versions of the product even glow in the dark; the printing on the tags also never fades due to age, wear, or rubbing as other tags might. Mikey Lickstein, who founded the company in 2014, created the products after being inspired by his rescue dog, Bentley, whose metal tags would jingle whenever he'd scratch at his skin in the middle of the night.
Silidog had already been selling its wares in 30 stores, vet's offices, and animal shelters (per its official website) and had been the subject of a successful Kickstarter campaign by the time it came to "Shark Tank" looking for $100 thousand in exchange for 15% equity in the company. The investors loved the tags so much that a bidding war set in, with the interested Sharks requesting a larger stake in the company. In the end, after a four-way battle between Lori Greiner, Robert Herjavec, Barbara Corcoran, and Kevin O'Leary, Lickstein took Greiner's offer of $100 thousand dollars for a 30% stake in the company and a $0.50 royalty on each tag until she made her investment back.
After all of that boardroom drama, fans of the show are likely quite curious to know if Silidog is still thriving.
Silidog is currently thriving as a business
Success found Silidog after its television appearance. Silidog remains an operating company, per its official website, and in fact the business appears to be thriving years after its appearance on "Shark Tank." SiliDog's product line has expanded, and it now sells 56 different pet tags at press time, with each tag going for $22.00. Shipping and handling on each order is free for American customers. Each Silidog tag remains fully customizable when it comes to text and tag colors, just as it was when Lickstein first started selling his products. The Silidog Instagram is still active, as well, and often posts pictures of the company's satisfied customers sporting their colorful tags in the wild. The brand has also expanded to include the SiliCat line of pet tags for felines.
Per Shark Tank Recap, the business now makes $8.4 million a year, and also supports 53 employees. The company donates to over 50 pet-related charities per its official website. That's quite a change from Silidog's humble origins (which, per the company's official website, began in Lickstein's garage). Silidog's long term success shows off Lickstein's devotion to his company, and it proves Greiner definitely has a good eye for a shrewd investment.