The Worst Supporting Character In All Of Rick & Morty
The sci-fi comedy animated series "Rick and Morty" has been one of Adult Swim's most successful and beloved shows since its debut in 2013. The Justin Roiland and Dan Harmon-created show follows the antics of a neurotic boy named Morty and his recklessly intelligent and alcoholic scientist grandfather Rick as they venture through varying dimensions and bizarre scenarios. Many of the characters, including Rick and Morty, are voiced by Roiland himself. The series has received endless acclaim for its humor and originality, earning a steady average of 94% on Rotten Tomatoes, while also amassing a massively loyal fanbase that continues to grow with each season.
One of the reasons the show has gained such popularity is its colorful cast of characters. Whether it's Rick, Morty, Summer, Beth, Mr. Poopybutthole, Birdperson, Mr. Meeseeks, Scary Terry, and many others, these characters have etched their way into pop culture to the point that they are almost as recognizable and quotable as characters from "The Simpsons." But as with every great show, there's always that one character that you wish you could forget. In the case of "Rick and Morty," one in particular stands above (or below) the rest and whose actions may push things too far, even for this show.
Mr. Jellybean is the absolute worst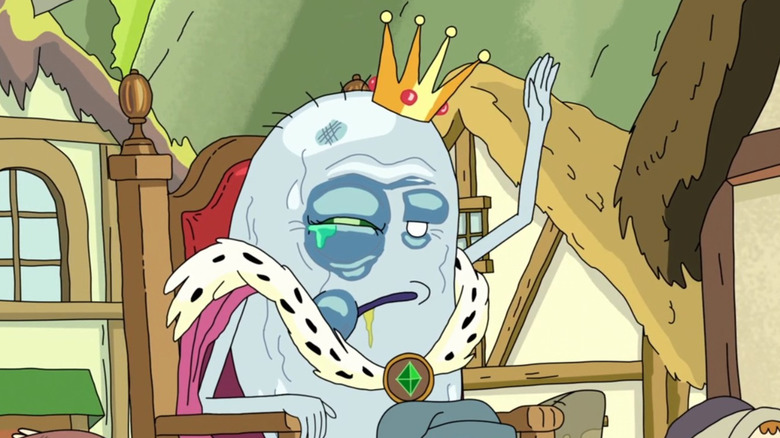 Adult Swim
In the episode "Meeseeks and Destroy" in "Rick and Morty" Season 1, viewers are introduced to the detestable Mr. Jellybean, voiced by Tom Kenny. In the episode, Rick and Morty are having an adventure in a new fantasy world. While stopping at a tavern, Morty enters the restroom to wash up. Here, he meets Jellybean, who comforts Morty when the boy believes that their adventure is getting out of hand. As Morty prepares to leave, Jellybean rubs his shoulders and tells him to "go with the flow."
Things escalate quickly as Jellybean throws Morty into an empty stall. Morty, realizing that Jellybean is trying to commit sexual assault against him, manages to fight back. He exits the restroom and asks Rick if they can go back home. When a bruised Jellybean also exits the restroom, Rick picks up on what has happened. As they prepare to leave, they discover that Jellybean is the king of the land. Rick shoots Jellybean, ending him for good. The after-credits scene shows one of the villagers learning of Jellybean's horrendous crimes after being shown a series of disturbing photos. However, rather than coming forth with the information, they choose to burn the photos and allow the village to remember Jellybean as a respected king, à la the ending to "The Dark Knight." To top it off, there is a very unfortunate statue that showcases Jellybean standing with a child.
It goes without saying that this character makes you question a lot by the end of the episode. In regards to the controversial nature of this episode, Justin Roiland stated that the particular scene is meant to be serious, while also apologizing to anyone who might be triggered. The only thing we can agree on with Jellybean is that he is rightfully taken out, but if that's his highlight in "Rick and Morty," what do the show creators' really accomplish?
If you or anyone you know has been a victim of sexual assault, help is available. Visit the Rape, Abuse & Incest National Network website or contact RAINN's National Helpline at 1-800-656-HOPE (4673).