Why SNL Fans Are So Divided Over Leslie Jones' Sketches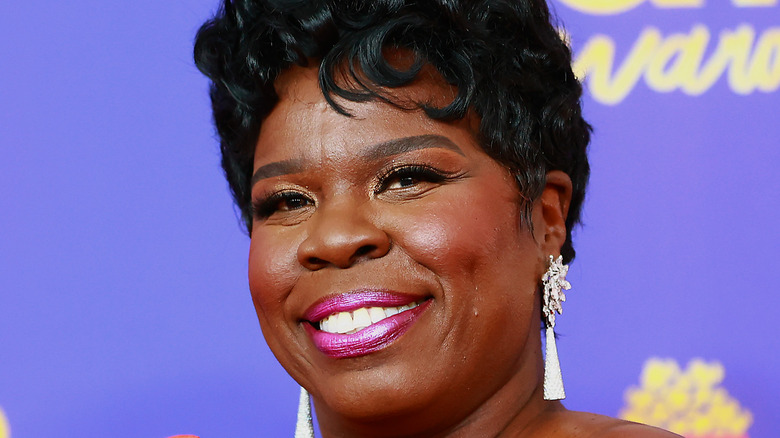 Matt Winkelmeyer/Getty Images
"Saturday Night Live" has been airing since 1975 and has featured a revolving door of cast members over the decades. While countless A-list celebrities have hosted the show, much of the online fan discussion centers around its cast members and how they stack up against their peers and their predecessors. "Saturday Night Live" has seen many of its cast members move on to bigger movie and television careers, from Chevy Chase and Will Ferrell to Amy Poehler and Kristen Wiig. 
Leslie Jones is yet another example of a comedian who used her time on the show to catapult her career into bigger projects. Jones was on the show from 2014 to 2019 and secured Emmy nominations for Outstanding Supporting Actress in a Comedy Series two times as well as one nomination for Outstanding Original Music and Lyrics. Since then, she's appeared in blockbusters like 2016's "Ghostbusters" and the recent sleeper hit HBO series "Our Flag Means Death." There's no doubt that Jones saw a lot of success during her time on "Saturday Night Live." However, when it comes to fan reactions, some of the fans remain divided about the quality of her sketches.
Some SNL fans believe Leslie Jones was not the strongest live performer
On the r/LiveFromNewYork subreddit, u/JustcallmeKai asked other users how they felt about Leslie Jones's time on the show. The responses, while mostly positive, did reveal some more divided opinions among the fanbase. u/wjbc admitted that she wasn't the best when it came to impersonations or constructing memorable characters, but that she was great at being the most hilarious version of herself. "But no one could do what Leslie Jones did as well as she did it. Like Chris Farley, she could be funny just by being herself, sometimes without saying a line," they said.
However, more than a few fans pointed out that they believed Jones wasn't exactly the strongest live performer. u/YesWeCantNotKnope believed that her real strength was in pre-recorded sketches rather than live ones. "She was definitely best in pre-taped sketches like Naked and Afraid. Watching her live was often times cringey the way she'd stumble over words. But she definitely had her moments." This was a sentiment shared by others, who found Jones to be a little weaker when it came to live comedy.
Still, the overall response to Jones and her tenure on "Saturday Night Live" was positive, with many of the highest-rated comments showing support for the comedian.