The Role You Might Have Forgotten Jimmy Fallon Had On Band Of Brothers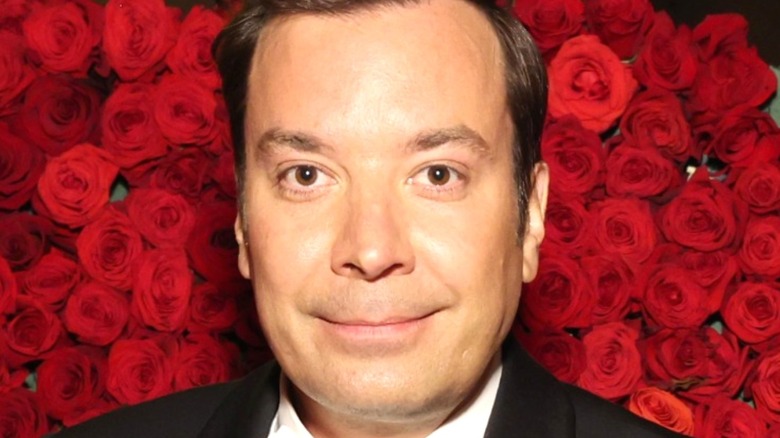 Cindy Ord/mg22/Getty
Before he was one of the familiar faces on late night TV, Jimmy Fallon had himself an impressive acting career going. The comedian exploded of course thanks to his six-year run on "Saturday Night Live" from 1998 to 2004, but during that time and in the years before "The Tonight Show with Jimmy Fallon" became a thing in 2009, Fallon tried his hand at acting, and he got some respectable parts. 
You'll mostly find him making cameos as himself in movies today (the most humorous of which has to go to "Jurassic World" — on YouTube), but he's mostly left the work of being a thespian in the past. He performed for some major filmmakers though, leading the Farrelly Brothers comedy "Fever Pitch" in 2005 and memorably appearing almost incognito in Cameron Crowe's "Almost Famous" in 2000. Fallon would also lead the comedy "Taxi" with Queen Latifah in 2004, and that movie is — well, it's a thing that exists. 
What many might not remember (even if they remember "Taxi") is that Fallon also worked with arguably one of the best casts on TV ever in "Band of Brothers," the World War II-set HBO miniseries produced by Steven Spielberg and Tom Hanks. Fallon didn't have as big of a role as actors like Ron Livingston or Donnie Wahlberg, but how many people can say they've been in a Spielberg/Hanks production when acting isn't what they are primarily known for? The episode Fallon appears in was even directed by Hanks. 
Jimmy Fallon plays George Rice in Band of Brothers
Fallon plays 2nd Lieutenant George Rice in Episode 5 of "Band of Brothers," titled "Crossroads." Directed by Hanks, Fallon's character can be seen driving an Army Jeep and dropping off ammo to the soldiers of Easy Company, part of the 101st Airborne Division.
In what's basically a cameo, Fallon enters the scene amid the beat-up soldiers, screaming for them to make a hole so he can get through. Rice introduces himself to Major Richard D. Winters (Damian Lewis) and Captain Lewis Nixon (Ron Livingston), with the men thanking him for the supplies. Rice warns them that they'll soon be surrounded, which doesn't concern Winters too much. "Good luck," Rice says before driving off and leaving the cast to five more episodes of hardship.
Fallon recalled later (via Parade) he had trouble driving the Army Jeep and it eventually needed to be pushed by others while he screamed out his lines. It may sound like a disaster stemming from stunt casting, but Fallon fit right into that world when he appeared on "Band of Brothers." Many likely even forget that the comedian appeared in the show, a compliment to how natural he felt with the rest of the cast. Perhaps the late-night host Fallon wouldn't blend in as well today, but his "Band of Brothers" role is one of the highlights from his short, but worthwhile acting career.