Legendary Batman Voice Actor Kevin Conroy's Pick For Best Live-Action Batman May Stir Some Debate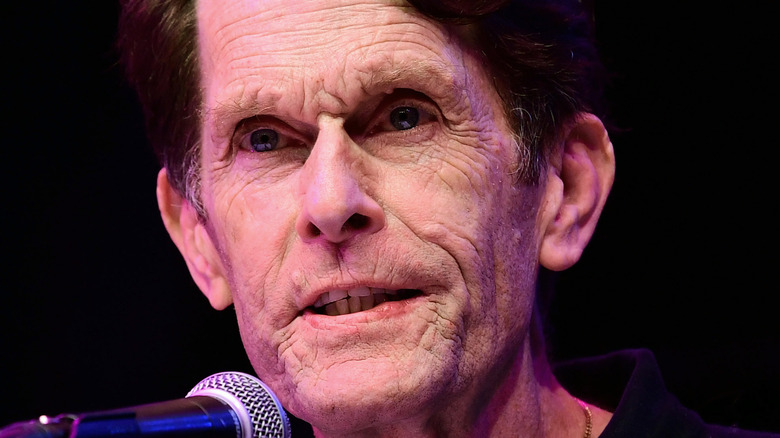 Chelsea Guglielmino/Getty Images
It's hard to deny that there is a more iconic voice actor for Batman than Kevin Conroy. The prolific voice actor is most famous for providing the voice for the Caped Crusader in the hit 1992 show, "Batman: The Animated Series." Showcasing a highly-stylized version of Gotham City and featuring a host of Batman's most famous friends and foes, the show was massively influential, providing the starting point that would birth the expansive DC Animated Universe that has since garnered an iconic status all its own. This was due, in no small part, to Conroy's grounded yet intimidating portrayal as both Bruce Wayne and Batman. The voice actor would continue to provide the voice for numerous projects beyond the series, including films such as "Batman: Mask of the Phantasm" and "The Killing Joke," as well as games including "Arkham Asylum," and "Batman: Arkham City" (via IMDb).
Conroy's renowned depiction of the character would go on to be considered an influential one, most notably in his choice to differentiate the voices of Bruce Wayne and Batman. It goes without saying his dedication to the Dark Knight, as well as the love from his fans, is unquestionably strong. And with all the other Batman variations that have come before and since, it may come as a surprise who he would pick as his favorite version of the character.
Michael Keaton is Conroy's favorite live-action Caped Crusader
In an April 2022 interview with the "I Hear Voices" podcast (via Facebook), co-hosts Christy Carlson Romano and Will Friedle asked Kevin Conroy who his favorite Batman is to date. Conroy commented how strange he found it that Warner Brothers didn't give the series to one person. He then said, "So when Michael Keaton did the first of the Batman movies I thought, 'Well, he's nailed it. He's got it. He's going to get the whole franchise because I love him as an actor." Conroy went on to describe just how hard it was to pick just one, and he highlighted aspects he loved about each of the live-action Batman actors. But, eventually, he concluded, "And so, I think it's impossible to pick one because they're all so different ... but to be honest, Michael Keaton, I think, if I had to pick one."
Starring in Tim Burton's two Batman films, starting in 1989's "Batman" and the 1992 sequel "Batman Returns," Keaton was a controversial choice at the time to play the character, with fans even sending in letters to the studio to change the casting, as The New York Times reported in February 1989. Those complaints would be put to rest when the film was released and the actor delivered a more than satisfying performance. Keaton reflected a new breed of Caped Crusader, one who was stoic, silent, and mysterious. The film was a game-changing superhero movie, earning over $250 million domestically (via Box Office Mojo). 
While the question of who's the all-time best Batman may never be solved, hearing one of the many legendary actors who played the iconic superhero drop his input certainly brings a unique perspective that is sure to start a conversation.