Sandra Oh Reveals Still-Disappointing Killing Eve Alternate Ending Details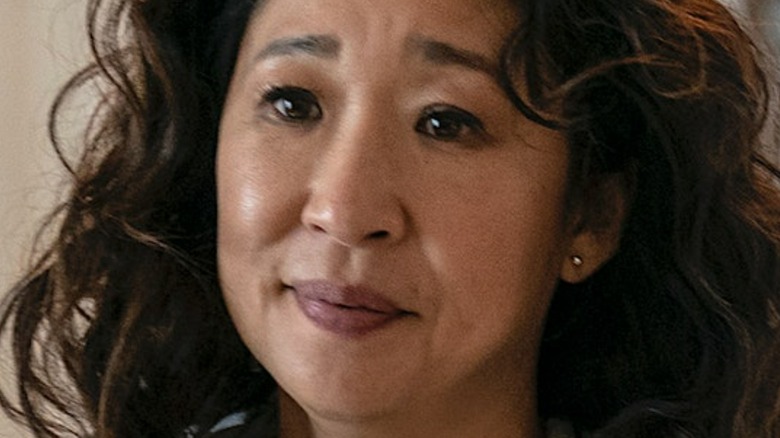 BBC America
Endings can be difficult to pull off in the entertainment world, especially when it comes to television. Some TV shows will stick around for years, fleshing out their characters and telling a story that has several twists, turns, and unforgettable moments. This can make it hard for some programs, such as "Killing Eve," to reach a satisfying conclusion. The BBC America thriller stuck around for a total of four seasons and developed a sizeable fanbase during that time — one comprised predominantly of people who despised how the plot wrapped up.
The series began with disgruntled MI5 agent Eve Polastri (Sandra Oh) leaving her post and subsequently joining MI6. She then takes on the task of tracking down Villanelle (Jodie Comer): a skilled assassin and member of a mysterious criminal organization known as The Twelve. Eve and Villanelle soon develop a complex relationship, and they become increasingly obsessed with one another. This connection eventually turned into genuine love, though they never got to realize it fully, thanks to Villanelle's controversial death in the final episode.
Now a few weeks removed from the end of "Killing Eve," Sandra Oh has discussed an alternate ending for the series that never came to fruition. All things considered, it still would've likely left most fans woefully disappointed.
Eve almost didn't survive the series finale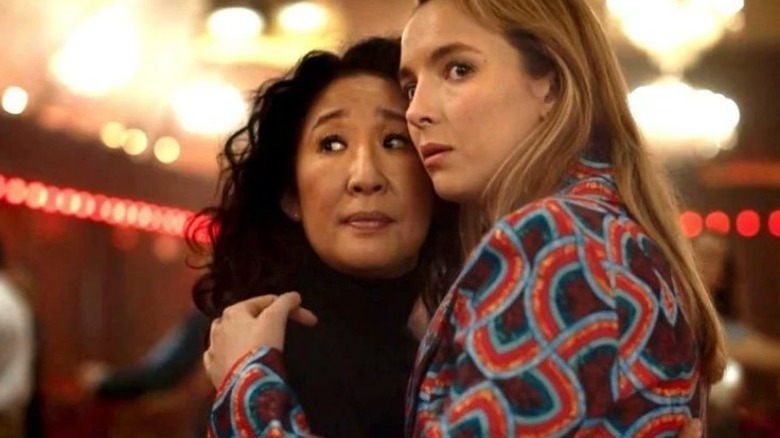 BBC America
On May 4, 2022, Sandra Oh spoke with Deadline about "Killing Eve" and its unexpected finale, mentioning that the conclusion almost looked entirely different from the one we got. "I was like, 'You should kill my character,'" she recalled pitching in a conversation with Season 4's lead writer, Laura Neal. In Oh's eyes, Eve had reached a point by the end of Season 3 where killing her off would've served the story well. "Eve was starting to get into, like, a nihilistic place, and we're like, 'Let's just continue that line and go straight into it,'" Oh explains, and for a time, that plan stuck.
Of course, the COVID-19 pandemic eventually reared its ugly head and shut down productions across the globe — "Killing Eve" included. During this time, the minds behind the show apparently had a change of heart when it came to Eve's fate. Oh remembers being told, "'We can't do it. We need to change it...Eve needs to live,'" and so Eve survived while Villanelle wound up suffering a grizzly fate. Even though Jodie Comer didn't argue with the call, the author of the "Codename Villanelle" novel that the show's based on, Luke Jennings, wasn't too thrilled about how the show treated its two main characters.
"Killing Eve" is long over, and the finale remains a sticking point for fans of the show and source material. Based on Sandra Oh's comments, however, it seems like no matter what, the finale would've left viewers unhappy.