The Worst Episode In Killing Eve Season 4
When Sandra Oh first read the script for BBC America's series "Killing Eve," she had no clue that she was reading for the titular role. After years of experiencing prejudice in the entertainment industry, that she might be up for the meaty part of Eve Polastri did not immediately occur to her (via Vulture). But as we know now, there would be no on-screen Eve without Oh's inspired portrayal, which has, to date, earned her three acting Emmy nominations and won her a Golden Globe. 
Adapted from Luke Jennings' series of books, "Killing Eve" weaves a tale about the complex relationship between Eve and enigmatic assassin Villanelle (Jodie Comer). The chemistry between the two characters is essential to the telling of the story. Eve first encounters Villanelle while working for Great Britain's security service, but the show then progresses to a unique depiction of dark passion between two women who become fixated and yearn for each other. This fascinating dynamic continued until the conclusion of "Killing Eve" in April 2022. But despite the amazing build-up and fan fervor, there was one episode of the final season that did not live up to expectations.
Fans felt betrayed by the series finale
After the slow burn of Eve and Villanelle's love story, it finally seemed as though the two would be together. The last episode of the series, "Hello, Losers," seemed to promise a satisfying reunion between the two. After seasons of cat-and-mouse games, pushing each other away, and chasing down an international assassination organization, Eve and Villanelle finally admit their feelings and share a mutual kiss. This was the exact moment fans had been waiting for. "Killing Eve" showed brutal and flawed women who accepted those dark parts of themselves, learning to love each other in the process. But despite all its implied promises, the ending did not stick the landing. 
The couple is only given brief moments of happiness before Villanelle is gunned down in front of Eve. Instead of a triumph of giving these two women what they have wanted for so long, "Killing Eve" ends with the opposite. It tears down what the entire show was about and what the fans had been setting their hearts on. The proof is in the numbers. Though Season 4 has not been rated as highly as previous installments, the penultimate episode rests humbly at 6.8/10 stars on IMDb. But the final episode has a devastating rating of 3.1, the lowest in "Killing Eve" history.
Killing off queer characters has a dark history in narrative storytelling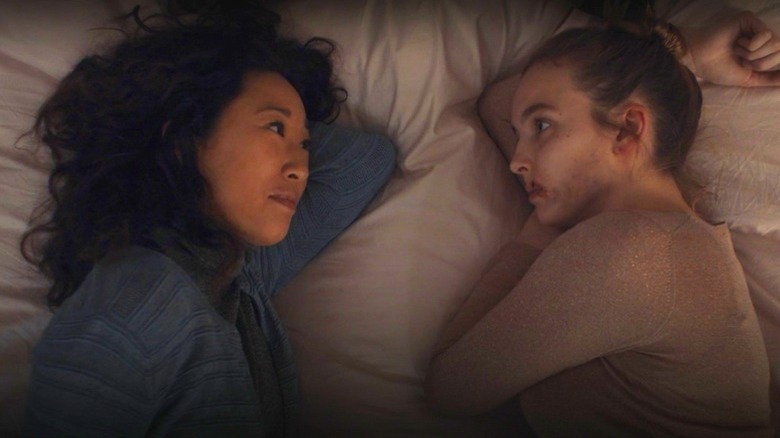 BBC America
Upon the finale episode's release, fans took to social media to point out why the show's ending was so harmful. "They spent 2 seasons humanizing villanelle to take her away from us, it was a double bury your gays: they killed off villanelle the minute she finally reunited with eve and they separated villaneve forever the minute they reunited for us," one Twitter user posted. The trope of "bury your gays," which highlights how often LBGTQ+ characters are killed off on TV shows, is unfortunately well documented. This harmful stereotype shows how queer relationships are disregarded in media. This idea is so prevalent that even Luke Jennings himself wrote an op-ed in The Guardian condemning the ending of the show.
Series finales are notoriously difficult to write and cannot please everyone. But as one fan on Twitter points out, this goes far beyond that. "[T]he killing eve series finale is interesting bc i haven't seen a single person defend it, like in ['Game of Thrones'] and ['How I Met Your Mother'] there were some people who supported the ending but i haven't seen anyone praising killing eve," noted one fan on Twitter. Even for a casual viewer, no one can deny that fans were done a disservice with this finale.