The Viral Video That Led To Jennifer Garner's Cameo In Upload Season 2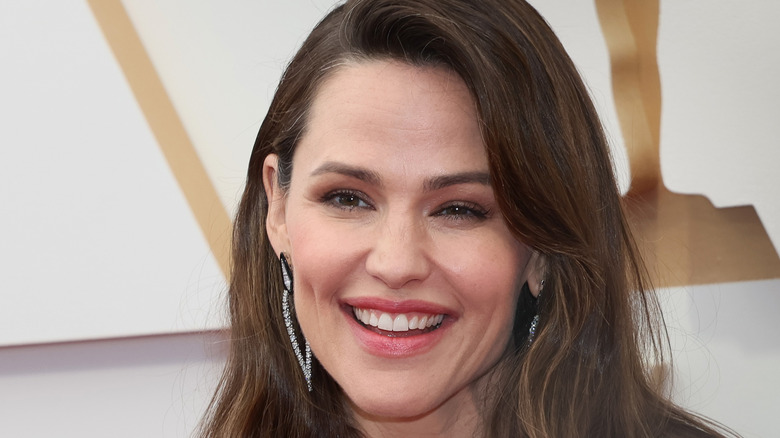 David Livingston/Getty Images
"Upload" is a fascinating science-fiction comedy show and one that could arguably only exist on a premium streaming platform like Amazon Prime. The show was created by Greg Daniels, who is probably best known for developing the iconic American version of "The Office" for NBC. "Upload" focuses on a futuristic world where people can choose to be uploaded to digital afterlife havens after death. Most of these are run by mega-corporations, which charge massive fees for their inhabitants to stay there and use their services.
It should come as no surprise that "Upload" uses this premise to poke fun at consumerism, reliance on technology, and capitalism as it exists in the modern world. The show released its second season in March of 2022, and a potential Season 3 has not been confirmed by Amazon as of this writing. Either way, in the Season 2 finale, there's a particularly funny and surprising voice cameo from actress Jennifer Garner involving the character of Nora Antony (Andy Allo) calling 9-1-1 and being put on hold with a pre-recorded message from none other than Garner herself.
For those fans wondering how such a random cameo came to be, the story apparently begins with a viral video featuring Garner.
Jennifer Garner's love of The Office led to her cameo in Upload
In 2020, at the height of the pandemic, Jennifer Garner posted a video on her Instagram of her crying after finishing up "The Office" with her children. Apparently, the show really affected her emotionally. As it turns out, "The Office" developer and "Upload" creator Greg Daniels saw this video and, according to a recent interview with The Wrap, decided to try and get in touch with Garner and offer her the small voice cameo role on the Season 2 finale of "Upload."
"I had a small connection to Jennifer Garner because a good friend of mine produced an early show of hers and is friendly with her, and I know that she was a big 'Office' fan because she posted a tearful Instagram post about watching the finale," Daniels said. "So I felt like she might be receptive, and she was completely into it and did it really funny and quick."
The scene in question was definitely an on-brand gag for "Upload" and hearing Garner's voice at the other end added to its hilarity and absurdity in equal measure. As for his inspiration for the scene, Daniels likened it to being in a cab in a city like New York and having a pre-recorded message from a celebrity tell the passenger to put on their seatbelt. It's definitely a moment that serves the show well, and the story of Garner's involvement makes it even more special.