The SNL Character That An Overwhelming Number Of Fans Can't Stand
NBC
"Saturday Night Live" has made itself a staple of NBC's programming lineup since its debut in 1975, cementing its legacy as a television classic in the process. Week in and week out for decades, the show has hosted some of the best up-and-coming comedians in the world who, alongside a revolving door of celebrity guest hosts, went out of their way to get a laugh out of the audience. Though most of these sketches amounted to little more than funny one-offs, some received such a positive reaction that they've returned on more than one occasion.
When looking back at the history of "SNL," a handful of skits and the characters within them stand out as the most memorable of them all. Mike Myer's and Dana Carvey's "Wayne's World," the late Chris Farley's Matt Foley, and Rachel Dratch's Debbie Downer are just a few of these bits and characters that fans have yet to forget. At the same time, many of their contemporaries stick in the minds of viewers for far less glowing reasons. In fact, there are more than a few "SNL" concepts that people have grown to despise for one reason or another.
One such example comes from a few recent editions of the famed "Weekend Update" segment. Numerous fans wish this character would completely disappear, and that's putting it lightly. Here's why.
SNL's Grogu parody didn't win many fans over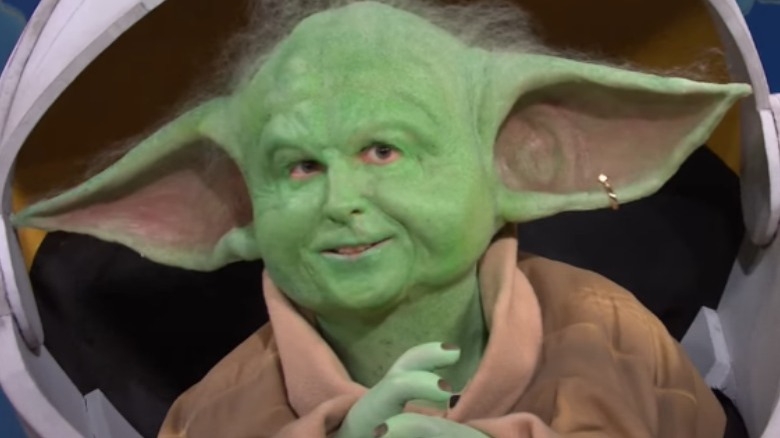 NBC
On the December 14, 2019, edition of "Saturday Night Live," cast member Kyle Mooney took part in that week's "Weekend Update" portion of the show. However, it's understandable if didn't recognize him since he went all-out to dress up as Grogu, aka Baby Yoda, from the Disney+ hit "The Mandalorian" — pram and all. Not only did the makeup job border on nightmare fuel, but the jokes he told were far from the show's best, yet he made another four appearances on the program. His latest came on the November 20, 2021 installment, and many folks have their fingers crossed that it was his last.
Reddit user Mcgruberstoothpick opened up a thread about Mooney's take on Grogu, referring to it as one of the worst "SNL" characters out there. Unsurprisingly, they didn't stand alone in that sentiment, as many left comments agreeing with them. "I hate this character with a passion and Kyle Mooney's 'blaccent' makes me cringe so hard," wrote Upper-Ad-8166, which opened the floor for discussion about what the joke behind the character actually is. Meanwhile, Batmobile-Wrangler just wants to see Baby Groot make an appearance to shut this version of Grogu up for good. maxpowerphd even considers it instantly skippable.
There's no denying that "Saturday Night Live" has hosted countless characters that didn't land, as evidenced by the other people in the Reddit thread that offered up examples of these blunders. Still, it stands to reason that Kyle Mooney's Grogu will go down as one of the most infamous.