This Look At Drake As DC's Cyborg Is Absolutely Jaw-Dropping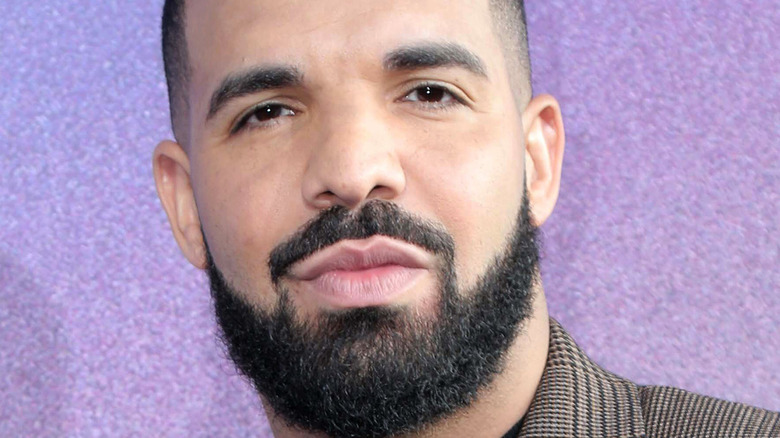 Kathy Hutchins/Shutterstock
The DC Comics character of Victor Stone a.k.a. Cyborg has gotten a lot of attention by DC television series' and movies in recent years. Many fans of the original "Teen Titans" animated series on Cartoon Network saw him plenty, as voiced by Khary Payton from 2003 until 2006. The character has shown up in the DC Animated Movie Universe as well, from "Justice League: The Flashpoint Paradox" to "Justice League Dark: Apokolips War." However, as far as live-action incarnations go, most fans would have seen Cyborg recently played by both Ray Fisher and Joivan Wade in "Zack Snyder's Justice League" and "Doom Patrol," respectively. Although it's unlikely that we will see Fisher as Cyborg on the big screen anytime soon due to his ongoing conflict with Warner Bros. (via The Hollywood Reporter), fans continue to see Wade as the character in "Doom Patrol," which has been renewed for a fourth season (via Deadline).
Similar to the role of Batman or even Spider-Man in the Marvel Cinematic Universe, it isn't particularly uncommon to have two or more actors playing a character at the same time. "Spider-Man: No Way Home" is a recent example of this, and we're set to have three actors playing Batman around the same exact time with Robert Pattinson, Michael Keaton, and Ben Affleck with "The Batman" and the upcoming "The Flash" movie.
Similarly, it was revealed that DC and Warner Bros. had apparently wanted to cast another person in the role of Cyborg for a separate series along with Fisher and Wade a little while back — rapper and Grammy Award-winner Drake. Here's what we know.
Concept artist reveals a detailed look at Drake as Cyborg
According to a recent Instagram post from Jared Krichevsky, a professional creature and character artist known for his work in "Edge of Tomorrow" and "Ready Player One" (via IMDb), there was seemingly a project in development where the rapper Drake was set to be cast as Cyborg. Krichevsky posted a picture of his concept art for the Cyborg/Drake combination with the caption, "Cyborg concept for a series that didn't happen. They wanted to cast Drake at one point." The concept art itself is nothing short of jaw-dropping. It features Drake's Cyborg from the shoulders and above, tricked out with detailed silver armor and shoulder plates. Drake's Cyborg has a completely shaved head, full mustache, and beard, along with the signature left half of his face being mostly bionic.
The mechanical face of Drake's Cyborg has a glowing red eye, along with an interesting transparent helmet that appears to show half of Cyborg's brain being a computer as well. The detail in the entire drawing is impressive, and it is definitely a take on Cyborg that seems to draw from elements of previous portrayals of the character while simultaneously being something brand new. Although it seems unlikely that we'll get a Cyborg project with Drake anytime soon given that Krichevsky noted that it didn't happen, it is still interesting for fans to see concept art for what that could have looked like.