Why Emily Sweeney From The Big Bang Theory Looks So Familiar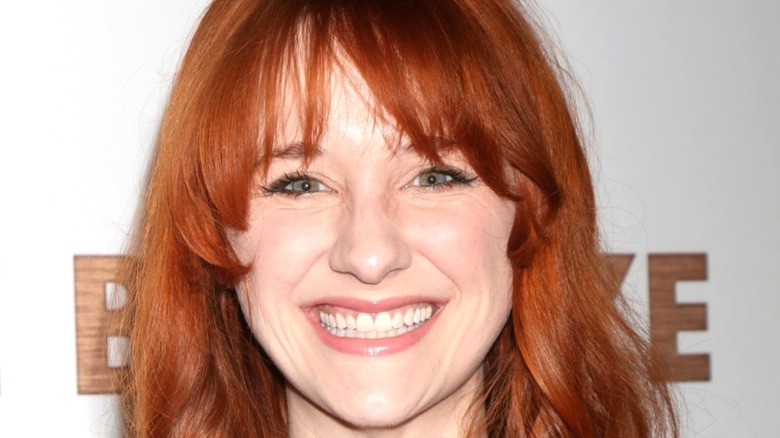 Kathy Hutchins/Shutterstock
Nerdy Dermatologist Emily Sweeney found herself treating a lot more than breakouts during her time on "The Big Bang Theory." After she was set up with Rajesh "Raj" Koothrappali (Kunal Nayyar) during the show's 7th season, he slowly began to fall for her quirky ways as the years moved along. Emily appears in 17 episodes of "The Big Bang Theory" as Raj and Emily's relationship seems to get more and more serious. Then Raj breaks up with Emily to date screenwriter Claire (Alessandra Torresani) in Season 9. 
Raj bounces back and forth between the two women for most of the season, eventually dating both of them. But by the time Season 10 rolls around, Raj is a single man again, having lost them both. We see Emily one more time, in Season 10's "The Emotion Detection Automation," where Emily appears as one of Raj's exes as he gathers four of them together and tries to figure out why he's not a romantic success. We learn Emily dumped him, but she doesn't clarify why, though it's hinted that there were sexual problems in the relationship.
The actress who plays Emily has a wide variety of roles under her belt, and if you like horror movies, internet-based adaptations of classic novels, and teen soaps she'll be a familiar face to you. Why does the person who played Emily look so familiar?
Viral fame and a horror film helped launch Laura Spencer's career
Per IMDb, Laura Spencer first reached national attention via "The Lizzie Bennet Diaries," a virtual television show that lasted from 2012 to 2013. Spencer starred as Jane Austen's heroine Jane Bennet in this modern retelling of the romance between Jane's sister Elizabeth "Lizzie" Bennet (Ashley Clements) and William Darcy (Daniel Vincent Gordh) in "Pride and Prejudice." Spencer eventually appeared in the show's spinoff series, "The Lydia Bennet!!"
Before hitting it big via virtual fame, Spencer was seen in a number of small roles on screens both big and small. She appeared in the horror movie "The Familiar" and the independent feature "Pearl," a film produced by Chickasaw Nation Productions about the life of aviatrix Pearl Carter. Spencer popped up in "Dylan Dog: Dead of Night," a zombie picture, and in the Kevin Sorbo fantasy film "Black Box." She showed up in the Hallmark Channel Christmas movie "A Kiss for Christmas" in the supporting role of Caroline.
The actress also appeared in "2 Broke Girls," "Jessie," and "Criminal Minds: Suspect Behavior."
Further digital shorts kept the actress busy before she was Switched at Birth
While filming occasional episodes of the "Lizzie Bennet Diaries," Spencer also appeared in the virtual series "Jan," which featured several other actors who appeared on the former series. Spencer portrayed Vanessa on the show, and headed a spin-off of "Jan" with her character, which was titled "Vanessa and Jan."  The actress also appeared in "Coffee Shop Squatters" as Julie and then in 22 episodes of "Characters" as Hollis M. Daly before appearing on the Freeform soap "Switched at Birth."
Spencer appeared as Parker Robinsan, a close friend of Daphne Vasquez's (Katie Leclerc) father who suffers when rumors of her extramarital affair circulate, on three episodes in the show's 2nd season. The show follows Daphne and Bay Kennish (Vanessa Marano), who discover out of the blue that they were switched at birth and must deal with the consequences, fanning the flames of the drama already smoldering in their teenage lives. You can spot Spencer in the Season 2 episodes "What Goes Up, Must Come Down," "Prudence, Avarice, Lust, Justice, Anger," and "He Did What He Wanted."
She popped up in Sleepy Hollow before joining Bones
After producing her own short film, "The Water's Fine," Spencer appeared in the Julia Stiles TV show "Blue," which began life on YouTube but eventually joined streaming platforms such as Hulu. She appeared twice on Fox's paranormal procedural "Sleepy Hollow" as Ichabod Crane's (Tom Mison) secret admirer, Caroline. Caroline thinks Ichabod is just a dedicated LARPer, and must be dissuaded when she makes romantic advances upon him. 
While Spencer filmed recurring spots on "The Big Bang Theory," she also recurred for 11 episodes on the Fox procedural "Bones" from Season 9 to Season 12.  She appeared as Jessica Warren, an intern at the Jefferson Institute and budding Forensic Anthropology expert. While she pops in and out to help the team — even inspiring the invention of a new kind of polymer coating that helps the team solve a case — she develops friendships with her fellow investigators. She has a relationship with James Aubrey (John Boyd) that ultimately ends in a break-up during her final Season 11 appearance. 
Post-TBBT, the actress has kept busy with independent films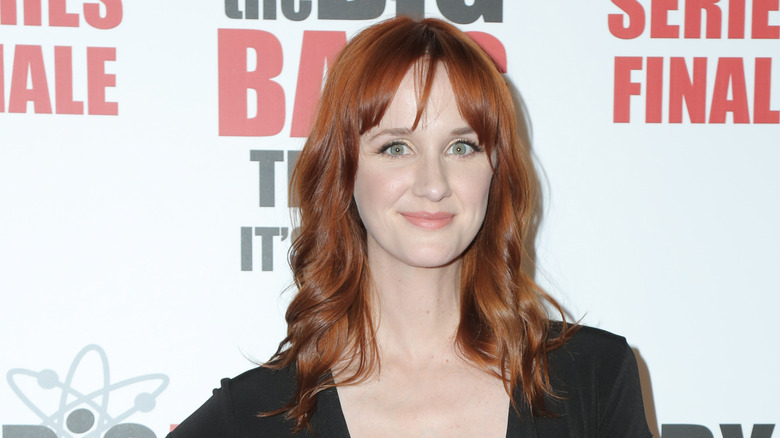 Kathy Hutchins/Shutterstock
After her stints on "Bones" and "The Big Bang Theory" ended, Spencer has appeared in the Epix series "Get Shorty," then showed up three times on the sketch comedy series "Matt and Dan," a digital series that features Matthew Wilkas and Daniel Vincent Gordh, two of Spencer's co-stars from "The Lizzie Bennet Diaries." She's appeared on the show three times as various characters.
Spencer's latest two appearances were in FX's "Reservation Dogs" as Ms. Rothrock and in the action film "13 Minutes." Spencer appears in Vicky in the star-laden disaster film about the effects of a tornado on a small town. Also in the cast are such stars as Thora Birch, Anne Heche, Amy Smart, actor and country music star Trace Adkins, Peter Facinelli, and Paz Vega.
She's certainly come a long way from those simple hours spent on "The Lizzie Bennet Diaries," and we're willing to bet fans of the serial couldn't be prouder.