How Sam Raimi Really Felt After Seeing Tobey Maguire In No Way Home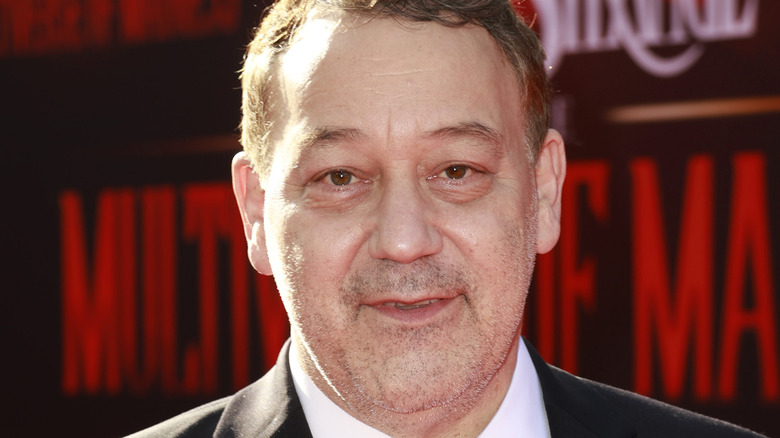 Frazer Harrison/Getty Images
Following impressive showings at the movies by both 1998's "Blade" and 2000's "X-Men," Sony Pictures decided to get in on the then-burgeoning comic book movie market. With director Sam Raimi at the helm and the likes of Tobey Maguire, Kirsten Dunst, and Willem Dafoe on the cast list, "Spider-Man" swung into cinemas in 2002, and calling it game-changing doesn't quite do it justice. Sure, it was campy, lacked some visual polish, and may seem a bit quaint by modern standards, but without it, the live-action Marvel craze as we know it likely wouldn't exist. 
"Spider-Man" proved so successful that a mere two years later, its sequel made its way to the movies with much fanfare. Raimi, Maguire, and more returned for the appropriately named "Spider-Man 2," this time with Alfred Molina in tow as Dr. Otto Octavius. Not only did this continuation perform even better with fans and critics, but it also did well at the box office compared to its predecessor and earned a continuation of its own: "Spider-Man 3." Sadly, this installment rounded out the trilogy on a low note and effectively ended Raimi and Maguire's time in the Marvel universe.
Now 20 years past the premiere of "Spider-Man," however, Sam Raimi and Tobey Maguire have finally returned to the Marvel fold. As Raimi prepares for the release of his film, "Doctor Strange in the Multiverse of Madness," on May 6, 2022, he shared his thoughts on seeing Maguire suit up as the web-slinger after all these years for December 2021's "Spider-Man: No Way Home."
Raimi loved seeing Maguire back for No Way Home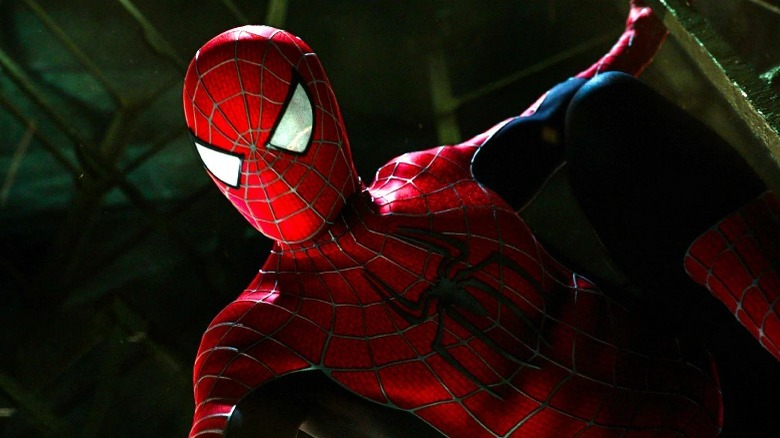 Marvel Studios/Sony Pictures
In the months leading up to the release of "Spider-Man: No Way Home," rumors swirled that Tom Holland's Peter Parker would somehow meet both Tobey Maguire and Andrew Garfield's versions of the character from their non-Marvel Cinematic Universe franchises. This speculation turned out to be true when the three Spideys joined forces to take down a host of legendary villains, sending fans across the globe into an excited frenzy. As it turns out, Sam Raimi got in on the celebration too upon seeing Maguire don the iconic suit from their trilogy one more time.
"It was very emotionally moving. I probably felt like the audience felt: 'Oh, there's my old friend, the old hero, who I haven't seen in 15 years. He's back,'" Raimi told The Hollywood Reporter, praising Maguire for his performance as a more seasoned, battle-worn interpretation of Spider-Man compared to Holland and Garfield's takes. These comments come a mere month after the director expressed his desire to take a stab at "Spider-Man 4" should Sony have such a project on its radar — an idea that's disappointingly not in development as of yet (via Screen Rant).
Regardless of whether or not a fourth "Spider-Man" film starring Tobey Maguire hits the silver screen someday, it was great to see him take on Peter Parker once again, and it'll be just as great to see what Sam Raimi has cooked up for "Doctor Strange in the Multiverse of Madness."