The Two Major Breaking Bad Cameos You Likely Missed In Better Call Saul Season 6 Episode 4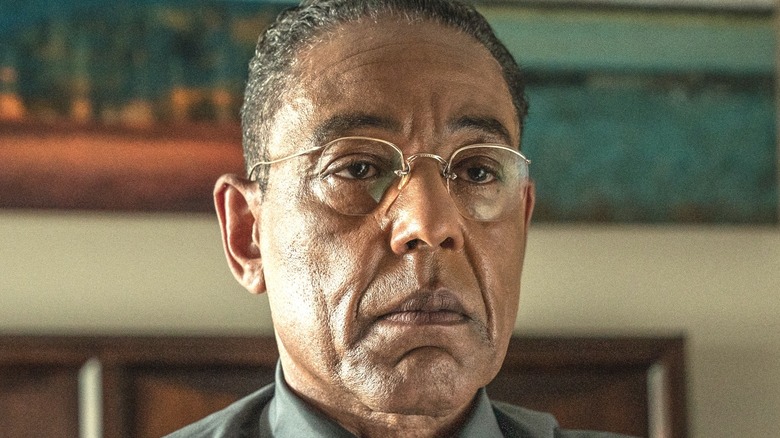 Greg Lewis/AMC/Sony Pictures Television
Contains spoilers for "Better Call Saul" Season 6 Episode 4
The prequel series "Better Call Saul," created by Vince Gilligan and Peter Gould, depicts the transformation of earnest new lawyer Jimmy McGill (Bob Odenkirk) into the greedy criminal defense lawyer Saul Goodman who viewers see go to extreme — and not quite legal — lengths to help Walter White (Bryan Cranston) and Jesse Pinkman (Aaron Paul) throughout several seasons of "Breaking Bad."
"Better Call Saul" is now in its 6th and final season, and its narrative is inching closer and closer to where we first meet Saul Goodman in "Breaking Bad" Season 2. In the most recent episode of "Better Call Saul" titled "Hit and Run," Jimmy even shows Kim Wexler (Rhea Seehorn) the empty strip-mall office he has set his sights on to build a real office for Saul (and finally leave behind the nail salon). And, as "Breaking Bad" fans likely realized within seconds, the empty office is, in fact, the same one that becomes Saul's memorably gaudy office that he has throughout his arc in "Breaking Bad."
Saul's would-be office is not the only "Breaking Bad" reference in this week's "Better Call Saul" episode. Two "Breaking Bad" supporting characters show up in "Hit and Run" — joining the likes of characters such as Gus Fring's (Giancarlo Esposito) go-to doctor Barry Goodman (JB Blanc), Walt's one-time colleague Gale Boetticher (David Costabile), and even Hank Schrader (Dean Norris), who have all made cameos in the prequel series.
Here are which "Breaking Bad" characters you may have missed in "Better Call Saul" Season 6 Episode 4.
A familiar sex worker shows up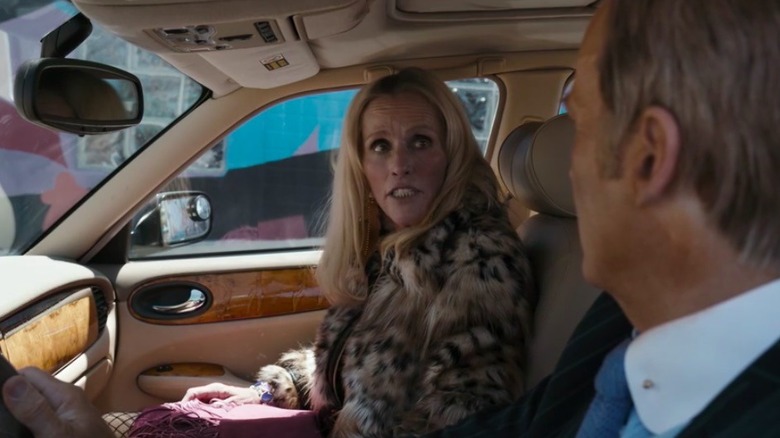 AMC
In "Breaking Bad," the sex worker named Wendy (Julia Minesci) is introduced in Season 1 when Hank brings Walt Jr. to the Crossroads Motel and uses Wendy as an example of how drugs can negatively impact someone's life. Wendy then shows up every so often in "Breaking Bad," often interacting with Jesse. She is also the focus of one of the cold opens of "Breaking Bad" in Season 3 Episode 12, "Half Measures" — fittingly, the montage is set to the song "Windy" by The Association.
In "Better Call Saul" Season 6 Episode 4, Jimmy and Kim recruit Wendy to help with their scheme to tarnish Howard's (Patrick Fabian) reputation. In the episode, Jimmy — hilariously dressed up as Howard — picks Wendy up using Howard's recognizable car (following last week's scheme of getting a copy of Howard's keys made). Once given the go-ahead text by Kim, Jimmy then speeds past a restaurant where Kim is sitting with fellow lawyer Cliff Main (Ed Begley Jr.). After passing the restaurant, Jimmy (as Howard) pushes Wendy out of the car and speeds away, as Wendy loudly makes a scene. Kim smiles as she sees the shock on Cliff's face.
Afterward, Kim drives Wendy back to the Crossroads Motel, where she offers Wendy her services as a lawyer if Wendy ever needs her in the future. The encounter only deepens the question of where Kim is during the "Breaking Bad" timeline — and why Wendy (likely) didn't take Kim up on her offer.
The man crushed by the ATM makes an appearance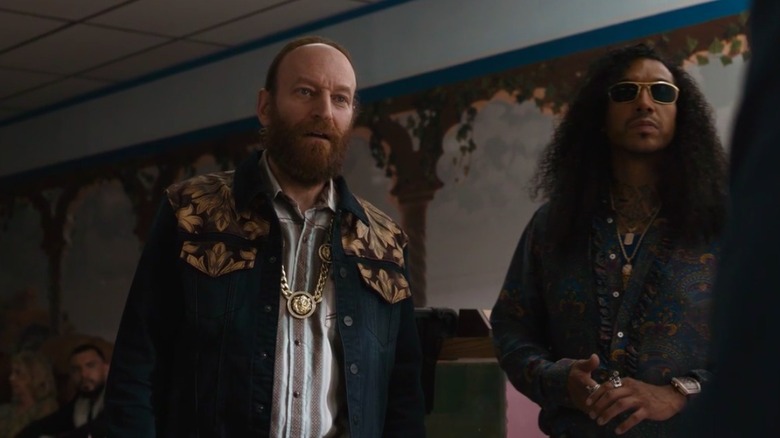 AMC
Later in "Better Call Saul" Season 6 Episode 4, Jimmy finds he is being iced out by all of the other workers and lawyers at the courthouse following the discovery that he was involved in Lalo Salamanca's (Tony Dalton) release from custody. However, his new reputation of Saul being Lalo's lawyer sure made him popular amongst potential clients — after all, getting a murderer (who was caught on tape) out on bail is no small feat. Jimmy begins getting calls left and right, and when he shows up at the nail salon — out of which he is still working — there is a crowd of people waiting to meet with him.
One of those people is a man named Spooge (David Ury), who approaches Jimmy by saying, "You're Saul? So you're the guy right?" When Jimmy asks what he means, Spooge responds, "Salamanca's guy." Jimmy timidly answers, "Yeah, that's me."
If you need a refresher of where we've seen Spooge before, he shows up in Season 2 of "Breaking Bad" when he and his wife steal meth from one of Walt and Jesse's dealers, Skinny Pete (Charles Baker). Then, in the episode titled "Peekaboo," Jesse shows up at Spooge's house to demand payment. Spooge tells Jesse that they need to break open the stolen ATM he has if Jesse wants the money he is owed. When Spooge and his wife — both of whom are high during this encounter — begin arguing, she pushes the ATM onto Spooge's head, resulting in his death.