The Walking Dead's Norman Reedus Teases Major Cameos In Daryl's Spin-Off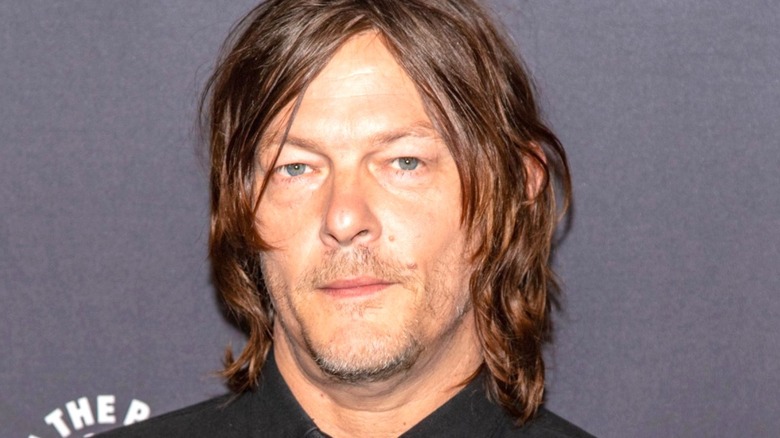 Eugene Powers/Shutterstock
Although AMC's mega-smash hit "The Walking Dead" is set to come to a historic conclusion before the end of the year, fans of the long-running franchise won't be without entertainment for long. In fact, there are a plethora of zombie-focused spinoffs set to take AMC by storm. Some like "Fear the Walking Dead" are already prominent fixtures on the cable network, while others are still in the early phases of the pre-production process. 
One of the first announced future spinoffs that will continue the main story of "The Walking Dead" was originally set to involve both Daryl Dixon (Norman Reedus) and Carol Peletier (Melissa McBride) (via Deadline). Unfortunately, those plans appear to have changed. AMC announced McBride's departure from the future team-up show in late April. Notably, this change in direction doesn't mean that a Daryl-focused series isn't still on the horizon (via Deadline). 
Instead of the upcoming series focusing on both characters, it will instead simply follow the exploits of everyone's favorite crossbow-wielding motorcycle aficionado. Considering the events thus far in the final season of "The Walking Dead," Daryl will certainly have lots to think about and reflect upon. Despite the loss of McBride as a co-star, it seems as if Reedus may be teasing the future appearance of certain popular character(s).
Norman Reedus expects Carol and Daryl to reunite with other characters eventually
During Norman Reedus' recent visit to NBC's "The Tonight Show," Jimmy Fallon asked the actor what might be in store for the Daryl series. "I know it's going to be much different than the [original] show," Reedus said. "It was originally Carol and I, Melissa McBride and I, [but] she's taking time off. 12 years is a grueling schedule and she wanted to take some time off. So she's doing that and she deserves it." Of course, because Reedus knows his fans so well, he knew he had to offer a bit more hope for the future of the franchise. "I imagine those characters are going to meet back up at some point," Reedus assured fans, before delivering the tease everyone was looking for. "I might even meet up with some other characters down the road."
Judging by these comments, it seems as if Reedus is teasing that McBride's Carol will show up at some point in the future series, just perhaps not as an equal-footing co-star. A statement from AMC said, "Relocating to Europe became logistically untenable for Melissa at this time" (via TVLine). Of course, this doesn't mean the actress will never appear in the show. 
Notably, an even more liberal interpretation of Reedus' comments could lead one to assume that he's teasing the eventual return of Rick Grimes (Andrew Lincoln), who departed "The Walking Dead" in Season 9. Throughout the first nine seasons, Rick and Daryl are very close friends and compatriots. Of course, the duo's long-awaited reunion would be an absolute delight for fans to see.
Either way, it certainly sounds like there will be plenty of surprise twists in the future of "The Walking Dead" franchise.