Tom Cruise Had Very Different Feelings About A Top Gun Sequel Years Ago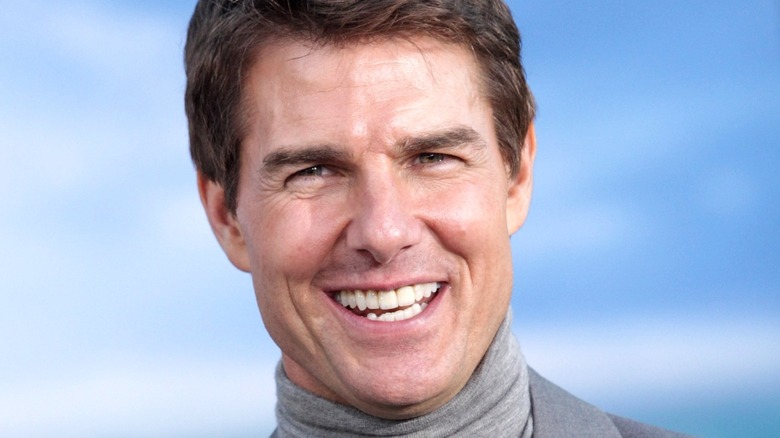 DFree/Shutterstock
"Top Gun," the action drama film starring Tom Cruise in what is now one of his most iconic roles, came out in 1986. Directed by Tony Scott, the film follows naval aviator Lieutenant Pete "Maverick" Mitchell (Cruise) as he attends the Top Gun Naval Fighter Weapons School and works to become the best fighter pilot, as well as impress his flight instructor, Charlotte Blackwood (Kelly McGillis). It has remained one of Cruise's most notable films over the years, making it, in a way, a bit surprising that a sequel to "Top Gun" has not been made until now.
A full 36 years later, a follow-up, "Top Gun: Maverick," is slated to premiere in theaters on May 27, 2022. Directed by Joseph Kosinski, the new film sees Maverick, a Captain who has been putting off advancing in rank, put in charge of training a group of recent graduates for a mission. Amongst the new graduates is Lieutenant Bradley "Rooster" Bradshaw (Miles Teller), the son of Maverick's late best friend. Additionally, Val Kilmer reprises his role as Maverick's former rival, Admiral Tom "Iceman" Kazansky, who is now an instructor as well. Jennifer Connolly also joins the cast as Penny Benjamin, the daughter of a former admiral and Maverick's new love interest.
Fans excited for the film may be wondering why it took nearly 40 years for "Top Gun: Maverick" to get made. Well, it turns out, it may have been partially due to Cruise's feelings about a sequel — which, in 1990, were very different than they are now.
Cruise previously thought that a Top Gun sequel would be irresponsible
In the years directly following the release of "Top Gun," moviegoers were wondering if there was a sequel in the works for the popular film. While promoting his film "Born on the Fourth of July" (which, thematically, is anti-war), Cruise discussed that movie in comparison to "Top Gun" during a 1990 interview with Playboy (via Gizmodo). 
During the decades-old interview, the author describes "Top Gun" as "essentially war by Nintendo game and a paean to blind patriotism." Cruise then explains that, in his opinion, the idea that "Top Gun" is pro-war is a bit of a misconception, stating, "OK, some people felt that Top Gun was a right-wing film to promote the Navy ... But I want the kids to know that that's not the way war is—that 'Top Gun' was just an amusement park ride, a fun film with a PG-13 rating that was not supposed to be reality." Cruise then shut down the idea of making a follow-up film, concluding, "That's why I didn't go on and make Top Gun II and III and IV and V. That would have been irresponsible."
Last month, Cruise opened up to Total Film Magazine about his decision to finally return for a sequel (via GamesRadar). Cruise said, "Just through time, the story was never right. I don't do things just to do it ... I just had to wait for that right moment. And I realized it was either going to be now or never. And basically, I liked the concept of the idea. And I was like, 'Alright...'"