The Doctor Strange No Way Home Line That Benedict Cumberbatch Changed For The Better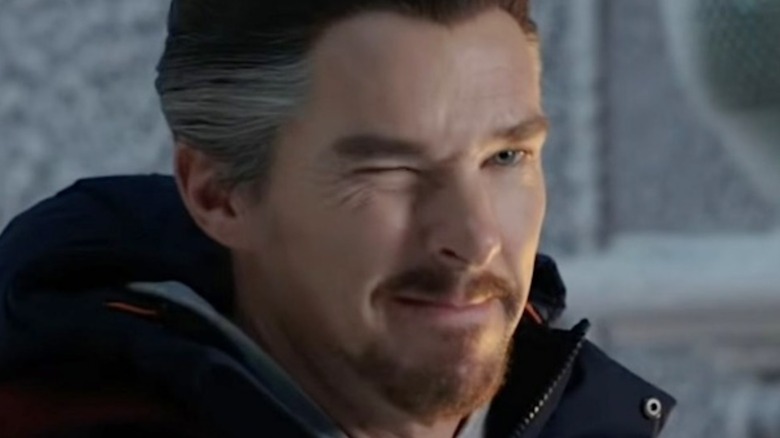 Marvel Studios/Sony Pictures
Though it's doing just fine for itself on the small screen with "Moon Knight," the Marvel Cinematic Universe is about to return to the movies in a big way. The long-awaited debut of "Doctor Strange in the Multiverse of Madness" is a mere few days away as of this writing, and MCU fans won't want to miss it. It'll see the titular sorcerer (Benedict Cumberbatch), alongside the likes of Wong (Benedict Wong), Wanda "Scarlet Witch" Maximoff (Elizabeth Olsen), and newcomer America Chavez (Xochitl Gomez) traverse various universes, encountering friends, foes, and unexpected dangers along the way.
Of course, it's worth remembering that this wild adventure wouldn't have come to fruition without 2021's "Spider-Man: No Way Home." To help get his life back on track post-"Spider-Man: Far From Home," Peter Parker (Tom Holland) turned to Doctor Strange for help. One botched spell later, and the duo broke the multiverse, presenting our heroes with challenges unlike any they'd faced before. Thus, to get things back to relative normalcy, the web-slinger had to once again use Strange's vast magical abilities to make some serious sacrifices and majorly alter his life trajectory.
All in all, "No Way Home" is one of the most emotional MCU installments to date, and part of that has to do with a small change that Benedict Cumberbatch made to one of his Doctor Strange lines. Here's why.
Cumberbatch tweaked a line to convey Strange's affection for Peter Parker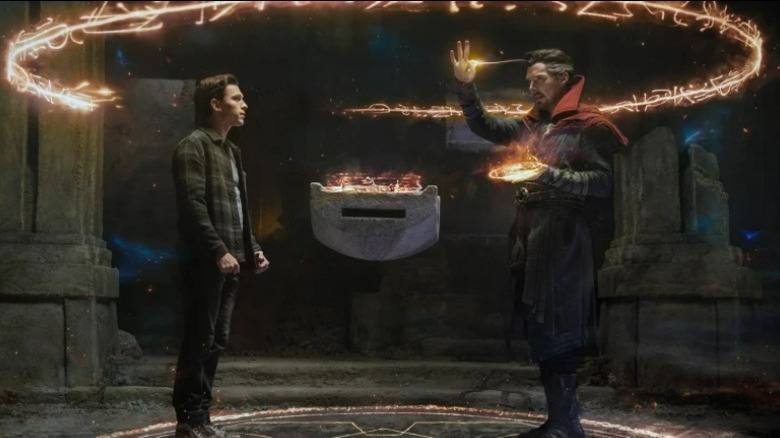 Marvel Studios/Sony Pictures
By the third act of "Spider-Man: No Way Home," Peter Parker is in a rough spot. His plan to make the world forget he's Spider-Man didn't work, the multiverse is crumbling, and villains from different timelines run rampant in his. Left with no other choice, he requests that Doctor Strange cast a spell that would make the world forget who Peter Parker is — a plan that saves his world and the multiverse. Still, despite the fact that he goes through with it, Strange shows some hesitation before doing so. Thanks to Benedict Cumberbatch's quick thinking, it's made clear that it's because he cares deeply about Peter.
"He says, 'We, everyone who loves you. We [would have no memory of you],'" Benedict Cumberbatch recalled in an interview with The Hollywood Reporter, adding that it was his idea to tack "we" onto that line to make it more impactful. In his eyes, doing so revealed to the audience how much Strange had come to value Peter as a friend, putting him alongside the likes of MJ (Zandaya) and Ned Leeds (Jacob Batalon) in that regard. He didn't want to forget him, yet, at the end of the day, they had no other option at that point in time if they wanted to save countless lives from a multiversal calamity.
Cumberbatch cites Strange's bond with Peter as his reason for helping him in the first place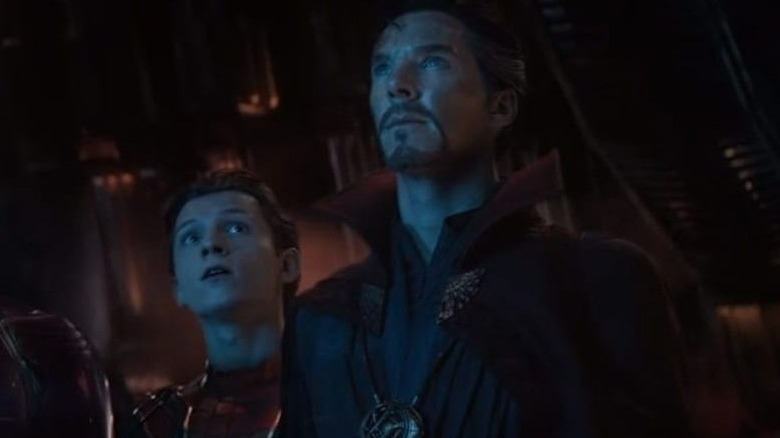 Marvel Studios
From traveling the cosmos together to teaming up to fight Thanos (Josh Brolin), Doctor Strange and Peter Parker had a history together that more than justified Strange's apprehension. That's a lot to throw away on a whim, regardless of the headaches Peter had caused him. As Benedict Cumberbatch explains to THR, this bond, coupled with Strange's sympathy for Peter having his life flipped upside-down by Mysterio (Jake Gyllenhaal) during the events of "Spider-Man: Far From Home," is what ultimately led him to pull off such a tedious, dangerous spell in the first place.
"He saw Peter as a fellow foot soldier and then as a teenager going through a very formative experience of not being able to be his true self because of being exposed, and having lost a mentor, [Strange] decided to step in with a gesture of pretty good intention," Cumberbatch explains, noting that this humanity — and the penchant for making mistakes that comes with it — keeps him engaged with the Doctor Strange role to this day. "I empathize very much with the idea that a superhero can make a mistake because of their humanity, and I'm glad that I'm playing one that does," he concludes.
Time will tell if we'll see Doctor Strange and Spider-Man reunite in the MCU, but given the trials the former will have to face in "Doctor Strange in the Multiverse of Madness," that's likely one of the last things on his mind.