Who Plays Samantha Maroun On Law & Order?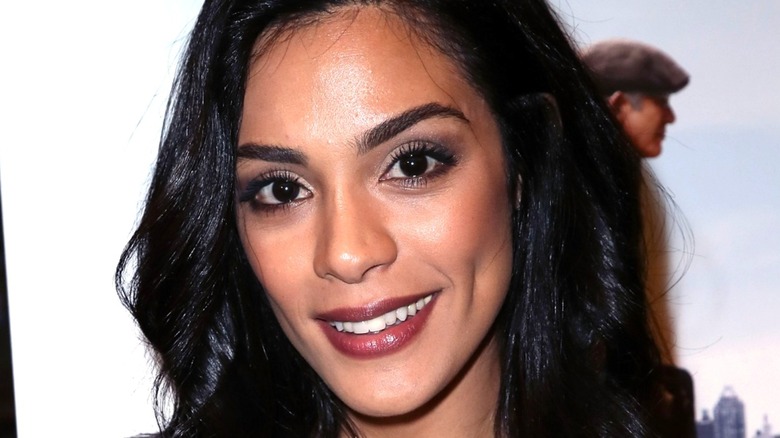 David Livingston/Getty
"Law & Order" helped define the contemporary TV police procedural and spawned an entire franchise of shows in the process. Originally premiering in 1990, "Law & Order" ran for 20 years before coming to an end in 2010. Luckily for fans of the show, though, the series that started it all was resurrected in 2022. Now in Season 21, "Law & Order" has seen both new and old actors lend their skills to the popular show, which currently stars Sam Waterston, Anthony Anderson, Jeffrey Donovan, Camryn Manheim, and Hugh Dancy, among others.
Some of the returning alumni characters include Detective Kevin Bernard (Anderson) and District Attorney Jack McCoy (Waterston), while the new guard features the likes of Executive Assistant District Attorney Nolan Price (Dancy), Lieutenant Kate Dixon (Manheim), and Detective Frank Cosgrove (Donovan). Considering the general format of "Law & Order," there are characters that either focus on the law-enforcement side or the legal aspects, and it seems like the new addition of Assistant District Attorney Samantha Maroun helps to round out the lawyer-side of things. The character has brought plenty of drama to the series, as she often lets her personal history dictate how she handles cases going forward, which sometimes gets her into trouble with her superiors, like when she has a detective offer a plea deal after learning a criminal's story. If you've been watching the new season, you may be wondering who plays this new fixture on "Law & Order."
Samantha Maroun is played by Odelya Halevi
Odelya Halevi, who plays ADA Samantha Maroun on "Law & Order," was born in Israel in the same area as Gal Gadot and moved to the United States at the age of 19 in order to pursue acting. Halevi said of the experience to Jewish Journal, "At the beginning, it was a real struggle. I worked at a restaurant. I met a lot of people there and took acting classes. I did a student film. I worked on my English while I was waiting for my green card. I got a commercial agent and I started doing commercials. I felt like I was ready for the next step."   
Before gaining her role as Maroun in "Law & Order," Halevi could be seen across the TV landscape. She appeared in shows like "Good Trouble," "Why Women Kill," and "Good Girls Revolt," as well as in small roles in "NCIS," "Mike & Molly," "The Bold and the Beautiful," and "New Girl" (via IMDb). Considering the popularity of "Law & Order," chances are that we will be seeing much more of Halevi in the future, whether on the show or in other projects.