The Weird Way Tom Cruise Is Connected To The Witcher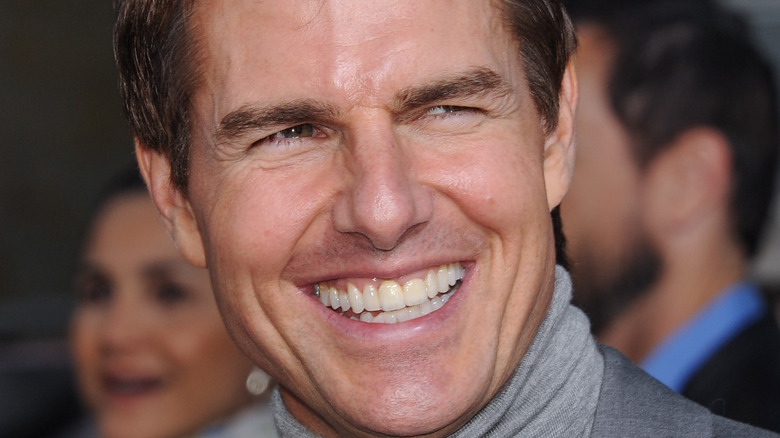 DFree/Shutterstock
Over the course of his illustrious career, Tom Cruise has made a name for himself as a top action movie star. From agent Ethan Hunt in the "Mission Impossible" franchise to alien-fighting single dad Ray Ferrier in "War of the Worlds," Cruise is constantly battling dangerous entities in nail-biting scenes.
Netflix's "The Witcher," based on the book series by Andrzej Sapkowski, is also chock-full of dramatic duels. However, it's not something one would expect Cruise to be associated with.
Much like Cruise's on-screen personas, leading man Geralt of Rivia (Henry Cavill) regularly finds himself in sticky situations that force him to use strength and skill to save the day. The difference is, Cruise's roles are typically rooted in reality and take place in our modern world, whereas Geralt is often taking on deadly mythical creatures.
Cruise might not be encountering a striga or kikimora anytime soon, yet there is a major similarity between the intense stunts of Ethan Hunt in "Mission Impossible" and a memorable fight scene in an early episode of "The Witcher."
Tom Cruise's stunt coordinators worked on The Witcher
At the end of the premiere episode of "The Witcher," Geralt is engaged in a bloody battle with Renfri (Emma Appleton). Despite her desire to seek revenge on Stregobor (Lars Mikkelsen), a wizard who she claims had men attack her years prior, Renfri doesn't mind slaughtering innocent victims in her path. Geralt and Renfri engage in a vicious sword fight, which culminates in her demise.
The whole riveting scene is perfectly-timed and choreographed, which makes sense given the two men who worked with Cavill and Appleton behind-the-scenes. "The Witcher" director Marc Jobst shared on Reddit that Cruise's stunt coordinators, Wade Eastwood and Wolfgang Stegemann, helped bring the Geralt vs. Renfri battle to life. Jobst said it was "spectacular" to work with the pair.
Cruise and Cavill not only share stunt coordinators, they also share a passion for performing their own stunts. In "Mission Impossible," Cruise scaled the Burj Khalifa skyscraper, fell 25,000 feet from a plane, and sprinted around in metal armor that weighed over 80 pounds (via Insider).
As for Cavill, his determination to perform his own stunts was actually inspired by Cruise, who he starred alongside as August Walker in "Mission Impossible – Fallout." He told Variety, "Working with Tom Cruise really helped, or maybe in the eyes of the producers, made worse my enjoyment for stunts. I really want to do them now and I think it's an essential piece to the character."