Star Trek: Discovery Will Deal With Today's Political Divide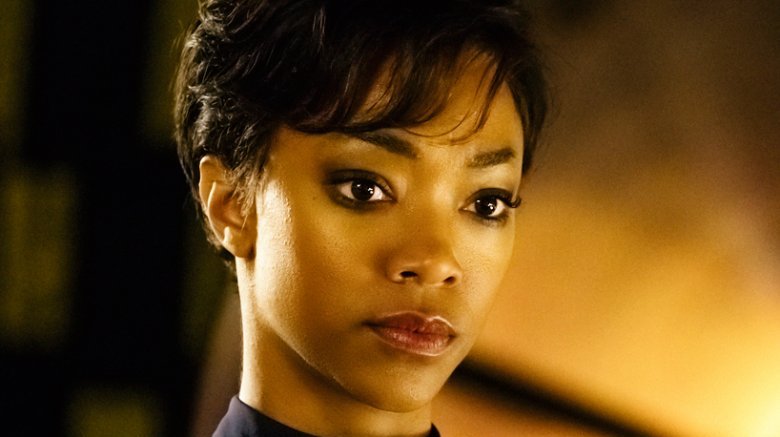 Star Trek: Discovery isn't going to be shying away from the real issues. Showrunner Aaron Harberts revealed in a recent interview with Entertainment Weekly that the upcoming CBS All Access series will be tackling today's political climate, using the Klingons to "help us really look at certain sides of ourselves and our country." 
Discovery stars Sonequa Martin-Green as First Officer Michael Burnham, the first human to attend the Vulcan Learning Center and the Vulcan Science Academy. In the pilot episode, Burnham will be forced to make the "most difficult choice" she could make, one which will affect her, the Federation, and the entire universe. That choice could have something to do with the series' overall storyline, which will see the Federation at war with the Klingons. 
"The allegory is that we really started working on the show in earnest around the time the election was happening," Harberts said. "Isolationism is a big theme. Racial purity is a big theme. The Klingons are not the enemy, but they do have a different view on things. It raises big questions: Should we let people in? Do we want to change? There's also the question of just because you reach your hand out to someone, do they have to take it? Sometimes, they don't want to take it. It's been interesting to see how the times have become more of a mirror than we even thought they were going to be."
Harberts went on to say that the fact that Discovery will be much more serialized than the original series will allow them to go deeper into storylines than before. "The thing about the war is it takes Starfleet and the Federation and forces them to examine their ideas and ethical rules of conflict and conduct," he said. "It provides a backdrop to how we want to be as a society and that analysis and self-reflection is new for Trek. They've done it in certain episodes in the past, but this is a true journey for the institution in itself."
While a lot of the political implications of Discovery are intentional, Harberts said that sometimes, the real world unintentionally spilled over series. "North Korea is in our thoughts as we finish the series," Harberts said, adding that they are wrapping their thirteenth and final episode now. "[The U.S. is] actually right at the place where Starfleet finds itself in episode one and we couldn't have anticipated that happening. But how do you end conflict when both sides have such strong opinions?"
Martin-Green and her co-stars have also commented on the show's ability to reflect today's political landscape, with the star saying that she thinks it will be "the solution to today's problems." Her co-star Jason Isaacs, who will play Captain Gabriel Lorca, has said that he sees the show as "presenting a vision of the world that's full of drama but also full of resolution and unity." 
The rest of Star Trek: Discovery's ensemble cast includes Michelle Yeoh, James Frain, Rainn Wilson, Doug Jones, Anthony Rapp, Chris Obi, Mary Chieffo, Terry Serpico, Maulik Pancholy, Sam Vartholomeos, Rekha Sharma, Kenneth Mitchell, Clare McConnell, and Damon Runyan. The series will premiere on CBS All Access on Sept. 24, with episodes hitting the streaming service every Sunday through Nov. 5. After that, the show will take a short break before beginning to premiere the second half of its run in January of 2018. 
While we wait for the series to debut, prep by reading up on some of the small details only true fans noticed in the show's first trailer.