Star Trek: Discovery Actress Says The Show Is 'A Solution To Today's Problems'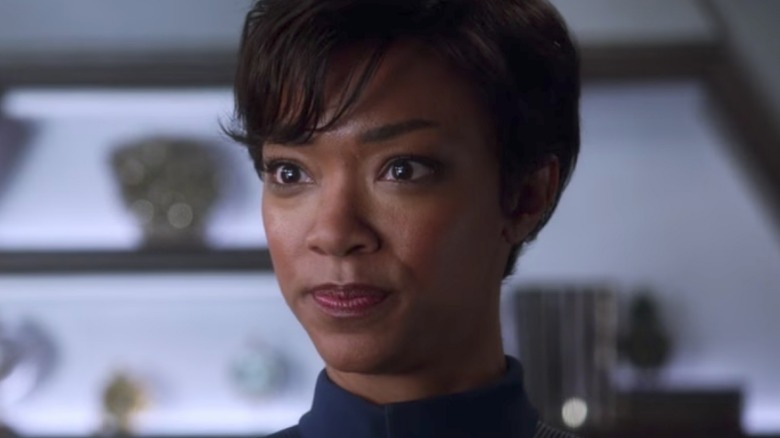 CBS All Access is bringing Gene Roddenberry's teachings into the modern age with Star Trek: Discovery, and actress Sonequa Martin-Green thinks that now is the perfect time for the show's messages of peace and equality. Martin-Green recently revealed at Fan Expo Canada (via Space) that she thinks the show is going to be "the solution to today's problems."
This isn't the first time that Martin-Green has commented on the potential social impact of Discovery. The actress will play First Officer Michael Burnham on the series, and, while her character has been shrouded in secrecy, she has already had to deal with some controversy from a small group of fans who didn't want to see an African-American woman leading the series. Martin-Green told those critics to "key into the essence and spirit of Star Trek" and recognize the show's inclusive message.
Martin-Green's costars have also been vocal about the show's impact. "The world is complicated and horrible, and I don't know how to explain to my children the insanity of the people who are in charge of it at the moment," said Jason Isaacs, who will play Captain Gabriel Lorca, in a recent interview with Variety. "I thought [Discovery] was a good story to tell– and something I would be happy to watch– about presenting a vision of the world that's full of drama but also full of resolution and unity."
Star Trek: Discovery, which serves as a prequel to the original Star Trek series, focuses on Burnham, the first human to attend the Vulcan Learning Center and the Vulcan Science Academy. In the pilot episode, Burnham will be forced to make the "most difficult choice" she could make, one which will affect her, the Federation, and the entire universe. The journey will eventually lead her from the Starship Shenzhou, where she starts the series, to the Starship Discovery, captained by Isaacs' Lorca.
The rest of Star Trek: Discovery's ensemble cast includes Michelle Yeoh, James Frain, Rainn Wilson, Doug Jones, Anthony Rapp, Chris Obi, Mary Chieffo, Terry Serpico, Maulik Pancholy, Sam Vartholomeos, Rekha Sharma, Kenneth Mitchell, Clare McConnell, and Damon Runyan. The series will premiere on CBS All Access on Sept. 24, with episodes hitting the streaming service every Sunday through Nov. 5. After that, the show will take a short break before beginning to premiere the second half of its run in January of 2018. 
While we wait for the series to debut, prep by reading up on some of the small details only true fans noticed in the show's first trailer.