The Better Call Saul Actor Fans Think Deserves An Emmy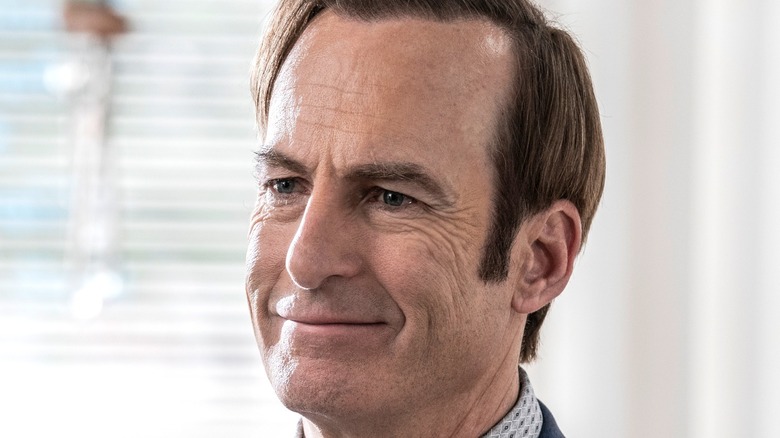 Greg Lewis/AMC
Contains major spoilers for Season 6 of "Better Call Saul"
Season 6 of "Better Call Saul" has been rumbling along at a breathtakingly intense pace, finally showing that the prequel series is capable of matching the brilliant twists and turns creator Vince Gilligan packed into the final seasons of "Breaking Bad." Gilligan and "Better Call Saul" co-creator Peter Gould appear to have plenty of tricks up their sleeve for the final set of episodes. Between the season opener not starting with a Gene scene to the co-creators saying upfront that Walter White (Bryan Cranston) and Jesse Pinkman (Aaron Paul) will appear at some point, "Better Call Saul" has never appeared so confident in its ability to produce some of the best television the industry has to offer. The series' first five seasons focus significantly on Jimmy McGill (Bob Odenkirk) and Kim Wexler's (Rhea Seehorn) careers as attorneys, while Mike Ehrmantraut (Jonathan Banks) grows more and more connected to the area's criminal underworld.
Season 6 picks right up where things left off, with Kim growing more interested in helping Saul scheme while working with pro-bono clients. Meanwhile, Nacho Varga (Michael Mando) desperately attempts an escape from Mexico after helping Gus Fring's (Giancarlo Esposito) hit squad attempt to murder Lalo Salamanca (Tony Dalton). Even just to start the season, "Better Call Saul" has produced plenty of memorable acting moments from its cast — and one actor, in particular, is generating praise from fans who are already eager for the series' final season to compete in the Emmy Awards come fall.
Better Call Saul fans want Michael Mando to win an Emmy for Nacho's final episode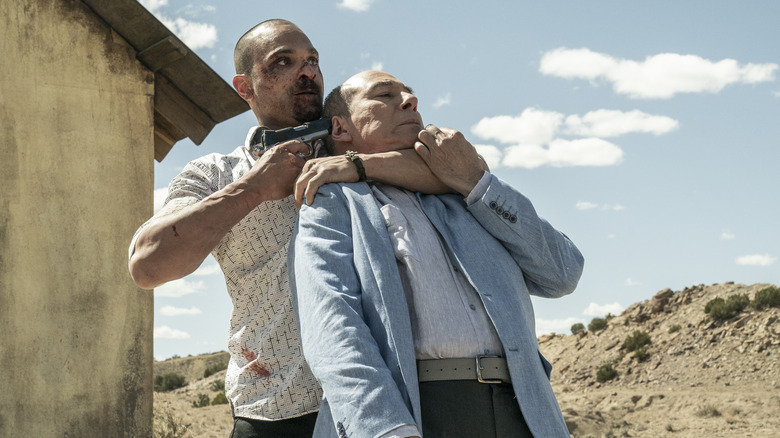 Greg Lewis/AMC
Although Nacho dies at the end of the Season 6 episode "Rock and Hard Place," the installment serves as quite the sendoff for the character. Michael Mando is given plenty of juicy material to work with as Nacho accepts that his death has arrived and viciously admits to his role in the assassination attempt on Lalo Salamanca (Tony Dalton), as well as reveals that he helped cause the stroke that put Hector (Mark Margolis) in a wheelchair. In response to the episode's airing, some fans on social media have called for Mando to win an Emmy for his performance. 
Twitter user @ChrisLair8 wrote that Mando has displayed some of the best acting anywhere on television, and declared, "I'm not a fan of Hollywood award shows. But if there's any rhyme or reason for having them anymore, they should give an Emmy to Michael Mando for his portrayal of Nacho." Another user, @ediblegobrrrrr, suggested that Nacho's death scene may have been a better moment than even Walter White's "I am the one who knocks" line in the Season 4 "Breaking Bad" episode "Cornered."
Twitter user @kessler_mark noted that winning an Emmy for the entirety of Season 6 may be tough for Mando, given that he will only appear in three episodes of the season. However, the same user noted that the midseason break for "Better Call Saul" should give it eligibility for the next two Emmy Awards — Mando may prove a legitimate contender for a high-profile award after all.