Biggest Unanswered Questions After The Ozark Finale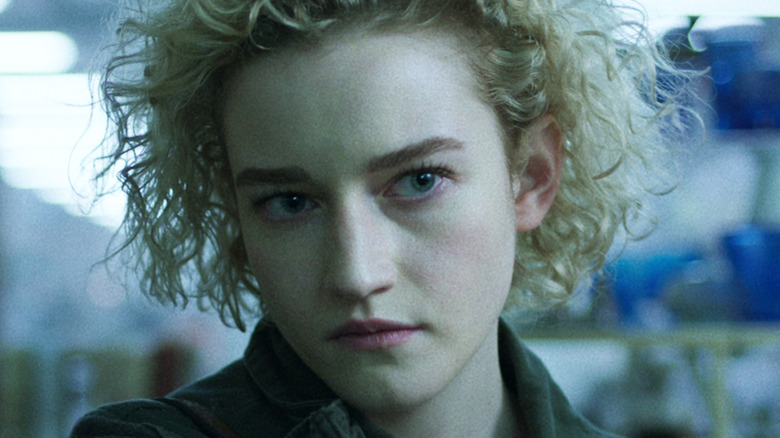 Netflix
Contain spoilers for "Ozark" Season 4, Episodes 11, 12, 13, and 14
Fans had plenty of questions heading into the "Ozark" finale. Will Ruth Langmore (Julia Garner) avenge her cousin Wyatt's (Charlie Tahan) death? Will Omar Navarro (Felix Solis) break out of prison and lead the cartel once again? What happens in the aftermath of the seemingly fatal car crash involving Marty (Jason Bateman), Wendy (Laura Linney), Charlotte (Sofia Hublitz), and Jonah Byrde (Skylar Gaertner)? Will the Byrdes even make it out of the "Ozark" finale alive? 
Most of these questions are answered by the explosive ending of "Ozark." People die, deals are struck, and cartel leadership changes. Against all odds, the Byrdes gain immunity, and are free to return to their splendid Chicago lives — if they want to, anyway. The Byrdes are also finally linked to Ben Davis' (Tom Pelphrey) death, thanks to Mel Sattem's (Adam Rothenberg) detective work ... but Jonah solves that particular problem with a shotgun. Despite these many happenings, plenty of details of this thrilling crime saga remain up for debate. These are the biggest unanswered questions left after the "Ozark" finale.
What will happen to Ruth's possessions?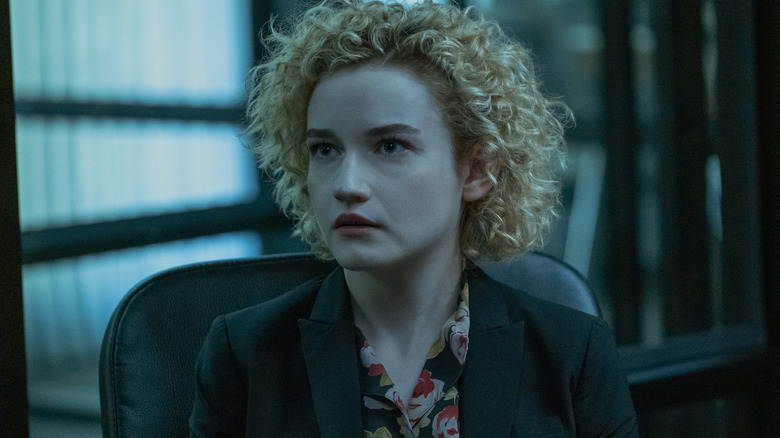 Steve Dietl/Netflix
For a while, Ruth gains victory over the Byrdes by taking control of the casino, as she receives the rights that belonged to Darlene Snell (Lisa Emery), who was married to Wyatt, as well as the Snell farm. It even looks like she might get away with killing Javi (Alfonso Herrera). But alas, Camila (Veronica Falcón) bullies Clare (Katrina Lenk) into telling her who really killed her son. Soon enough, Camila ambushes Ruth outside her home. The cartel boss shoots the fiery fan favorite in the final hour. 
This death introduces a major question: What will happen to Ruth's possessions, such as her stake in the casino, the Snell farm, and the Lazy-O Motel? Though this might not seem substantial in the grand scheme of things, the cartel has used the casino to launder money, despite Ruth and Rachel Garrison's (Jordana Spiro) desire to go clean. It seems likely that Three Langmore (Carson Holmes) will gain the rights to Ruth's possessions, unless she's listed Rachel as a benefactor. But all of this is based on speculation. Ruth was, to say the least, wealthy before her demise — the show makes a point of spotlighting this, given where she's from and the fact that her record is officially clean before her death. It's all got to go somewhere.
What will happen to Rachel?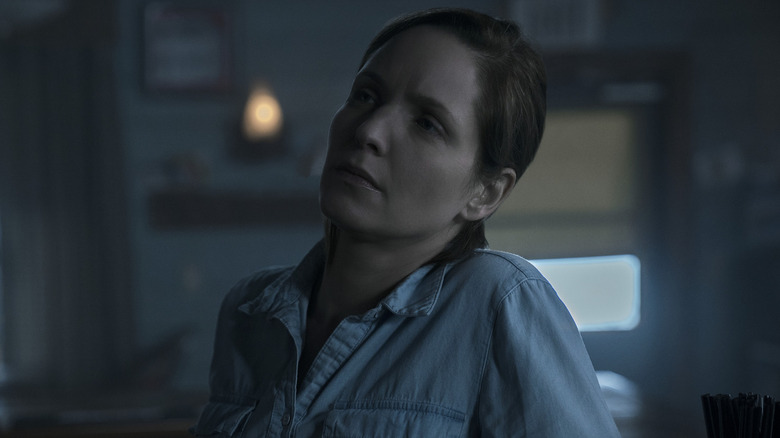 Jessica Miglio/Netflix
Ruth convinces Rachel to come back to the Missouri Ozarks, a tainted place that has caused Rachel an enormous amount of pain. Now that Ruth is dead, Rachel's plan to work alongside her is kaput. She might decide to stay and make more money than she ever has by working at the casino ... but it also wouldn't be surprising if Rachel disappeared yet again, out of fear. Perhaps her, Baby Zeke, and Three will flee town together? It's pretty much anyone's guess. 
It's also not out of the question that Rachel might work for the Byrdes. That prospective work could take place in Missouri, Chicago, or somewhere else entirely. This is based solely on speculation, since her storyline ends with her working at the casino on the night of the Byrde Foundation gala, before Ruth is killed. The authorities would have to suspect Camila of killing Ruth — but that's yet another mystery "Ozark" has left in its wake.
What will happen to Three?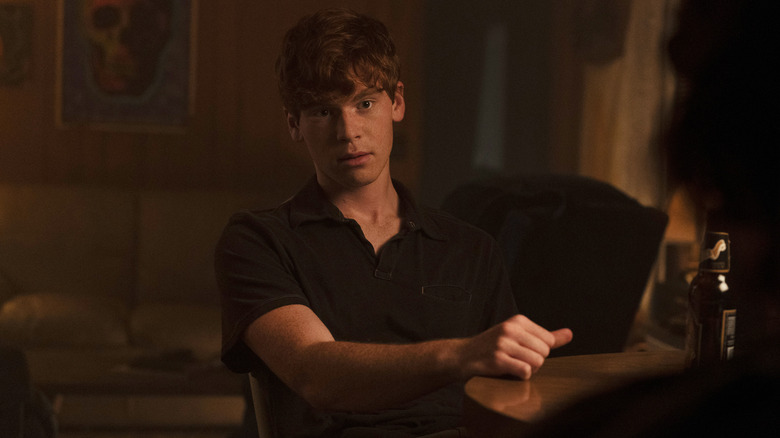 Steve Dietl/Netflix
With Ruth's passing, Three is left as the lone survivor of the Langmore clan. This is a bit surprising, considering he doesn't receive as much screen time as many other Langmore characters and isn't involved in the cartel or the Snell business. Nevertheless, Three lives on.
It remains to be seen what the most underrated Langmore will do, now that Ruth is dead. Ruth presumably left Three with enough resources to flee the Ozarks and try to find a more peaceful life someplace else. But really, you never know — it's entirely possible that Three will go after the cartel once he gets a whiff of who killed his cousin. We can't say for sure, of course — like most of these questions, this will remain up for debate forever, barring spin-off projects or particularly revealing interviews with the creators. But here's what we do know for certain: Three witnesses his entire family die while the Byrde family is in town. Whether or not those deaths are linked to that clan, that's the kind of thing that makes an impression.
Do the Byrdes go back to Chicago?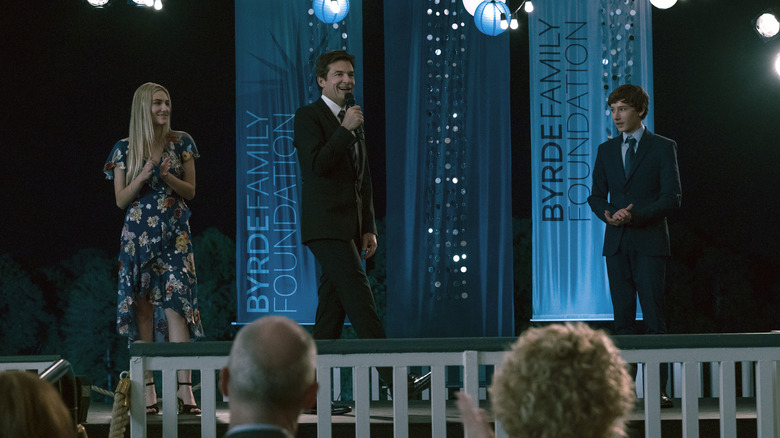 Steve Dietl/Netflix
For a while, it seems like the Byrdes might not make it out of this show alive — or if they do, they will have sustained irreparable damage. After all, Marty has to fill in as the head of the cartel in Mexico, Wendy checks herself into a mental health facility in a bid to get her kids back, and Charlotte and Jonah are on the verge of leaving with Wendy's father, Nathan Davis (Richard Thomas). But the Byrdes manage to survive separation, a car crash, and all the other blood-soaked events that flood the series, and even manage to create a successful foundation in the process, thanks to Wendy. They're now free from the cartel and the FBI.
When we last see the four triumphant family members, Mel has evidence that will link them to Ben's death — but then, Jonah surprises him with a shotgun. Classic Jonah. This scene, and the entire series, ends with the sound of a gun going off. Presumably, this comes from Jonah shooting Mel. Viewers are faced with a particularly major question: Does the Byrde family finally go back to Chicago, in the aftermath of this bloodshed? Someone will have to run the casino after Ruth's passing ... but returning to Chicago was always the endgame. Do they fulfill that goal at last?
Will the Byrdes stay clean?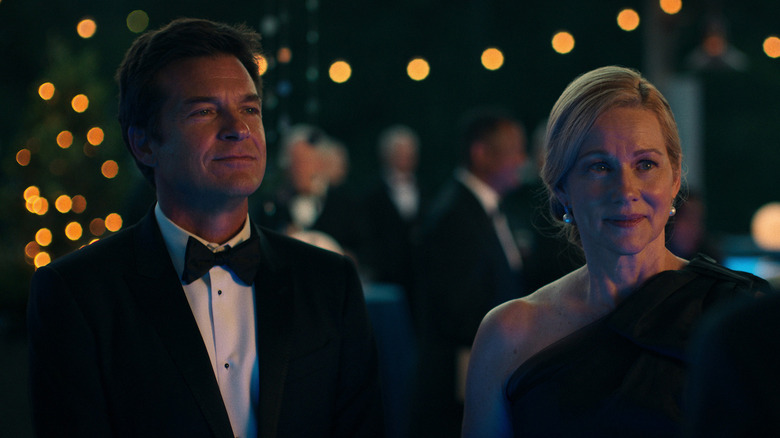 Netflix
The Byrdes still have partial ownership of the casino, and it wouldn't be out of the question for the cartel to continue laundering money through it — if they even need to, given their deal with the FBI. Though of course, this was always Omar's deal, and it remains to be seen what Camila plans on doing as the head of the criminal organization. Regardless, this deal with the FBI is supposed to clear the Byrdes of any charges, as well as settle their debts with the cartel. They should be clear of criminal activity from this point on ... but since the Byrde Foundation is still doing business with Clare, who's doing business with the cartel, who knows what lines will be crossed? 
Will the Byrdes stay clean? Hopefully — but there's a significant change they won't. The cartel's leader is now free to do basically whatever she wants, as long as she continues to cooperate with the FBI. The series leaves the Byrdes clean and free from the authorities and the cartel, but they definitely might not stay that way.
Does Jonah actually kill Mel?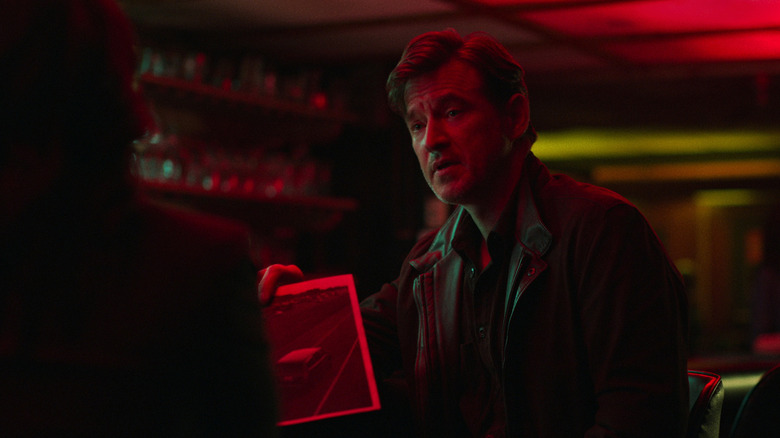 Netflix
In the final moments of "Ozark," Jonah points a shotgun at Mel. The screen goes black, and the sound of a shot being fired rings out. This seems pretty definitive — but the ambiguity of the moment sparks questions. When shows or movies don't clearly depict someone's death, it very well might mean they're not actually dead. Infamously, "The Sopranos" ends on a similarly mysterious cut to black, leaving fans to wonder if Tony Soprano meets his bloody end or not. "Ozark" is less vague than this ending, though: While Tony Soprano simply looks up in a diner, the sound of a gun being fired on "Ozark" is clear, and Jonah's shotgun is the only visible weapon in the previous scene.
It feels pretty safe to say that Jonah kills Mel. But since it's not actually shown, fans might always wonder what happens and theorize accordingly. Perhaps, for example, Maya Miller (Jessica Frances Dukes) shows up and fires her gun before Jonah can pull the trigger. That might seem wild, but hey — it's possible. More likely than not, Mel meets his demise at Jonah's hands, and the Byrdes are free to drive off into the sunset. It's a perfect ending to a captivating crime drama full of surprises — but it's not the only ending fans have to accept.