The Goldbergs Cameo In The Middle That Fans Can't Help But Love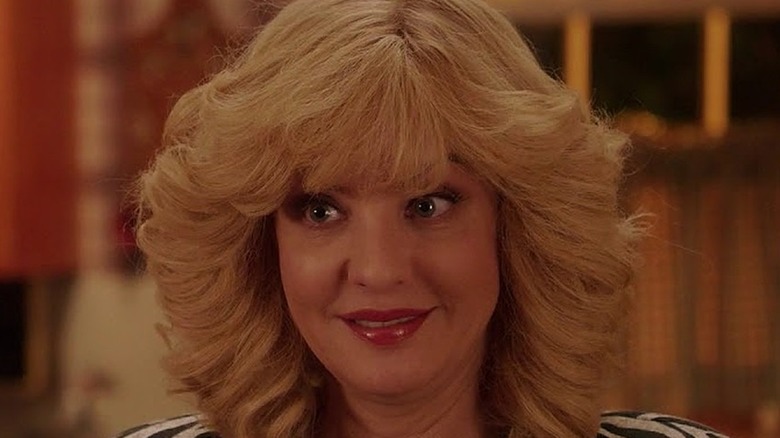 ABC
At its heart, "The Goldbergs" is a show about a normal American family living in the suburbs — not unlike the countless other TV comedies that center around parents and their kids. That said, "The Goldbergs" stands out from its peers as the show is soaked in 1980s nostalgia and based on real-life experiences. Inspired by series creator Adam F. Goldberg's own childhood, the show chronicles the titular family as they navigate life during the aforementioned decade. Each episode is told from the perspective of the youngest child Adam (portrayed by Sean Giambrone), a pop culture-obsessed kid who's just trying to get through his adolescent years. He isn't alone, however, as his siblings Barry (Troy Gentile) and Erica (Hayley Orrantia) have to deal with their own growing pains.
While "The Goldbergs" features numerous references to Steven Spielberg and '80s sci-fi movies, the sitcom is rooted in reality. However, that might not actually be the case at all. It turns out that one of the main characters seemingly traveled through time to hang out with the characters from ABC's "The Middle." Furthermore, fans of both shows are all for the notion of both sitcoms existing in the same universe.
Barry Goldberg has a brief cameo in The Middle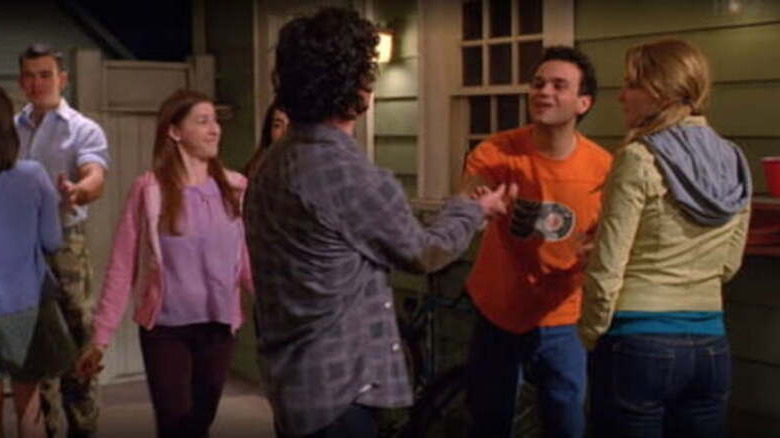 ABC
"The Goldbergs" is set during the 1980s. "The Middle," meanwhile, takes place in the present day. So, how is it possible that Barry Goldberg (Troy Gentile) appears as his teenage self in the latter show? One eagle-eyed Reddit user spotted the Goldberg clan's middle child in the "Operation Infiltration" episode, which originally aired in 2015. During the episode in question, Gentile shows up as an unnamed character who attends Axl's (Charlie McDermott) college party. While he's never mentioned by name, Gentile's character is clearly Barry Goldberg, as evidenced by his trademark bright orange Philadelphia Flyers shirt.
Of course, there is a more down-to-earth reason than time travel for Barry appearing in "The Middle. According to ABC, the character was sent to the future as part of an April Fool's Day prank which saw the network sneak references from other sitcoms into "The Goldbergs," "The Middle," "Modern Family," and "Black-ish." Still, there is a case to be made that they all share a universe.
That said, the logical explanation didn't stop Redditors from coming up with their own theories. "I still say he traveled to the future (2015) to be in this episode then traveled back for his regular appearance in the Goldbergs at 8:30," wrote one user.
Elsewhere, some fans were just shocked to find Barry in another ABC sitcom. "My sister pointed this out to me a while ago. Mind blown," added another Redditor by the name of u/Musicaltrash34.