The Best Relationship Carl Ever Had On Shameless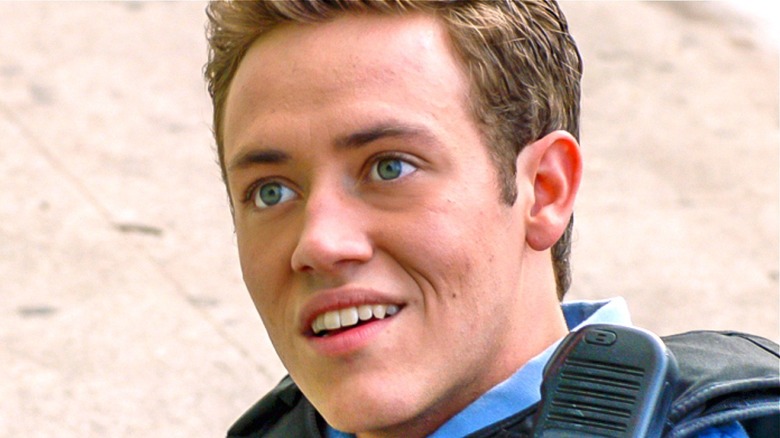 Paul Sarkis/Showtime
All of the main characters on Showtime's "Shameless" are depraved or deeply flawed in one way or another, and Carl Gallagher (Ethan Cutkosky), the second youngest in his family, is no exception. Carl displays many psychopathic tendencies early on in the show, including killing stray animals, making him perhaps the darkest member of the Gallagher family early on. 
As a teenager, Carl becomes part of a gang and later goes to juvenile detention for dealing drugs. But eventually, the young man decides to pursue the "straight" path through military school, and he later becomes a police officer. Surprisingly, Carl may be one of the most empathetic characters on "Shameless" by the end of the series, finding himself unable to euthanize elderly dogs and displaying a real moral compass as a cop.
Carl is often socially isolated compared to the other Gallaghers, but he does make friends and even marries Kassidi (Sammi Hanratty), though he leaves her after she displays obsessive behavior. Ultimately, there was only one relationship on the show that truly fit Carl's personality.
Nick and Carl are like peas in a pod
Carl ends up befriending Nick (Victor Onuigbo) while both are in juvenile detention. Much like Carl, Nick's father was an addict and abusive, even selling Nick's bike for drugs. This caused Nick to lash out at his dad in rage, which then resulted in the young man being sent to the facility.
In Season 6 of "Shameless," Nick is released from the center after turning 18 and moves into the Gallagher house with Carl. The two young, brooding criminals seem to implicitly understand one another, maybe because they're so much alike, and they work well as a team selling weapons in their high school.
However, Nick doesn't have the self-control that Carl has, and this proves to be his downfall. After his beloved new bike is stolen, Nick sees the culprit using it, but Carl warns him about getting revenge on him. Nick won't listen, though, and ends up using his trademark hammer to murder the young man who took the bicycle. Carl can only watch in shock and despair as Nick is arrested. The only consolation the younger Gallagher has is that Nick's senseless act convinces him to turn away from crime for good.