Paul Bettany Had A Visceral Response To WandaVision's Live Studio Audience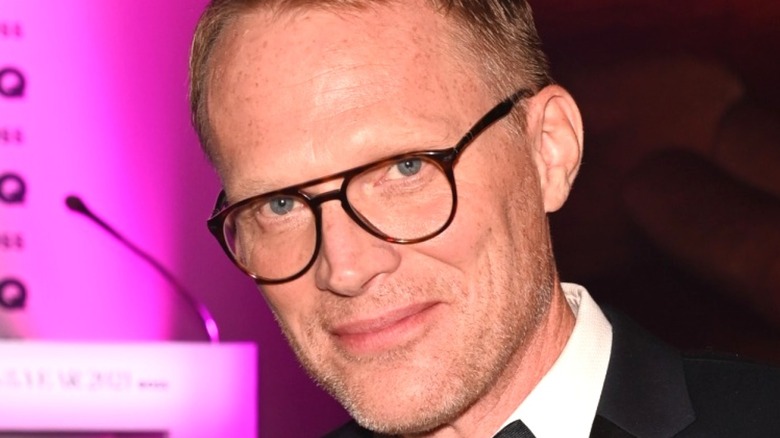 David M. Benett/Getty
After the credits rolled on "Avengers: Endgame," audiences were unsure what was next for the Marvel Cinematic Universe. The decade-long battle against the forces of Thanos was now over, and Marvel had to find a new direction. That direction was to take the untold or unfinished stories from the MCU and bring them to series format on Disney+, beginning with "WandaVision" and taking the entire franchise in a new direction.
The first Marvel series to star MCU actors and continue the storyline brought Wanda Maximoff (Elizabeth Olsen) and Vision (Paul Bettany) back together for a trippy story surrounding grief and loss. Still dealing with Vision's death in "Avengers: Infinity War," Wanda creates a brand-new reality inside a magical terrarium, holding the town's residents hostage. Of course, not everything inside the cocoon of fantasy is what it seems — Agatha Harkness (Kathryn Hahn) comes poking around with dark magic of her own.
"WandaVision" saw Olsen and Bettany joined by MCU actors Kat Dennings and Randall Park and also featured the surprise appearance of Evan Peters from the "X-Men" franchise masquerading as the MCU's Quicksilver. The series was a deep dive into Wanda's trauma, something revolutionary for the superhero genre. However, Paul Bettany wasn't immediately on board with the filming style.
He had stage fright
We all remember those sitcoms from our childhood that began with the notice "filmed in front of a live studio audience." Each episode would see the characters getting reactions in the form of applause, laughter, or a collective "awwww." It added a layer of depth to the series, and since many "WandaVision" episodes took the form of these old shows, that same live studio audience was occasionally present. However, Paul Bettany wasn't immediately comfortable.
In a recent appearance on "Late Night with Seth Meyers" to promote his newest project, "A Very British Scandal," he said, "I was really resistant. I really didn't want to do it, and I said, 'I think this is a really bad idea.' And they said, 'Well, we think it's the only way we can get the energy that they had where they're projecting past the cameras to an audience.' And I said, 'Okay, okay.' And I was so nervous, and then I got onstage, and I got my first laugh, and I'm so shallow that I was like, 'I've wasted my entire life! I should be doing sitcoms. What have I done?'"
Earlier in the same interview, Bettany talks about how he never wanted to act. Fans are lucky he overcame both of those hesitations and delivered one of the best characters in the MCU. We can't imagine any other actor portraying J.A.R.V.I.S or Vision, and now we're feeling the grief and loss of Vision all over again. Time for a rewatch.