Gorgeous First-Look Images From Star Trek: Strange New Worlds Feel Both Retro And Fresh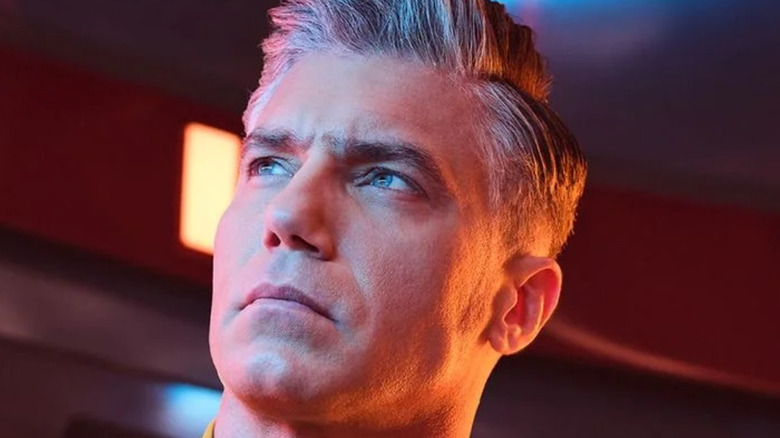 Paramount+
With "Star Trek: Strange New Worlds" set to be released on May 5, we're finally getting glimpses of how the prequel series will look once it debuts. The series follows the crew of Captain Christopher Pike (Anson Mount) as they explore the universe in the years preceding "Star Trek: The Original Series." Set after the events of the first two seasons of "Star Trek: Discovery," this new series will contain many of the same characters as previous shows. "TOS" veterans like Pike, Number One (Rebecca Romijn), Spock (Ethan Peck), and Uhura (Celia Rose Gooding) are back in business. However, the show will also feature a new character in La'an Noonien-Singh (Christina Chong), a descendant of the almighty and iconic "Star Trek" villain Khan Noonien-Singh.
Now, we're finally able to see how all these characters (and many others) will look in "Strange New Worlds." Paramount+ just released some official images (via Collider), showing off each character in their snazzy Federation uniforms. While said uniforms have changed frequently across the "Star Trek" franchise, the ones seen in "Strange New Worlds" feel both retro and fresh.
Star Trek keeps its old style with some new flavor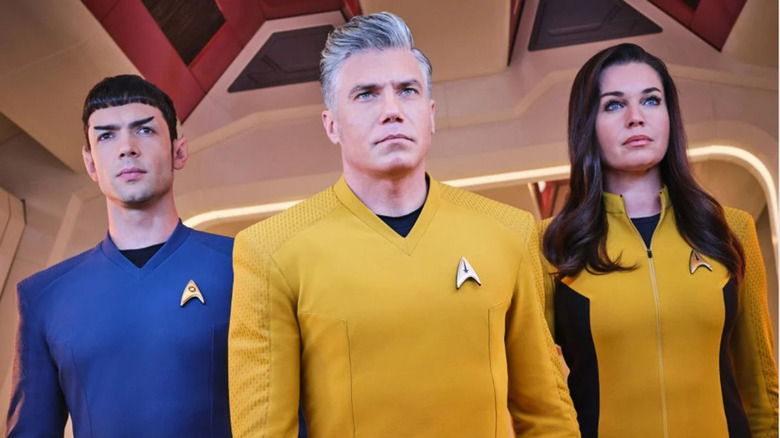 Paramount+
For the most part, the new crew uniforms in "Star Trek: Strange New Worlds" look almost exactly like the uniforms used by the crew of "The Original Series." Those solid-colored shirts, however, look far less low-budget and plain than they did when William Shatner and the original cast donned them decades ago. Much like the more recent "Star Trek" films directed by J.J. Abrams, these uniforms keep that style while still looking like something a space traveler might wear.
On top of that, these images also give us a good look at the Enterprise crew on the actual Enterprise, which has kept many of its original trappings from "TOS." This old-school feeling is helped along by the return of the episodic format in "Strange New Worlds" – the pre-streaming custom of letting each episode have its own storyline and message is back. Hopefully, it is a formula that will please fans as they embark on one more journey on the Enterprise.