The Worst Blue Bloods Season 7 Episode According To IMDb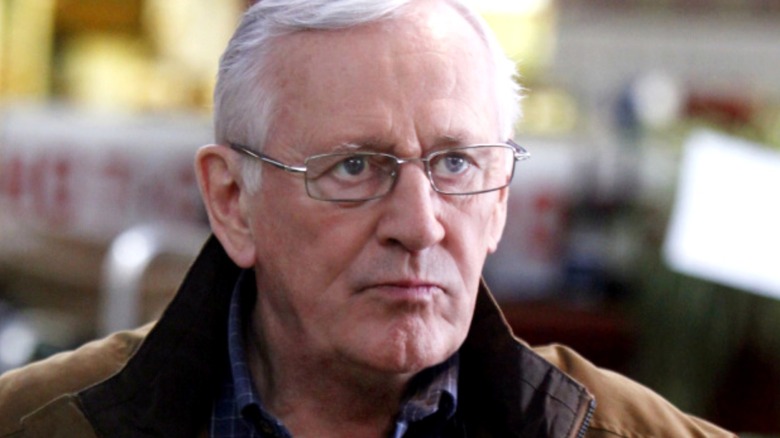 Craig Blankenhorn/CBS
Given the fact it's been on the air for over a decade, it shouldn't come as a surprise to hear that "Blue Bloods" has maintained a certain level of quality throughout its run. In fact, that consistent quality has been present since the show's beginnings. As Andy Bailey wrote in a review for The Hollywood Reporter, "'Blue Bloods' excels through its high-tone production values ... and standout performances from [Tom] Selleck and [Donnie] Wahlberg, whose moral ambiguity and thinly veiled powder-keg fury, passed down by lineage, promises to fuel the series through a gripping first season."
The procedural had a lot to live up to with those lofty expectations, but it's safe to say the show hits more times than it misses, even when it was well into its run with Season 7. Still, some episodes just can't be winners, and when it comes to Season 7, one episode is at the bottom of the barrel, according to IMDb.
For the Community felt like a letdown to fans
IMDb allows users to rate and rank episodes of their favorite TV shows. As such, other users can see which installments are worth their time and which deserve a skip. When it comes to "Blue Bloods" Season 7, it would appear the episode that's not worth anyone's time is Episode 5, "For the Community."
Out of nearly 300 ratings, the episode has earned itself a ranking of 7.3/10. When you look at the breakdown of that rating, quite a few fall within a 5.0/10 and below. And the user reviews paint a clear picture of why the episode fell below the usual standard of "Blue Bloods."
One fan didn't care for the episode due to a subplot involving a psychic. They describe it as "inane at best and we could have well done without that." Suffice to say, it's a far cry from the highest-rated episode of "Blue Bloods" from Season 7, namely "Unbearable Loss," which upped the ante and brought raw, genuine emotion to the proceedings.