Syfy Cancels Blood Drive After One Season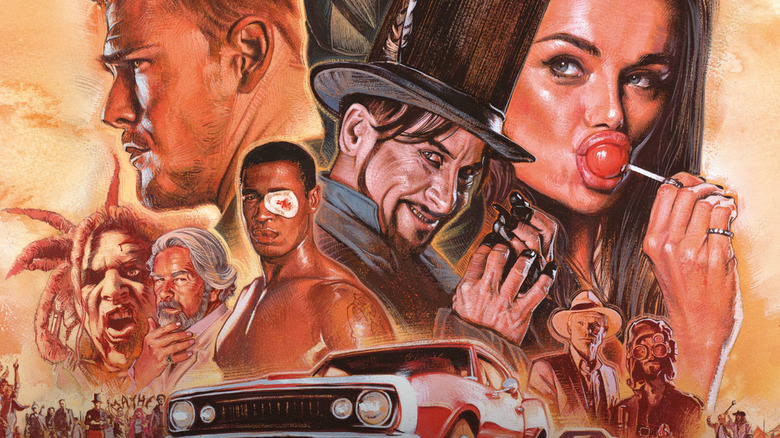 Syfy
Syfy has hit the brakes on Blood Drive after just one season.
James Roland, creator of the grindhouse-inspired series, confirmed the news on his blog. "Unfortunately, your suspicions are correct. Syfy has canceled Blood Drive after one season," he wrote. "If this news makes you angry or sad, you're not alone. I found out not too long ago, but have been trying to think of a way to tell you guys since I felt it was up to me to let the fans know." 
Roland said he knew about the cancellation before the final episode made it to air this week. "Ultimately, I decided to wait until after the final episode aired so the news did not taint your experience. It simply didn't seem right to burst the bubble so early, especially with how the last episode plays out. We always planned for a season 2, but now that the future of the show is uncertain the final scenes seem so much more... final."
The series debuted on June 14 and the idea was to feature a new grindhouse inspiration (monsters, cults, cannibals, etc.) each week. The show centered on Arthur Bailey (Alan Ritchson), one of the last good cops in Los Angeles, who is pulled into an underground cross-country race in which cars run on blood.
Although ratings for the first two episodes were promising, they quickly dropped. Roland was a co-executive producer along with John Hlavin (Underworld Awakening), David Straiton (Bates Motel), and Frederik Malmberg (Let Me In).
As for the future, Roland said there's still a chance to revisit the Blood Drive universe. "I remain cautiously optimistic there's more story to tell in this world," he wrote. "NBC/Universal owns the show, so when the time comes, I'll approach them with some ideas and we'll see what they think."
In the meantime, take a look back at some TV cancellations that never should've happened.