The Purge 4 To Feature A Mostly Black Cast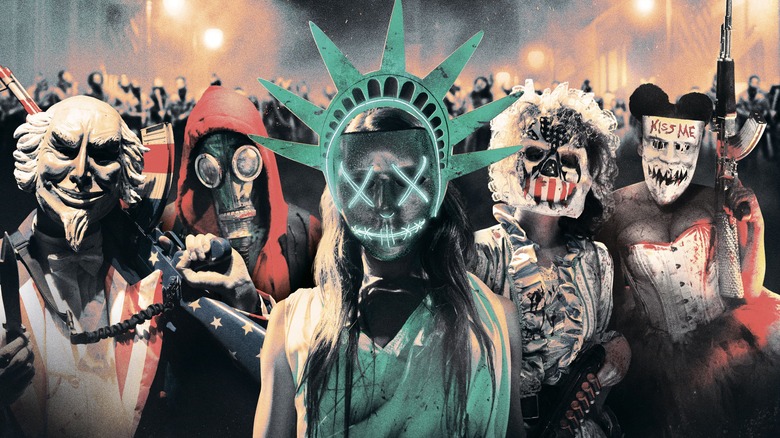 The fourth installment in the chaotically cathartic Purge series will offer a different perspective on the worst night of the year with a mostly-black cast, series creator James DeMonaco revealed in an interview with Vulture. 
"We always talk about how the only way to change the system is to make successful things with a black lead or female lead," said DeMonaco. "It's the only way to do it. At first we were saying, it's not a race movie, it's more about class. But ultimately race is class."
"Purge Four's cast is 90 percent black," the filmmaker then confirmed.
The series of horror movies that imagine one night out of the year when all crime is legal has already found its director in Gerard McMurray, with DeMonaco stepping down after helming the first three installments. But DeMonaco is still heavily involved in the production of the movie, writing the screenplay for the story, which will be a prequel set on Staten Island during the night of the "first experimental Purge."
DeMonaco also said that McMurray, who previously worked as a producer on Fruitvale Station and directed the frat hazing movie Burning Sands for Netflix, will play a big role in shoring up the themes of the movie as a metaphor for class divide and desperation. "He lived through Katrina, and Katrina was one of the early influences on The Purge itself when I saw the treatment of the people in the Ninth Ward by the government," DeMonaco said. "That was part of what fed into the first Purge. So we met with Gerard, it was just the perfect fit. But the writing of the script was me, and it's 90 percent black people. So yeah, you get a little daunted. Like, 'What am I—Italian guy from Staten Island—what am I bringing to this?' But hopefully I'm telling the universal story."
In the interview, DeMonaco also talked about the upcoming ten-episode Purge TV series, currently being developed to air on the USA and Syfy networks. The longer format, he says, will allow for more focus on the characters' backgrounds and mindsets, establishing a foundation that explains why they might turn to violence against their fellow citizens when given the opportunity. 
"We're going back six months or two years or into their childhood to see some things that might've fed into their decision-making on this particular Purge," DeMonaco said. "The long form is actually allowing it to become more of a character study, which is kind of cool, instead of a singular event of surviving the night."
The fourth Purge movie is set to be released on July 4, 2018. For more about the rapidly-expanding horror franchise, check out our feature on the untold truth of The Purge.