Critics Can't Stop Comparing David Harbour's New Christmas-Themed Thriller To This Classic Bruce Willis Pic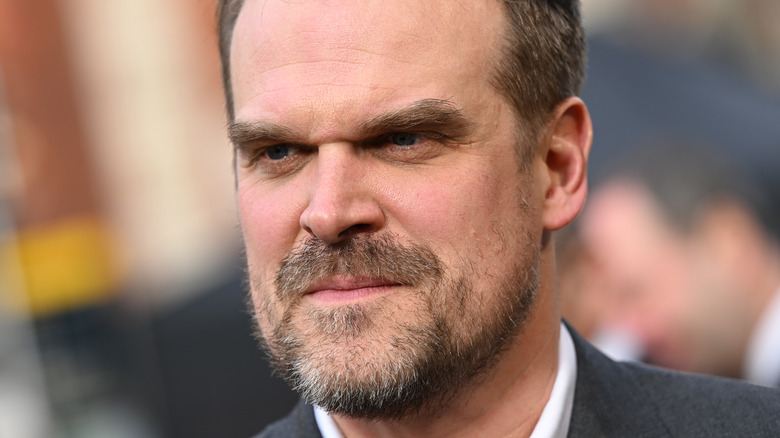 Jeff Spicer/Getty Images
David Harbour has enjoyed quite an impressive run in Hollywood as of late, attaching himself to winning project after winning project and landing some career-defining roles in the process. He played Alexei "Red Guardian" Shostakov as a part of Marvel Studios' "Black Widow," scored a minor voice role in the anthology series "Star Wars: Visions," and he'll make his Netflix return as Jim Hopper on the long-awaited "Stranger Things" Season 4, but that's not all. He's also about to get audiences pumped for the holiday season as the lead in director Tommy Wirkola's "Violent Night."
With a title that's an obvious riff on the famous Christmas carol "Silent Night," "Violent Night" is far from a warm, comforting holiday flick. In fact, it's a hard-hitting, action-packed thrill ride that Harbour is more than excited to unveil to the world. At CinemaCon 2022, he revealed that he plays a version of Santa Claus that's more than happy to bring the pain with a hammer, especially when a group of mercenaries takes it upon themselves to wreak unnecessary havoc on Christmas Eve. Suffice to say, it has all the potential to go down in history as a holiday classic.
CinemaCon 2022 also hosted the first look at "Violent Night," prompting a few of those that saw it to compare the upcoming feature to an iconic Bruce Willis-led classic.
Violent Night gives off some serious Die Hard vibes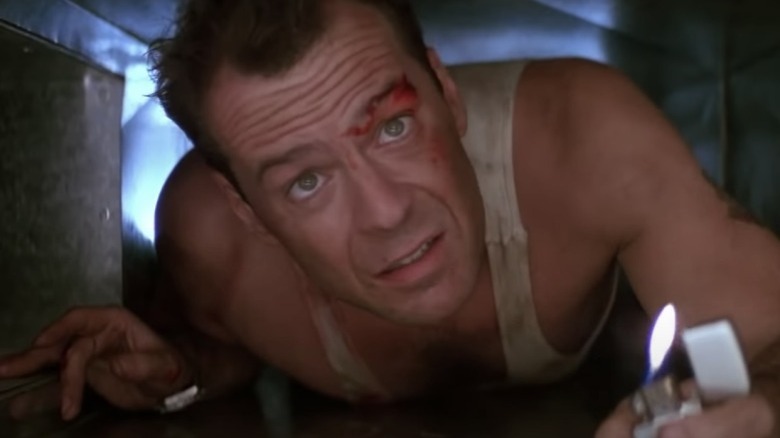 20th Century Studios
To fully immerse eventgoers in the "Violent Night" experience, CinemaCon showed off a sequence from the film that encompassed what it's all about. A group of bad guys bursts into a home, guns blazing, led by a character played by none other than John Leguizamo. They destroy the Christmas tree and ransack the entire house, prompting a little girl to desperately contact Santa Claus for help. Sure enough, he arrives and saves the day in a brutal, violent fashion with his elves in tow (via Slash Film) — a display that some critics couldn't help but compare to the 1988 favorite "Die Hard."
"Violent Night with David Harbour looks like an absolute riot. I smell a new cult classic in the making," said @ScottDMenzel on Twitter, and it's not hard to see where they're coming from. To @GermainLussier, "Violent Night" seems like a cross between "Nobody," "Die Hard," and "Santa Claus," and they refer to the teaser as quite enjoyable. @ErikDavis predicts that those who check it out are in for an appropriately violent, wild ride, and @TheInSneider went as far as to compare the preview's vibe to something out of "Abraham Lincoln: Vampire Hunter," just with Santa.
"Violent Night" arrives on the big screen on December 2, 2022, and unless you want to be visited by an angry, hyperviolent Santa Claus, you might want to leave out some milk and cookies the night before.