Why Was Denis O'Hare Absent From American Horror Story?
Brad Falchuk and Ryan Murphy's "American Horror Story" follows an anthology-style format for each of its seasons, which means that each season typically features a story that's independent of the others, though there are some shared characters and plots that connect seasons to each other. The show has an impressive main cast of actors who return multiple times to portray a variety of strange and compelling characters, including Denis O'Hare, Evan Peters, Kathy Bates, Jessica Lange, Angela Bassett, and Sarah Paulson.
In particular, O'Hare is an immediately recognizable actor who plays a former haunted house owner and burn victim in Season 1, "American Horror Story: Murder House," an avid doll collector and guardian of a witch coven in Season 3, known as "Coven," an unscrupulous and greedy killer in "Freak Show," one of the hotel workers with impeccable fashion taste in "Hotel," and an eccentric researcher in "Roanoke." From there, O'Hare is strangely absent from "Cult," "Apocalypse," and "1984." But why was the famous actor missing from these seasons?
O'Hare was missing from seasons of AHS because Ryan Murphy didn't call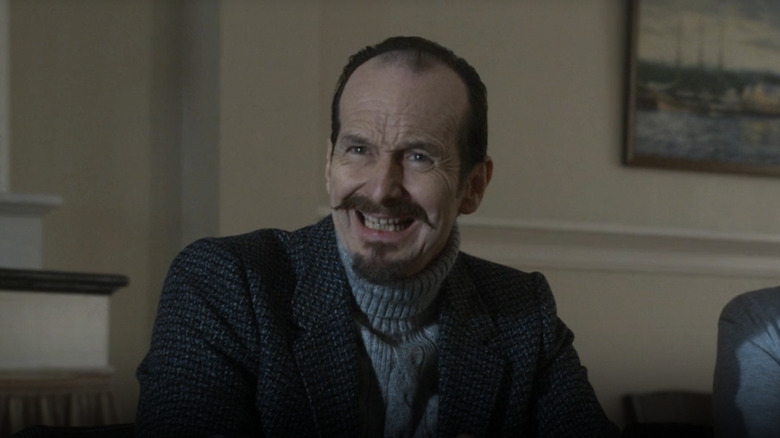 FX/Hulu
Luckily for fans of O'Hare, the actor returns to the horror franchise once again in Season 10, called "American Horror Story: Double Feature," as Holden Vaughn, a member of the Provincetown City Council and a famous interior designer. When asked in an interview with Digital Spy if he made a conscious decision to take a break from "American Horror Story" between "Hotel" and "Double Feature," O'Hare replied, "No. It's the mind of Ryan Murphy. God knows how he does it ... I think he gets inspired by certain people, and runs with them for a while, and then I think his attention turns to somebody else, for whatever reason. So I was available, but I was suddenly not in the orbit anymore."
He added, "That being said, I love working on 'American Horror Story.' I also love working on the other things I've gotten to do. And I'm excited to be back. I guess the lesson is: who knows how long I'm back for? I don't know if this will turn into something else. It doesn't matter." Judging by these comments, it seems like O'Hare thoroughly enjoys working in "American Horror Story," though whether or not he appears in future seasons of the show is dependent entirely on the creators. This means that the reason O'Hare is not seen in three consecutive seasons is simply because Murphy and Falchuk didn't have a role in mind for the actor. Still, it's great to see the "American Horror Story" alum return again to the series in Season 10, and one can only hope that he will continue to do so.