Kelly Severide's Most Heartbreaking Moment On Chicago Fire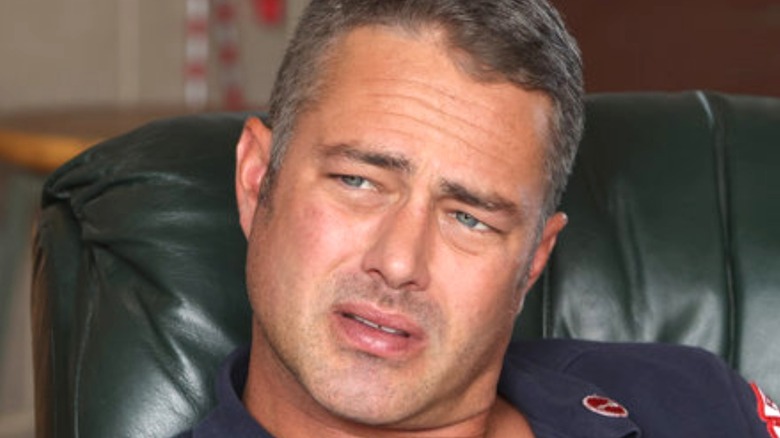 Adrian S. Burrows Sr./NBC
Serious and stalwart Lt. Kelly Severide (Taylor Kinney) of "Chicago Fire" can be pretty self-contained and reluctant to express his true feelings. It's the sort of self-control that keeps him as one of Chicago's finest. But it doesn't make for the easiest or happiest life.
Kelly's been through a lot on the show since his debut, and not all of it has been negative. For instance, the ladies' man has finally settled into an engagement with Stella Kidd (Miranda Rae Mayo) after years of refusing to give himself romantically to any one woman. But there also hasn't been any shortage of tragedy. His father and lifelong idol, Benny (Treat Williams), died after suffering a stroke in Season 7, leaving Kelly's daddy issues completely unsolved. Kelly ultimately has had to learn to try to live his own life — to emerge from his father's shadow, no matter the risk or the danger to himself.
But which moment involving Kelly was the saddest, most heartbreaking of them all? Here's what we think.
Kelly's reaction to Anna's death is an emotional rollercoaster
In the Season 5 episode "One Hundred," Kelly donates bone marrow to Anna Turner (Charlotte Sullivan), a doctor with leukemia. Anna recovers her health thanks to Kelly's donation, and the two of them kick off a relationship. It's the most serious relationship Kelly had embarked upon on the show up to that point, and it lasts for the majority of Season 5. Kelly goes so far as to try to get Anna a job in med, as well as introduce her to his father, and even considers getting engaged to her.
But it's all for naught, as Anna takes a sudden turn for the worse. She tries abruptly leaving to spare him the pain, but instead, Kelly hangs out by her bedside as she fades. Finally, in "Carry Me," Episode 20 of Season 5, he learns that the infection is too much for Anna's system and that she's septic. There's nothing more mere medicine can do for her. Kelly sucks up the news and heads to Anna's room, where she lies dying in the company of her father. Anna demands that Kelly tell her about the woman he left her bedside to help, an elderly woman who refused to leave her burned-out home due to all of the strong memories the place contains.
"You can't carry a house on your shoulders," Anna says. Kelly demands she stay with him, live, look at him, but that's something Anna can't do. She promptly codes and then passes on as Kelly cries and begs her not to leave.
The whole scene is a huge heartbreaker, and it sports some of Taylor Kinney's best acting on the show to date. As Kelly, he cycles through despair, angst, and sadness in a beautifully credible moment.