Fred Hurt's Job Before Gold Rush: White Water Isn't What You'd Expect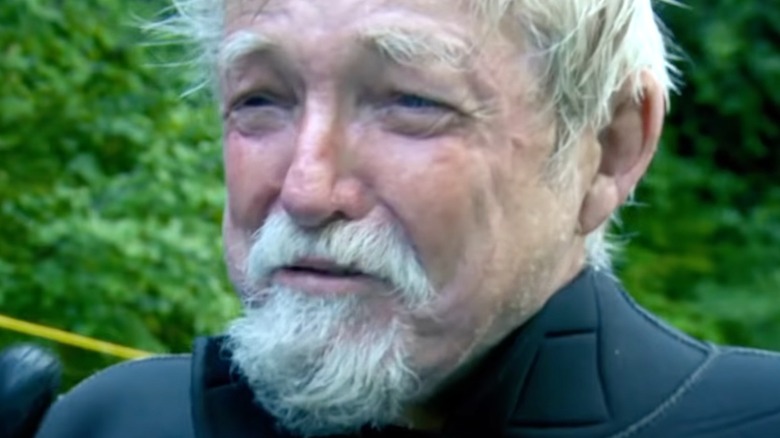 Discovery/YouTube
As a seasoned miner on a succession of Discovery's various "Gold Rush" reality TV franchises, Fred Hurt has proven himself an expert hand at everything from white-water diving to dredge operations to machinery fabrications and more. A familiar face to long-time fans of Discovery shows including "Gold Rush: Alaska" (later renamed simply "Gold Rush"), "Gold Rush: White Water," and "Gold Rush: South America," Hurt is a persona who, in addition to profitably running his own claims, could also be depended on to give advice to other gold miners with less experience in the high-risk, high-reward realm of prospecting for one of the world's most precious commodities.
After four seasons in the original "Gold Rush," Hurt branched out to forge his own path in the spin-off series, "Gold Rush: White Water," teaming up with his son Dustin and a crew of experienced miners and dredge mechanics tackling even more remote mining claims in the Alaskan wilderness. With all of the above taken into consideration, it might be logical to assume Hurt has been a miner all his life. But the fact is, before digging into the back-country hunt for glittering riches in "Gold Rush," Hurt worked at a job that might come as a surprise to fans of the show.
Fred Hurt was in construction before he became a miner
To longtime viewers of the "Gold Rush" franchise, it might be easy to imagine that Fred Hurt has been mining for gold his entire life. That is far from the case, though. According to his personal website, Hurt didn't actually get into mining until after he retired in 2004. So, that begs the question: What was he doing before then? As it turns out, not only was Hurt a commercial diver, but he also worked construction before picking up a pan. 
Queried about how he caught the gold mining bug, Hurt told the Susan Finley Writes blog, "My son in law, Paul, said he had always wanted to go gold mining. I agreed to go with him, and asked where he wanted to start. I was shocked, and delighted that he said 'Alaska!'" Hurt went on to point out that this particular career move actually made a lot of sense for someone with his experience, saying, "Having been in the Commercial Diving (Underwater) and Construction business most of my life, it was perfect preparation for gold mining." 
So, while fans of his multiple seasons with Discovery's "Gold Rush" shows know him primarily as a miner who occasionally did some underwater work, the truth is that Fred Hurt's unique background in construction and diving gave him the ideal skill set for pursuing his eventual gold mining adventures.