Who Played Marc's Mom In Moon Knight Episode 5?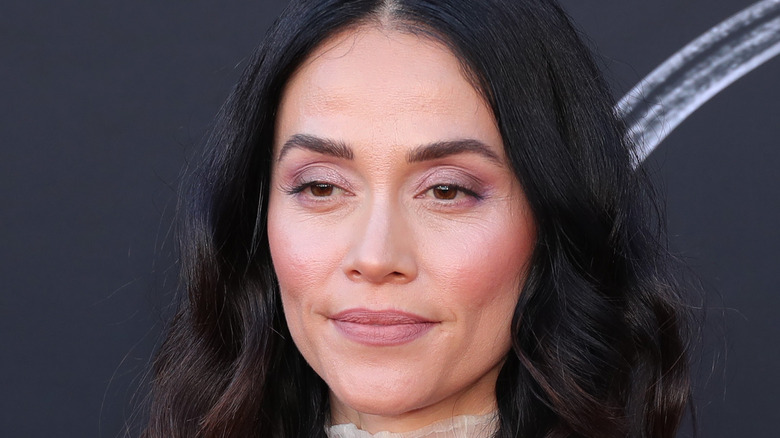 Leon Bennett/Getty Images
Warning: this article contains spoilers for "Moon Knight" Episode 5.
Marc Spector and Steven Grant, light and dark, Marvel's limited series "Moon Knight" demonstrates many mysterious dichotomies. Though both characters (played by Oscar Isaac) are technically the protagonist, there is initially little known about their past. Marc and Steven's perspectives differentiate due to their joint dissociative identity disorder. Only when Marc becomes obsessed with stopping Arthur Harrow (Ethan Hawke) does Steven realize he is just one personality sharing the same body. 
For four episodes, "Moon Knight" is able to cruise along at a comfortable pace without revealing too much about the mercenary. However, in Episode 5, "Asylum," Marc's past is finally revealed. After being shot by Harrow, Marc and Steven go down memory lane and encounter Marc's late mother Wendy. This is one big clue that points to the origin of Marc and Steven's predicament. 
Marc did not grow up in a loving household. As a boy, he experiences trauma after his brother dies and his mother blames him for the tragedy. Wendy is an integral part of Marc's mental health journey, and the actor who plays her, Fernanda Andrade, has some experience in the world of complicated families.
Fernanda Andrade has experience acting in both drama and horror
Fernanda Andrade fits well into the cast of "Moon Knight" with her vast experience acting in television. Like many actors, she started out with appearances in crime procedurals such as "Law & Order: LA" and "CSI: Miami," later appearing in "Law & Order: Special Victims Unit" and "CSI: NY" as well (via IMDb). However, she soon graduated to higher intensity properties like "Sons of Anarchy." Her character Elyda has the misfortune of being pulled into the Teller family drama as a babysitter for Jax (Charlie Hunnam) and Tara's (Maggie Siff) two sons. Historically, this is not the safest place to be. Jax's mother Gemma (Katey Sagal) has a high body count for anyone that gets too close to her family. Elyda is fortunately not as unlucky as Tara, but she only has a short appearance in the series.
Andrade also played an intense role in the 2012 horror film "The Devil Inside." The film follows Isabella Rossi (Andrade), a young woman attempting to make sense of her mother's demonic possession. Determined not to fall into the devil's hands as well, Rossi films the experience with the help of priests who perform unauthorized exorcisms. This type of subject matter certainly helped prepare her to portray her dark role as Wendy in "Moon Knight." Since "The Devil Inside," Andrade has gone on to have bigger roles in shows like "Here and Now," "The First," and "Next," as well as parts in various films, and now she's officially a part of the Marvel television universe.