Blue Bloods' Len Cariou On Tom Selleck And Filming Reagan Family Dinners – Exclusive Interview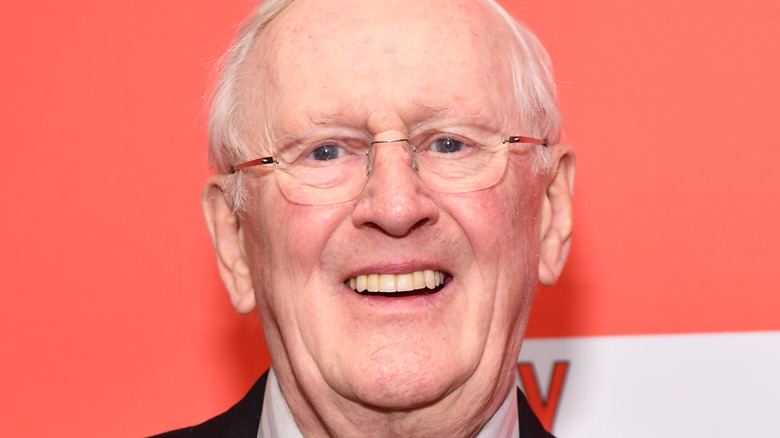 Noam Galai/Getty Images
Only five years separate Len Cariou and Tom Selleck in real life, yet the former playing the latter's father somehow works on "Blue Bloods."
As retired NYPD police commissioner Henry Reagan, Cariou plays the patriarch of the fictional Reagan family, which is steeped in law enforcement. Selleck plays current Commissioner Frank Reagan, while Donnie Wahlberg, Bridget Moynahan, and Will Estes round out the family as Henry's grandchildren who all have a hand in enforcing the law too.
Now in it's twelfth season, "Blue Bloods" — which airs on CBS Friday nights — has always wrapped its emotional core around the Sunday dinners the Reagan family shares each week, in which they ponder cases they've worked on and discuss matters of the household.
For Cariou, "Blue Bloods" has been the cherry on top of a long, illustrious career in both stage and screen. The 82-year-old actor got his start on Broadway and has starred in dozens of productions, including originating the title role in the musical "Sweeney Todd: The Demon Barber of Fleet Street," which won him a Tony Award. As a screen actor he has had memorable roles in "Murder, She Wrote," "Spotlight," and "Bumblebee," among others.
During an exclusive interview, Cariou discussed all things "Blue Bloods" — from working with Selleck and Wahlberg to singing on set (or the lack thereof), and what it's really like sitting down at the table for those legendary Reagan family dinners.
Cariou fully expects there to be a Season 13 of Blue Bloods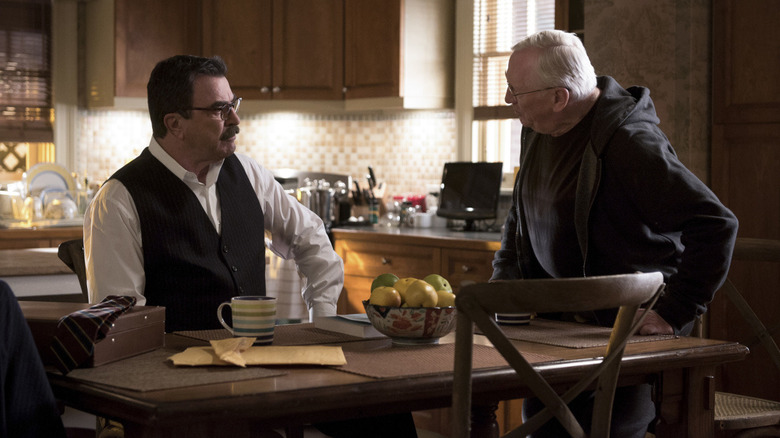 JoJo Whilden/CBS
First things first, are you concerned that CBS hasn't announced Season 13 yet or are we okay with that?
We're okay with it. It's in the works. Let me put it that way.   
Excellent. Glad to hear that. Now, what's it like playing Tom Selleck's dad?
It's great fun. I'm very proud of him. He's doing an excellent job. It's not an easy job. I know because I had it. Tom is a great guy. He's our fearless leader, for sure. He's been at it all his life, in the television business. He knows all the ropes, and it's a great pleasure to be with him. He's a fine actor and we enjoy one another's company. All of us. It's a very happy company.
In real life, very few years separate you and Tom. Was that odd at first? How do you feel about that?
When the proposition came to me, my wife got the appointment on the internet from my agent and said, "This show, you're going to get this role playing Tom Selleck's father and it'll run for ten years." I laughed at her. In the first place, Tom and I ... Who's going to buy me being Tom Selleck's father? We're only about a generation apart. Lo and behold, [about] 13 years later...
Do you and Tom ever joke about the age difference?
Not really. We have, but that was way back when.
In general, any funny or memorable moments that stand out with him?
Yeah, but not that we can talk about, if you know what I mean.
How about any memorable on-set moments that you can talk about, whether it involves him or not?
There were a couple memorable ones. One I remember, when Sami Gayle [who plays Henry's great-granddaughter Nicky] and I did the duet from "Annie," which was great fun. That was [executive producer] Leonard Goldberg wanting me to sing on a show, so he got his wish.
Most recently, an episode last season, when somebody who was a great friend of mine and my DCPI died suddenly, and it seemed like there was a lot of hanky-panky going on. I didn't believe that he just died. I thought that a guy that he had put away who just got released from prison may have killed him, but they found out that he had a heart attack and that was it. That episode ended with me getting that news and I was very upset by it. That was interesting to play. I loved that the episode ended on that scene with me and Will.
Donnie and I have had some memorable ones. Pretty much everybody is a family now. It's been great fun, and it gets me out of the house, too.
The very first Blue Bloods scene ever shot was at the dinner table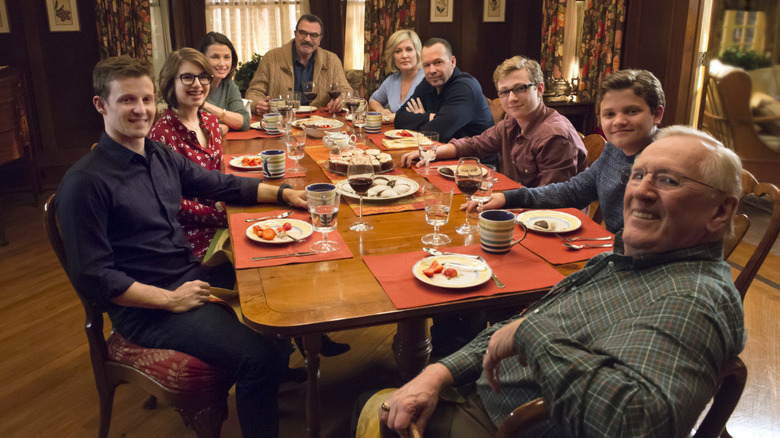 John Paul Filo/CBS
Of the actors who play your grandchildren — Donnie, Bridget, Will — who do you have the closest relationship with?
Pretty much equal amongst them. We all respect one another greatly, because everybody's doing such a great job. We cherish the scenes where we get to be one on one with each other, instead of us around the dinner table.
Speaking of the dinner table, do you guys have fun behind the scenes sitting down for those Reagan family dinners? It seems like it would be a jovial scene to film.
Yeah, we have to. We're there for a long time. There's nine of us, so the scene takes a long time to film. When we filmed the pilot, it was the very first scene that we did, and I said to Leonard Goldberg, our founding exec producer, "Why are we doing this first? We hardly know one another." He said, "Well, I want there to be one of these scenes in every episode. So, I figured baptism by fire. Let's see if it works." He came back the next day and said, "It works like gangbusters."
The first thing that we filmed was the first dinner scene, and we all had to make up a history, right then and there, on the spot. Who was the oldest in the family? What was our background? What was my background? We made one up and established the family business right then and there.
Since then, what's become your favorite part of filming those dinner scenes?
The dinners themselves, because it's great fun. We're all sitting around and we all joke and carry on. We have to really deal with ourselves off camera as a family, too. There's a little bit of gossip going on and some jokes are being told and all that.
You mentioned singing "Annie" on the show, and I know you have some musicals under your belt. Do you ever regale the cast with a song at dinner or anything like that?
No. I spare them that. Donnie and I made a deal. We spare one another that.
Well, that answers my next question about whether Donnie ever sings.
No, we made a deal, and he'd be the first one to tell you, "I can't sing. What are you talking about?"
Going back to you singing the "Annie" song, which kind of melded two of your worlds together, how was that feeling for you?
It was fun. Henry was a cop, he wasn't a singer, so the singing had to be a little rougher around the edges, and that's always fun to do. It didn't need to have the polish that one really would have [for Broadway], because it was for the Knights of Columbus. It was fun to do.
He hopes Blue Bloods makes it to Season 20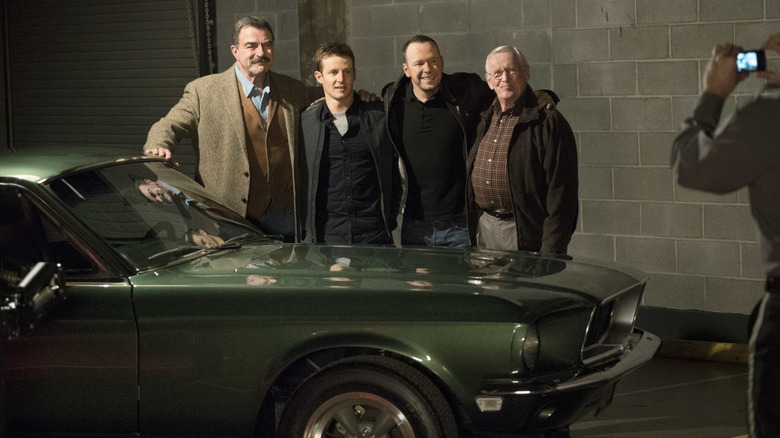 John Paul Filo/CBS
The core cast has been intact for all 12 seasons, which is pretty impressive. If any of the core were to ever leave, do you think the show should go on?
Yeah, I think it could. Sami's gone now. Amy Carlson left after seven years. We've done all right.
Twelve seasons is a long time, and quite a respectful run, but all good things must come to an end, at some point. What do you think a fitting ending for the show would be? Have you thought about that at all?
Not really, no. We've all said, "Hey, we want to do 20," and that's even from Tom's mouth. We met with the new mayor of New York [Eric Adams] and he said, "Keep it going, guys. Keep on going." We've injected a lot of money into the city of New York over those 12 years, and the mayor's saying "keep it going" because it's good for their commerce.
Obviously, the headlines from NYC these days — the violence, the high-profile crime that's going on — do you like tackling those issues on the show or does it hit too close to home? A previous episode had somebody getting shoved in front of a train, which has happened recently in New York.
The writers have to stay as current as they can. For instance, they decided that COVID didn't exist because our executive producer said, "Nobody wants to see you and Tom and the kids with masks on." He said, "This is fiction. It's not reality," but stealing from the headlines is pretty easy to do in these times.
Is there a storyline for your character or the show itself that you haven't tackled yet that you'd like to?
I can't really think of what that would be.
Bruce Willis used to be his bartender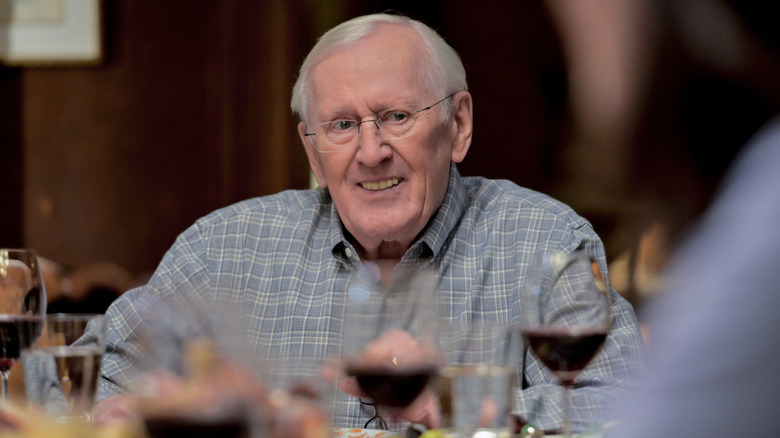 John Paul Filo/CBS
A few years ago, you starred in "Death Wish" with Bruce Willis. I'm wondering if you have any fond memories you can share of working with him?
We had a good time because Bruce, I knew from when he was a bartender at the West Bank Café in New York. I hadn't seen him in years and years, but we had a few laughs about that. He even remembered what I drank.
How was it working with him otherwise, beyond that?
It was fine. I was amazed to hear of the problems that he's had, and that he's pretty much been forced to retire. That's a shame. He had an incredible career, so it can be ... "bang," one day. Apparently, it had been going on for quite some time, as this turns out. People said they were recognizing it years ago. I certainly didn't when I did "Death Wish" with him. I didn't notice anything.
You starred in "Sweeney Todd" on Broadway, then later in the movie "Secret Window" with Johnny Depp, who went on to play Sweeney Todd in the film. What was it like working with Johnny, and what did you think of his portrayal of Sweeney Todd?
It was fine when we made the film. First day on the set, he said, "Ah, Sweeney Todd," and shook my hand. I said, "Edward Scissorhands." We had a couple of good laughs about that. I don't know if, at that point, he had been approached about Sweeney Todd. I doubt it, at that juncture, but it was nice that he knew, that he had recognized it.
Have you seen the film? What do you think of his portrayal?
It was all right. The problem with it was there was no humor in the movie, and I thought that was sad. I don't remember who did the screenplay, but he had seen the show when he was in high school, and he said, "I was sitting in the balcony and it scared the s*** out of me. That's when I thought, 'I want to be a part of this.'" Then, he ends up writing the book for the movie.
Season 12 of "Blue Bloods" airs Fridays at 10:00 p.m. ET on CBS.