The Staggering Number Of Days Of Our Lives Episodes That Jensen Ackles Actually Filmed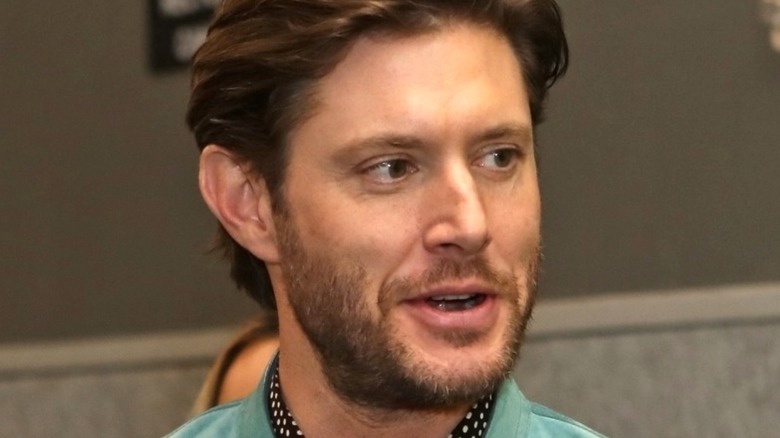 Samantha Burkardt/Getty
Jensen Ackles has had an extraordinary career thus far, especially when it comes to his presence on popular television shows. Fans may best know him as one of the main stars on "Supernatural," the dark fantasy horror series that ran on The CW for a staggering 15 seasons. Ackles has stayed busy since "Supernatural" ended, and he's set to portray Soldier Boy in the upcoming third season of Amazon's highly popular "The Boys," which satirizes the superhero genre.
However, before becoming something of a staple in primetime television, Ackles was probably best known for his three plus year stint as Eric Brady on the daytime soap opera "Days of Our Lives," which started in 1997. During Ackles' time as the character, he became something of a heartthrob among the fanbase of the show. Ackles was also nominated for three Daytime Emmy Awards. He would depart from "Days of Our Lives" in 2000 to pursue a career in Hollywood. 
Still, given the seemingly never-ending shooting schedule associated with daytime soap operas, three years as a character is plenty of time to film what is a staggering amount of episodes for "Days of Our Lives."
Jensen Ackles filmed over 400 episodes
According to the cast and crew section of the "Days of Our Lives" IMDb page, Jensen Ackles filmed approximately 448 episodes during his time on the show. That's a staggering amount of episodes for any actor to film, to say the least, though it's not totally surprising. Ackles' Eric Brady was an exceptionally popular character, as his various Daytime Emmy nominations would attest to. Perhaps the most surprising thing about this news is that "Days of Our Lives" was able to hold on to Ackles so long before he left to pursue an arguably larger career.
Interestingly enough, 12 years after Ackles departed "Days of Our Lives," Greg Vaughan took over the role of Brady and has remained ever since. Given Ackles busy schedule with "The Boys" and whatever else he decides to work on next, it seems unlikely that Ackles will ever return as Brady. However, in the world of acting, nothing is ever truly off the table, and that goes double for soap operas. Seeing as Brady has a twin sister in Sami Brady (Alison Sweeney), maybe there's another long-lost brother out there that Ackles can guest star as.