Will Smith Shares Cast Photo From Live-Action Aladdin Remake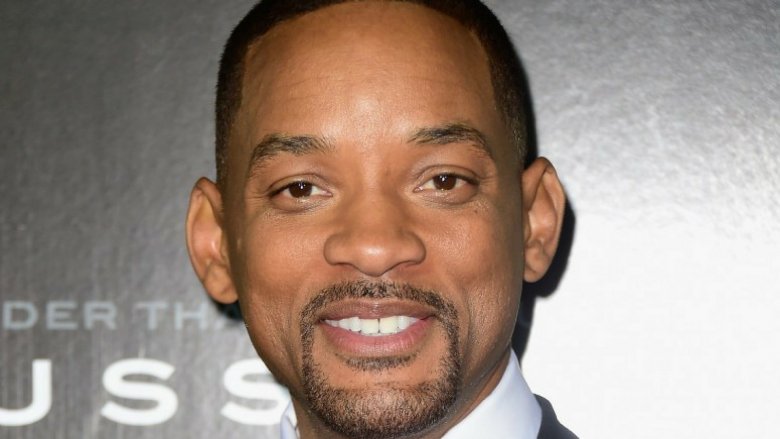 Getty Images
The gang is all here in the first cast photo from Guy Ritchie's upcoming live-action Aladdin remake. Will Smith, who is set to step into Robin Williams' shoes as the Genie in the Disney flick, shared a picture on his Facebook page Wednesday announcing the start of filming and showing him with some of his musically gifted co-stars. Smith captioned the pic by letting fans know he wanted to introduce them to "our new family." 
Smith's pic featured Mena Massoud, who is set to play the title character, alongside Naomi Scott, who will play Jasmine, and Marwan Kenzari, who will play the villainous Jafar. Massoud and Scott landed the two main roles after a long casting search that reportedly involved looking at actors like Dev Patel and Riz Ahmed for Aladdin and Tara Sutaria for Jasmine. The worldwide casting call brought in thousands of actors and actresses before the two leads were finally chosen.
While those four take on main roles, some other interesting additions to the cast also hint about the movie's direction. Saturday Night Live's Nasim Pedrad, who played Jasmine in bits for the sketch show, is set to pop in for a comic relief role as Jasmine's handmaiden and friend, while Homeland's Numan Acar is set to play Hakim, the head of the guards at the palace and Jafar's confidant.
Not all of the movie's casting decisions have been met with applause by fans, though. There was some controversy over Scott's casting, with the Indian actress' background not fitting with the middle eastern setting of the cartoon. The recent announcement of Into the Woods' Billy Magnussen as new character Prince Anders led to some outrage online, with many questioning why the film would change the story of the original and why a white character was added.
Big Fish's John August wrote the script for the live-action take on Aladdin, which the studio previously described as an "ambitious and nontraditional" take on the classic story, which was brought to mainstream audiences with the hugely popular 1992 cartoon. Jonathan Eirich (Death Note), Marc Platt (Mary Poppins Returns), and Chris Montan (Frozen) are all on board as producers.
The movie does not have a release date yet; while we wait, see some things in the animated movie that you only notice as an adult.
We just started shooting Aladdin and I wanted to intro you guys to our new family... Mena Massoud/Aladdin, Naomi Scott/Princess Jasmine, Marwan Kenzari/Jafar, and I'm over here gettin my Genie on. Here we go!

Posted by Will Smith on Wednesday, September 6, 2017