Fans Weigh In On Whether Or Not Black Swan Is Really A Horror Film
Darren Aronofsky has proven his immersive talent at creating disturbing and genre-bending films many times over. His breakout melancholic movie "Requiem For a Dream" explores drug addiction with no characters finding a happy ending. 2010 Oscar winning film "Black Swan" is the natural successor to Aronofsky's magnum opus. Just as "Requiem For a Dream" forces the viewer to process harrowing acts, "Black Swan" takes it a step further with showcasing the mental anguish and ultimate breakdown of ballerina Nina Sayers (Natalie Portman). The film includes visceral imagery in addition to realistic ailments that dancers must contend with as well (not to mention Nina sprouting feathers as her dancing turns her into a swan.)
Upon first viewing, "Black Swan" may seem like a tragedy. Nina becomes so consumed with achieving perfection that she loses herself in the role. But with overwhelming elements that outright terrorize the audience, some fans analyze if this movie is closer to the horror genre.
If you or anyone you know is struggling with addiction issues, help is available. Visit the Substance Abuse and Mental Health Services Administration website or contact SAMHSA's National Helpline at 1-800-662-HELP (4357).
Fans agree Black Swan is psychological horror at its best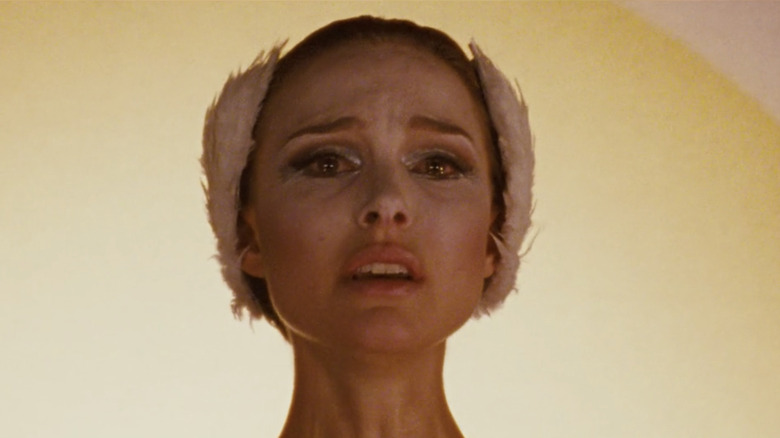 Searchlight Pictures/Hulu
The beauty of horror films are the many ways that it connects to real life issues. Nia DaCosta's "Candyman" confronts race relations in America while Ari Aster's "Midsommar" explores the decimation of toxic relationships. Even ten years ago, Aronofsky maintained that the film fell into the horror genre (via Den of Geek). Thanks to a resurgence of the film after its release on Hulu, fans on Reddit have explored this question.
"It has many great scenes with typical horror elements including jump scares, figures in the dark, and body horror. About half way through I couldn't help but think that this might be one of the best horror movies of the 2010s," posted u/Xenomorph_kills. There are many different elements of the film that ensure "Black Swan" be at the top of any horror list. Murder and mayhem is not a prerequisite. There is a specific genre of horror that fans caught onto that applies to the film. "Psychological horror," posted u/Green_Slice_3258. Fellow Redditor u/Barqueefa chimed in with: "Horror/Psychological thriller. Probably my favorite style of horror movie."
Nina's experiences are horror personified. What is more horrific than a superior who pushes you to the brink with no interest in your sanity? Or a mother who blames you for her own failings and puts all her hopes and dreams into you? All with the anxiety of watching Nina's body literally fall apart — "Black Swan" is an extremely horrific experience.