Jujutsu Kaisen 0 Just Dethroned Princess Mononoke In A Major Way
The world of anime films can be a volatile one, and sometimes, even the classics aren't safe from the plucky newcomers that fight for a slice of the popularity pie. In 2021, the tongue-twistingly named "Demon Slayer: Kimetsu no Yaiba the Movie: Mugen Train" — or "Demon Slayer: Mugen Train" for short — reached the prestigious No. 1 spot at the U.S. weekend box office. Before this, it had already dethroned the beloved "Spirited Away" as the biggest earner in Japanese box office history.
Now, it appears that another anime film based on a comparatively new franchise has been smashing records over in Japan, perhaps even signaling a similar success. Because Hayao Miyazaki is, apparently, the man to beat in anime circles, it just so happens that this new movie, "Jujutsu Kaisen 0," has also been making waves at his expense. In fact, "Jujutsu Kaisen 0" just dethroned "Princess Mononoke" in a major way.
Jujutsu Kaisen 0 surpassed Princess Mononoke to become one of highest-grossing anime films out there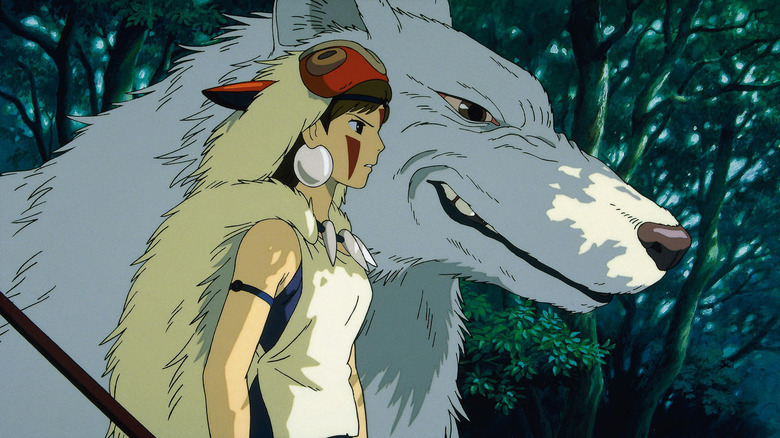 Toho
"Jujutsu Kaisen 0" focuses on the early days of Yuta Okkotsu's (voiced by Megumi Ogata in Japanese and Kayleigh McKee in English) path to become a Jujutsu sorcerer and to learn to deal with his greatest tragedy — the gruesome and powerful special-grade spirit of his deceased friend, Rika Orimoto (Kana Hanazawa and Anairis Quiñones), has become. Per Crunchyroll, the movie has been raking in money in Japanese theaters since December 2021. This, combined with a limited release in other coutntries, has brought in enough to surpass the Miyazaki classic "Princess Mononoke" in sheer box office revenue.
"Jujutsu Kaisen 0" has a current global box office haul of $170 million and counting, which is enough to earn it the coveted spot of the 9th highest-grossing anime movie in history, as well as the 15th highest-grossing overall film in the Japanese market. Not bad!