Is This The James Bond Movie That Inspired Austin Powers' Iconic Outfit?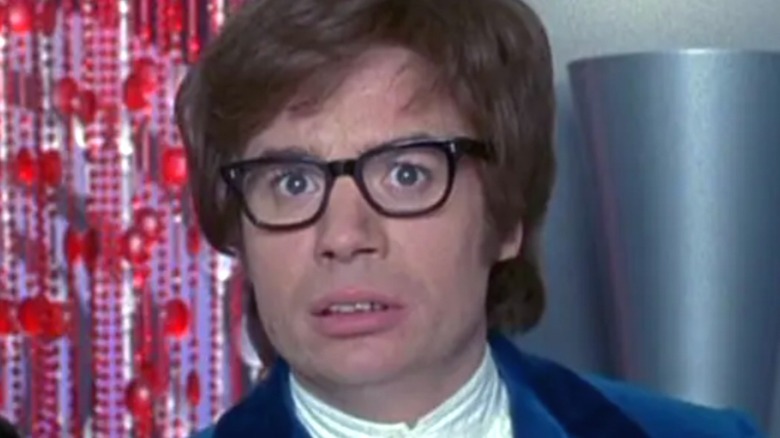 New Line Cinema
"Austin Powers" is a comedy experience unlike any other film of its ilk. The movie series stars "Saturday Night Live" alum Mike Myers as a time-skipping British agent from the swinging '60s. But Myers plays multiple roles in the franchise, lending his comedic skills to both the titular lead and the series' main antagonist. "Austin Powers" often travels between delivering clever jokes aimed at the spy genre and presenting complete gross-out humor that probably wouldn't feel too out of place with the "Jackass" crew. Even megastars like Beyoncé and Tom Cruise make appearances in the films, and who can forget the elaborate grand dance number scenes?
It's no spy secret that "Austin Powers" humorously targets Britain's other most well-known intelligence officer, Agent 007. After all, the "James Bond" franchise has a long legacy of films and scenes perfect for teasing homages. Some villains throughout the "Austin Powers" films, such as Dr. Evil and Goldmember, can visually be traced back to Bond villains Ernst Stavro Blofeld and Auric Goldfinger. Also, the idea of the main character, Austin Powers (Myers), having access to countless nifty gadgets and vehicles basically comes from the Bond blueprint for cool secret agents. But what about Powers' flashy threads? Is there a "James Bond" movie that also inspired Powers' iconic outfit?
On Her Majesty's Secret Service features a familiar clothing accessory
James Bond usually sports a dapper suit that's a little more subdued yet equally stylish than the showy peacock look of Austin Powers. However, there is one film in the Bond franchise in which the protagonist sports a familiar clothing accessory. "On Her Majesty's Secret Service," which stars George Lazenby as Bond, includes a scene that shows the agent wearing a frilly jabot. Sharp-eyed fans of "Austin Powers" know that Powers is usually never without the decorative neckwear in his outfits. But unlike Powers, Bond doesn't have it as part of his usual attire in "On Her Majesty's Secret Service" — it's a part of his disguise. In the film, Bond has to impersonate a genealogist named Sir Hilary Bray, so he wears the jabot as part of his Scottish Highland outfit (via Bond Suits).
Although a bit niche today, the jabot used to be a standout accessory for anyone wearing formal Scottish Highland fashion (via USA Kilts & Celtic Traditions). It's never been officially said, but the scene in "On Her Majesty's Secret Service" likely inspired the addition of the accessory in "Austin Powers." In a lot of ways, Powers is a parody of Bond, and the jabot might serve as the final fitting piece to Powers' attire. One thing we know for sure is that, as a whole, much of Powers' look is officially inspired by late actor Peter Wyngarde, and specifically his role as British adventurer Jason King (via The Wrap). The character of King often wears late '60s leisure suits, and his globe-trotting ways and frequent meetings with various women are probably some of the easiest influences to spot.