What AHS Fans Really Want To See In Season 11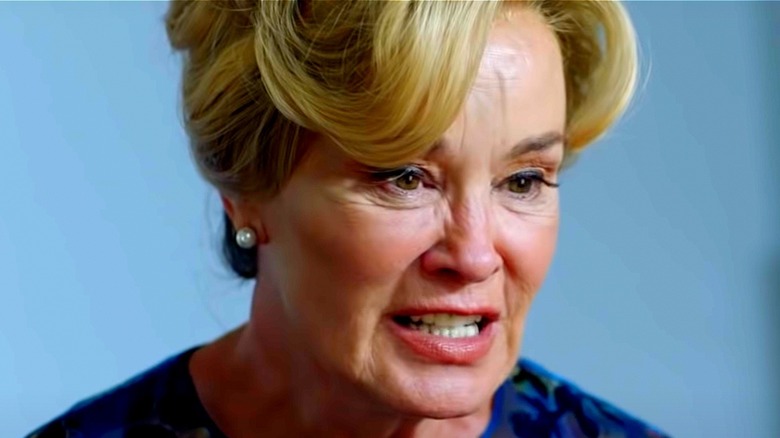 FX
Not every season of FX's most-watched show "American Horror Story" is consistently good, and some seasons are certainly better than others. The series' most recent season was a double-feature titled "Red Tide" and "Death Valley," which premiered in August of last year. The 10th season started off a little shaky with "Red Tide," but "Death Valley" is where fans really started to lose hope that AHS would ever be what it once was. One Redditor, u/anonymeruser_es, even commented, "Red Tide was just wasted potential. It should be the whole season. The Ending was just so confusing and not good it was just bad, but the acting was still amazing."
"AHS: Cult," "1984," and "Death Valley" were the seasons that particularly polarized fans, according to a Reddit thread. However, "Death Valley" was the portion of Season 10 that viewers popularly detested. And, the fact that it didn't tie in with other seasons was a point of contention for the fanbase, since AHS is known for having its storylines and characters interweave with one another.
It seems that there continues to be a stark divide between "American Horror Story" fans, but with Season 11 recently announced, what are die-hard fans hoping to see in the next anthology? Could this upcoming season save the show entirely?
Fans really want Sarah Paulson and Evan Peters
There has been a bundle of rumors swirling around on the internet about what the theme will be and who will appear in Season 11 of "American Horror Story." Apparently, there's been talk of sirens being the main feature of the plot, with Redditor u/marc_stavros alleging, "ryan murphy did a poll which theme fans want for next season. ryan pushed for plague, but fans DEMANDED sirens. he commented under an insta comment it's for season 11. but how he will incorporate sirens in it, we don't know." Fans on the same thread mostly seem excited about the idea of an "AHS" season incorporating sirens and more water-based stories into the narrative. Likewise, u/realistforall, said, "Watch Siren (2013). I think a horror version of that would be awesome. I love the idea of sirens, especially in the AHS universe."
In terms of casting, there haven't been any official announcements made by Ryan Murphy regarding who be returning in the 11th season. IMDb has a cast list, but fans know to take such things with a grain of salt, per u/Augusta-Cornwell. Sarah Paulson (who already confirmed, via ET Canada, that she most likely would not be coming back) and Evan Peters have long been fan favorites, and are the most obvious choices among fans for potential returnees. Other fans, such as u/WhyWeCameToTheCity, would be thrilled if, "Wes Bentley and Chloë Sevigny would be an absolute dream to have back, though unfortunately it looks unlikely." Angela Bassett, Kathy Bates, Macaulay Culkin, Emma Roberts, and Frances Conroy were only a few of the other popular votes.
Hopefully, within the next month or so, we will get proof of confirmation about the theme, location, and main cast. "AHS" fans are waiting with bated breath, Mr. Murphy!