Why America Chavez From Doctor Strange In The Multiverse Of Madness Looks So Familiar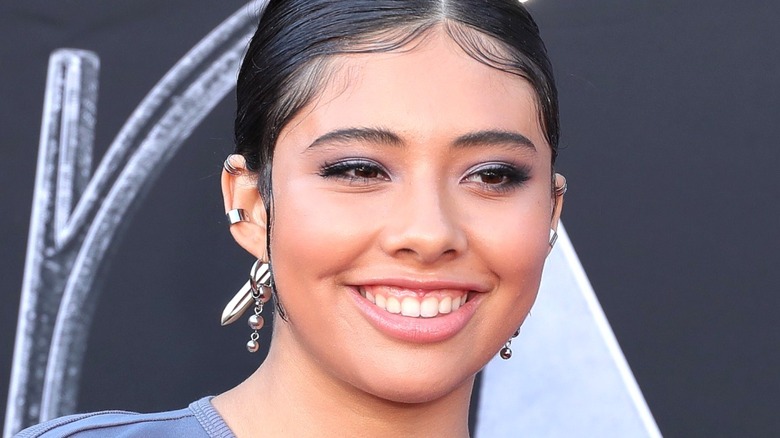 Leon Bennett/Getty
"Doctor Strange in the Multiverse of Madness" is about to break open the very fabric of reality. It won't just be familiar faces coming back into the mix, like Doctor Strange (Benedict Cumberbatch) and Wong (Benedict Wong). There's an infinite number of realities out there where all kinds of Marvel characters can break into the MCU proper. But while you'll need a spoiler warning to see what kind of characters those are, it goes without saying that one of the most exciting additions to the MCU is America Chavez, who Xochitl Gomez plays in the sequel.
America Chavez is a relatively recent addition to Marvel canon. She was first introduced in the comics in 2011 and later went on to appear in the Young Avengers. While it certainly seems like the Marvel Cinematic Universe is setting up a Young Avengers franchise, America's relegated to hanging out with Doctor Strange in her first cinematic outing. Not only will it be many audience members' first time meeting America, but it will also be many of their first times seeing Xochitl Gomez in action, as she doesn't have a lengthy resume, but that's bound to change now that she's MCU-official.
She was in The Baby-Sitters Club previously
Xochitl Gomez certainly has no shortage of projects to her name. She's starred in a litany of short films over the years, but she's also popped up in feature-length movies as well as TV shows. 2020 was a major year for the actress as she had a one-off role in "Gentefied" and also landed a recurring part in "The Baby-Sitters Club." She played Dawn Schafer in the Netflix series for its first season. For the second season, she was replaced with Kyndra Sanchez.
There were no hard feelings about the changed casting, which had to take place due to filming during the COVID-19 pandemic, which was also around the time Gomez had to film "Doctor Strange 2." As she said in an interview with Entertainment Tonight, "I felt really sad, but I knew that, just because of COVID, I couldn't be at one place and then another and then have to just switch all the time. But I think Kyndra Sanchez is going to do an amazing job and I'm really excited to see her in season 2 of 'Baby-Sitters Club' as Dawn."
When Marvel comes knocking, you just can't say no. And it definitely won't be the last time audiences see her face on their screens.