Benedict Cumberbatch: How It Started Vs. How It's Going
This content was paid for by Netflix and created by Looper.
Benedict Cumberbatch has achieved successes on multiple fronts, from owning the stage to collecting accolades for his work on the small and silver screens. But as much as he's accomplished already, Cumberbatch is only getting better with time, and he's continuing to evolve and prove his immense range as an actor.
His outstanding performance in "The Power of the Dog" is certainly proof of that, as he seamlessly casts aside his natural posh demeanor in favor of a rugged, rabble-rousing persona as the twisted rancher Phil Burbank. As Burbank, Cumberbatch delivers a character who's intimidating but vulnerable, terrifying and yet full of his own secret pain and fears. His outward austerity is merely a mask, and Cumberbatch steadily reveals that truth throughout his nuanced performance.
Cumberbatch's transformation from the stately Brit that first came to fame years ago into such a coarse and cruel cowboy in the film is mind-blowing, so here's a closer look at how things started versus how it's going for this screen superstar.
An auspicious start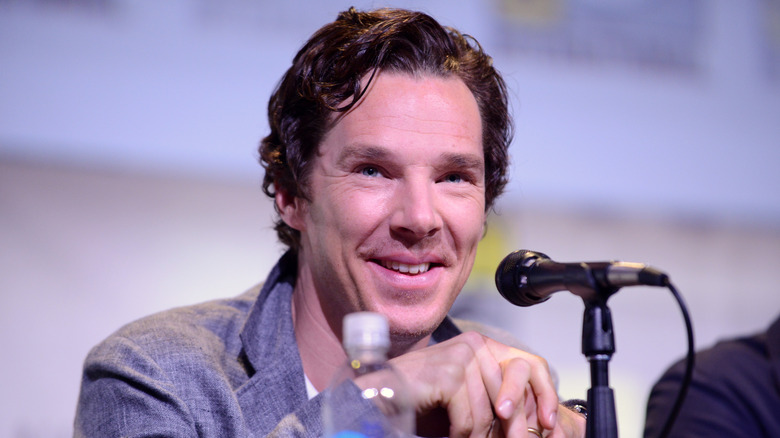 Albert L. Ortega/Getty Images
When Cumberbatch initially became a household name, he was known for portraying characters with a gentlemanly air. After all, Cumberbatch, who hails from London, had developed his craft for drama from an early age and continued to pursue that passion at college and through graduate school. After completing his education, Cumberbatch soon became a stage sensation and earned an early Olivier Award nomination (his first of three, including one win in 2012) for his performance as the earnest scholar George Tesman in "Hedda Gabler."
As his stage career continued to thrive, he also found his way onto the small screen, with roles in television films like "Field of Gold" and series like "Fortysomething." He soon earned his first starring part in the 2005 BBC film "Hawking," which featured him as the scientific genius Stephen Hawking in his early years and earned Cumberbatch his first BAFTA nomination (for a total of eight nominations, which includes one win in 2019). From there, Cumberbatch's television career continued to thrive.
Cumberbatch became a global phenomenon with his titular role in the smash hit series adaptation of "Sherlock," and the role earned him a Primetime Emmy Award, among other recognitions, and cemented his status as a top-tier talent, even among a stacked pool of British all-stars. His portrayal of the beloved Arthur Conan Doyle character was instantly iconic and assured that audiences would take notice of him for years to come.
Benedict Cumberbatch's new direction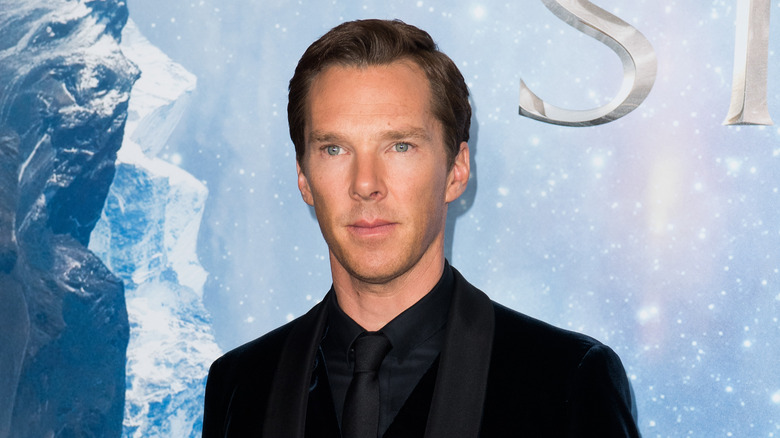 Matthias Nareyek/Getty Images
Cumberbatch's small screen successes quickly translated into the world of film, and he proved to be a formidable force in Hollywood. His penchant for high drama became an essential element of some of his earliest pictures like "Tinker Tailor Soldier Spy," "War Horse," and his Oscar-nominated role as Alan Turing in "The Imitation Game." At the same time, he also showed just how well he could dig into some darker character work in features like "Atonement" and "12 Years a Slave," along with his jaw-dropping turn as the creature in the filmed theatrical adaptation of "Frankenstein."
Though Cumberbatch could still easily slide into a proper suit and deliver power performances in British period pieces like "Patrick Melrose" and "The Courier," he also went on to expand his portfolio of on-screen personalities with some very uniquely challenging characters, such as the distinctive public figure Julian Assange in "The Fifth Estate" and the simple but soulful Little Charles Aiken in "August: Osage County."
Eventually, Cumberbatch also became a mainstay of blockbuster franchise fare and took on even more drastically different looks for these coveted roles, including some very colorful and specific costumes as Dr. Stephen Strange in the Marvel Cinematic Universe. By this point, critics and audiences alike had surely come to appreciate Cumberbatch's array of screen gifts already, but he somehow still wasn't done surprising folks just yet.
Going West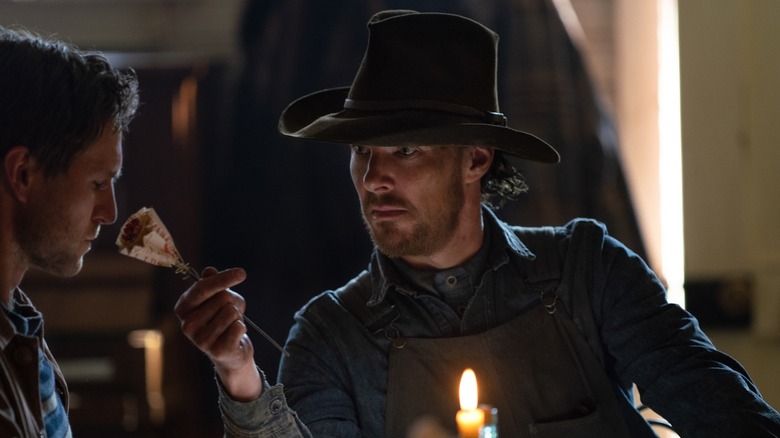 Kirsty Griffin/Netflix
Even as impressively expansive as Cumberbatch's roles have been throughout his career, his work in "The Power of the Dog" raises the bar yet again on what the actor can achieve. To become Phil Burbank, Cumberbatch committed to learning the tricks of the ranching trade by studying up on some of the character's signature skills, like riding a horse, playing the banjo, and hand-braiding those powerful ropes. More importantly, he managed to dig into the character's twisted and troubled mindset and bring true authenticity to his every utterance and move.
As Phil Burbank, Cumberbatch is both loathsome and sympathetic, as his eyes often betray the delicate truth behind his cruel words. He's also physically dominant throughout the story, towering over his perceived foes with the size of his body and booming voice. Still, Cumberbatch subtly reveals when Phil is quietly shrinking on the inside too, creating a complex and compelling character that leaves you guessing long after the credits roll.
Though some audiences may be used to seeing Cumberbatch sporting more refined threads and hanging out in more elegant settings, becoming such a burly outdoorsman for the film is a major part of his performance in the film. Not only does he don those vintage, weather-beaten duds like they're a second skin, but he manages to transcend all of his surroundings to become a timelessly chilling character in Phil Burbank. Benedict Cumberbatch might've gotten his start portraying almost regal characters on the stage and screen, but in "The Power of the Dog," he proves that he can literally get into the mud and muck and still deliver a truly riveting performance.