The Studio Ghibli Classic That Inspired Avatar: The Legend Of Korra
Together, "Avatar: The Last Airbender" and its sequel series, "The Legend of Korra," add up to one of the most exciting, rewarding, and beloved action-adventure anime sagas of the 21st century — that is, if you do actually count them as anime.
The question of whether Nickelodeon's two flagship shows, both Western productions with character designs and stylistic choices heavily inspired by Japanese animation, can actually be called "anime" has been firing up message boards and incensing fan gatherings pretty much from the moment "Avatar: The Last Airbender" first came out of the gate in 2005. But no matter which side of that particular controversy you come down on, one thing is for certain: The "Avatar" franchise learned all the right lessons from its inspirations.
Not only was the animation on display in both shows more fluid, impressive, and downright gorgeous than the vast majority of Western family-oriented cartoons, but their writing also took a page from anime by embracing complex characterization, mature themes, and careful, brick-by-brick epic storytelling. "The Legend of Korra," in particular, was renowned for making a series of bold narrative decisions that routinely called into question whether it could be called a kids' show at all. Therefore, fans of "Korra" will most likely not be surprised to learn that the show was directly influenced by one of the profound animated masterpieces made by Hayao Miyazaki at Studio Ghibli.
Hayao Miyazaki's filmography was highly influential on The Legend of Korra on the whole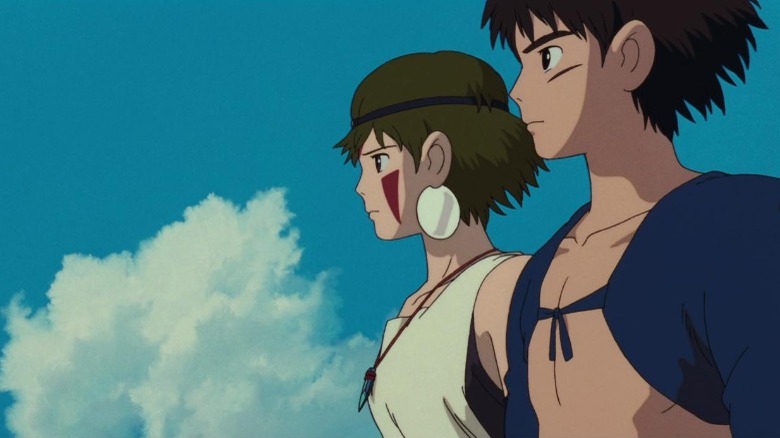 Toho
Released in 1997, Hayao Miyazaki's "Princess Mononoke" remains one of Studio Ghibli's most beloved and influential films. A lot of that is, of course, due to the sheer epic sweep and grandeur of its tale of war between forest spirits and iron miners, which yields some of the most visually arresting and overwhelming images in the history of animated cinema. But another reason for the acclaim given to "Princess Mononoke" is its willingness to forgo simple good-vs.-evil duality in favor of nuance, reflection, and moral ambiguity.
This aspect of the film was instrumental in shaping the thought process of "The Legend of Korra" masterminds Michael Dante DiMartino and Bryan Konietzko when it came to the show's villains, as they revealed in the home video commentary for "Welcome to Republic City," the very first episode of "Book 1: Air." Of course, Miyazaki's oeuvre at large was deeply influential on DiMartino and Konietzko's outlook as animators and storytellers. As Konietzko remarked in the commentary, "One of the biggest inspirations for the entire 'Avatar' universe was the work of Hayao Miyazaki, and I just remember at a time in my career when I was particularly disenchanted with working on American animated sitcoms ... and I just wanted to make something really earnest and heartfelt and sincere." But as he then went on to explain, the influence of "Mononoke" was even more specific.
The moral ambiguity of Princess Mononoke influenced Korra's villains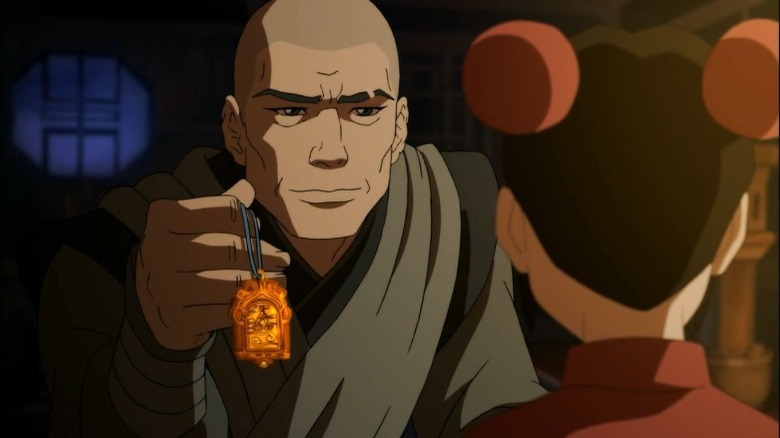 Nickelodeon
In addition to the broader influence that Hayao Miyazaki and Studio Ghibli exerted over the "heartfelt and sincere" storytelling philosophy of "The Legend of Korra," "Princess Mononoke" also struck a particular nerve with Michael Dante DiMartino and Bryan Konietzko. They were captivated by the idea of there not being any real heroes and villains in Miyazaki's war epic: "When I saw 'Princess Mononoke,'" Konietzko revealed in the home video commentary, "it was like, there were really no clear-cut good guys or bad guys. It was just people with conflicting agendas and interests and philosophies, and you set up the villain, but then you realize she's just taking care of all of these lepers or whatnot. And it's not the first time I had seen a story like that, but it just hit me at a time in my career where I needed to see that."
Influenced by that nuanced political and moral slant, Konietzko and DiMartino worked to make sure the antagonists faced by Korra throughout the series would all be three-dimensional characters with understandable motivations and points of view. That was particularly true of Season 1's Amon (Steve Blum), whose indignation at the social disenfranchisement of non-benders was — at least nominally — quite reasonable, and Season 3's Zaheer (Henry Rollins), whose radical anarchist direct action tactics stemmed from a genuine desire to bring liberation to the world and end traditional hierarchies. All that moral complexity was, unsurprisingly, one of the most praised aspects of "Korra" by both critics and fans.