Pixar Invented New Technology To Bring Lightyear To Life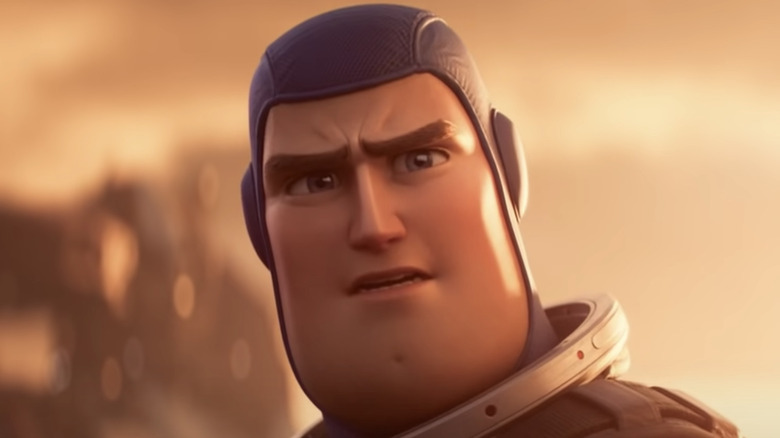 Walt Disney Studios Motion Pictures/YouTube
Pixar Animation Studios grew into the Disney-backed animation behemoth it is today because the studio has always innovated within the genre and taken animation to new heights, whether conceptually or technologically. From anthropomorphizing toys, fish, monsters, cars, and emotions to developing some of the highest-quality animated films of all time, the studio has earned its reputation as top-notch filmmakers in a medium often written off as content for children.
Pixar's next film, "Lightyear," is its first since 2020's "Onward" to receive a wide theatrical release, signaling the studio's confidence in returning to one of its best-loved properties in a new way. "Lightyear" is the first spin-off from the "Toy Story" movies and promises to reveal the origins of the Buzz Lightyear toy by telling the story of a fictional astronaut named Buzz Lightyear (Chris Evans); the movie should be thought of as a movie that Andy from "Toy Story" would see in-universe, with Buzz Lightyear action figures serving as merchandise.
"Lightyear" presents an interesting space for Pixar to play in; the newest trailer for the film shows Buzz accidentally traveling six decades into the future during a hyperspeed test flight for Star Command, where he meets his colleague Alisha Hawthorne's (Uzo Adaba) granddaughter Izzy (Keke Palmer) and contends with robots and aliens that seem to result in Buzz coming face-to-face with his archenemy, Emperor Zurg (James Brolin). The "Lightyear" trailers look visually stunning, and Pixar has reportedly continued innovating its technical abilities for the new film.
Pixar built a virtual IMAX camera for Lightyear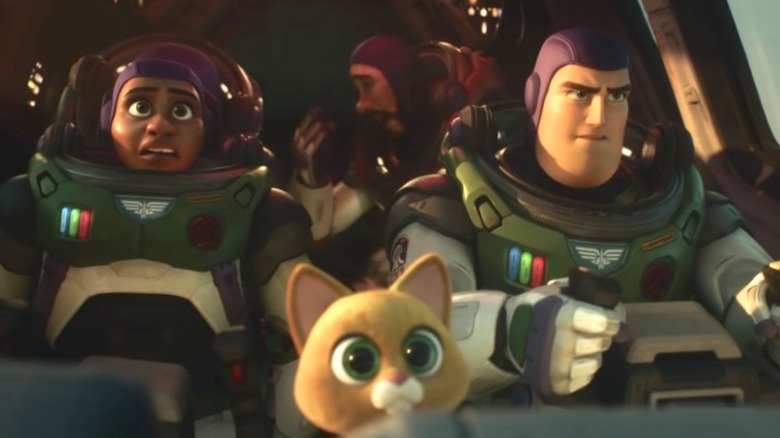 Walt Disney Studios Motion Pictures/YouTube
Fans of immersive space exploration stories like Christopher Nolan's 2014 epic "Interstellar" should be excited for "Lightyear" to take its place as the first animated movie ever to be created specifically for IMAX's 1.43:1 aspect ratio, though it's unlikely the entire film appears in this format (via Forbes). That's impressive enough, but in order to do so, the film's production team noted that they created their own virtual IMAX camera along the way (via /Film).
"Some other technical challenges for 'Lightyear' that I'll mention quickly include building Pixar's first IMAX pipeline for film production," "Lightyear" visual effects supervisor Jane Yen recently noted at a press junket event for the film. "We created a virtual IMAX camera with a 1.43 aspect ratio and developed a pipeline to allow us to simultaneously shoot the film for IMAX and then crop down for our standard 2.39 format."
Angus MacLane, who serves as writer and director on "Lightyear," recently told Collider that he wanted to make a film that seems inspired by science-fiction movies made between 1977 and 1991, 1977 notably being when "Star Wars" was first released in theaters. If Pixar's virtual IMAX cameras and efforts to take its animation to the next level pay off, "Lightyear" could prove one of the studio's biggest hits ever when it is released in theaters on June 17.