The Transformation Of Peter Capaldi From Childhood To Doctor Who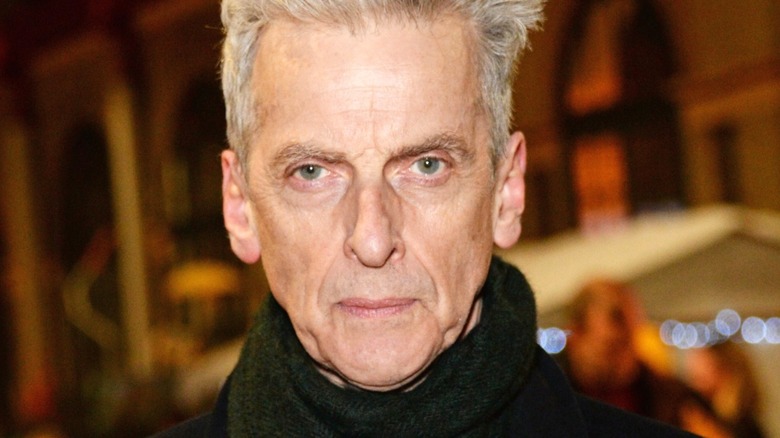 David M. Benett/Getty
In the new (2005-present) "Doctor Who," Peter Capaldi remains the oldest contemporary actor to don the persona of the traveling Time Lord with the TARDIS, as he was 55 when he debuted in the role in 2013, which made him the same age as the very First Doctor, William Hartnell, in 1963. Some newer "Who" fans were not happy about the change at the time, with many expressing the idea that the Doctor was meant to be young — after Capaldi's run, though, a lot of those fans changed their minds (per Twitter). Episodes like "Heaven Sent," "The Husbands of River Song," "The Zygon Inversion," and others showcased the actor's talent, as well as Capaldi's affinity for the part of the eccentric, God-like alien character whose humanity is an essential part of his personality. 
When he announced his departure in 2017, Capaldi expressed his love for the series. "It's a fantastic program to work on. It's been a huge pleasure to work with ... a family. I can't praise the people I work with more highly. I've never worked the same job for three years, and I feel like now is the right time to move on," he told BBC Radio 2 (via Digital Spy). "One of the greatest privileges of being Doctor Who is to see the world at its best."
If you believe in destiny, Capaldi's transformation from childhood to his time on "Doctor Who" may seem like evidence of it. If you don't, you still might be tickled pink that a super-fan ended up becoming his own role model. 
Peter Capaldi was a huge Doctor Who fan as a child and as a young adult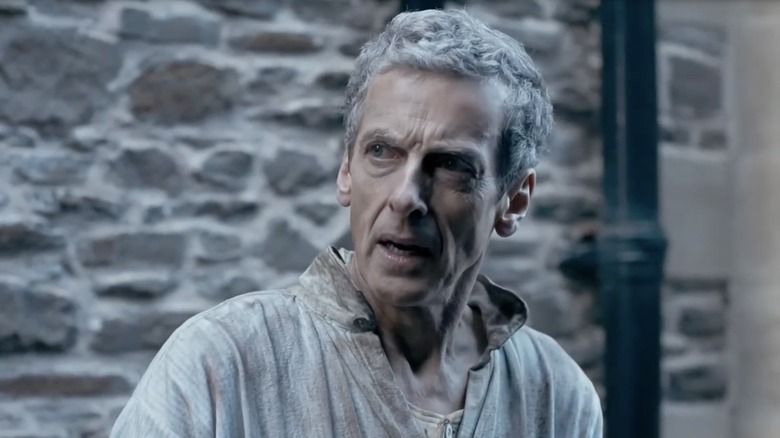 BBC
Capaldi was born in 1958 in Glasgow, Scotland, where his Italian immigrant parents ran an ice cream shop. His family eventually moved to the suburb of Bishopbriggs, and Capaldi entered the Glasgow School of Art. He helped start a punk band called The Dreamboys, which included comedian Craig Ferguson and opened for Gary Glitter. Capaldi's acting career began at age 23 when he met film director Bill Forsythe, who was talking to his landlady as he was coming home from a pub (per The Independent).
But as a child and then teen, he was a self-professed geek — and a huge fan of the show he would later headline. Discussing that time on "The Graham Norton Show" in 2014, he was visibly embarrassed by a fan letter he sent to the BBC at age 21, requesting to be given the position of secretary for the official "Doctor Who" fan club. The BBC representative was clearly annoyed by him to the extent that she wrote, "I wish the Daleks or someone would exterminate him."
Additionally, a rare video clip from 1975 that was re-discovered and placed on the "Doctor Who: The Collection — Season 12" Blu-ray includes a mention of Capaldi as a fan (via Digital Spy). The video was recorded by Keith Miller, the secretary that Capaldi lost the job to. To this day, in interviews, Capaldi talks with great authority about both classic and new enemies, Doctors, and favorite stories. 
His prolific career includes 'The Thick of It,' for which he was best known prior to Doctor Who
Capaldi's career has had its ups and downs over the years. It began with Forsythe's "Local Hero" in 1983 and his next major role was in 1988's "Dangerous Liaisons." During the first two decades of his career, he also starred in projects like "John and Yoko: A Love Story," playing Beatle George Harrison, and the 1997 films "Smila's Sense of Snow" and "Bean." He also had roles in series like "The Ruth Rendell Mysteries," "Poirot," the mini-series "Selling Hitler," "Mr. Wakefield's Crusade," 1992's miniseries "The Secret Agent," "The All New Alexei Sayle Show," 1996's "Neverwhere," "The Vicar of Dibley," and the one-season "Fortysomething" in 2003. By the time his career reached the 20-year mark, he'd already been in more than 40 productions.
About his roles to date, Capaldi told The Guardian in 2006, "I'm usually required to be boyish, easygoing and charming." That changed when he was cast in political sitcom "The Thick of It," in which he played sometimes nasty, often foul-mouthed spin doctor Malcom Tucker from 2005-2012. He won a British Academy of Film and Television Arts (BAFTA) performance award for his role in the series in 2010.
Before "Doctor Who," his jobs also included the "Paddington" films, "The Hour" TV series, 2013's "World War Z" (playing "W.H.O. Doctor"), and Cardinal Richelieu in the 2014 series "The Musketeers."
He is also an award-winning director and writer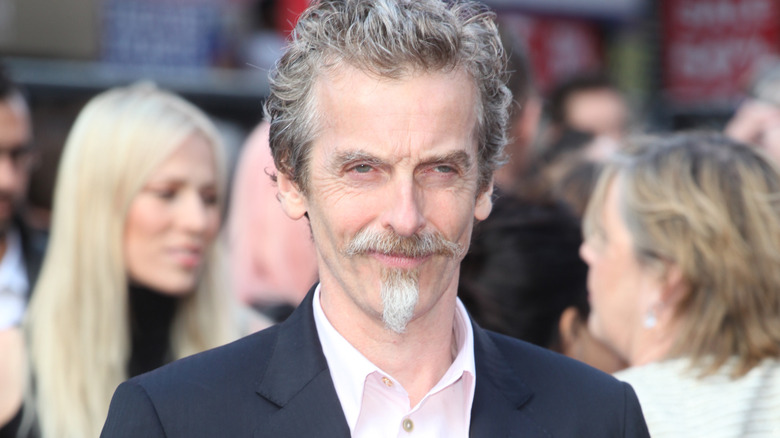 Featureflash Photo Agency/Shutterstock
Although Capaldi's writing and directing credits aren't extensive, he's been recognized for them nonetheless. In 1993, he wrote and starred in a film called "Soft Top Hard Shoulder," and went straight on to creating a short called "Franz Kafka's It's A Wonderful Life," which starred Richard E. Grant. That film, about writer Franz Kafka trying to find inspiration as he's writing his famous novel "The Metamorphosis," ended up winning Capaldi an Academy Award in 1995 for best Short Film (Live Action). 
The Independent reports that he then sold a script to Miramax, "Moon Man," which never got made. "I thought I was going to be Ridley Scott now, or Steven Spielberg, and I flew over to New York to set up production and then they said they're not going to do it. It was over," Capaldi said.  His next produced script, "Strictly Sinatra" in 2001, was a flop, so he went back to acting. 
He did go on to write (and host) the 2009 BBC documentary "A Portrait of Scotland," which drew upon his connection with the Glasgow School of Arts, and the 2012 mockumentary "The Cricklewood Greats." He also directed that one, and helmed two other projects he wrote ("Franz Kafka's It's A Wonderful Life," "Strictly Sinatra"). He directed nine episodes of BBC Four's "Getting On," in which he briefly appeared as a psychiatrist because, he told the BBC, "we really didn't have anyone else around."
He played two other characters in the Doctor Who universe before landing the main role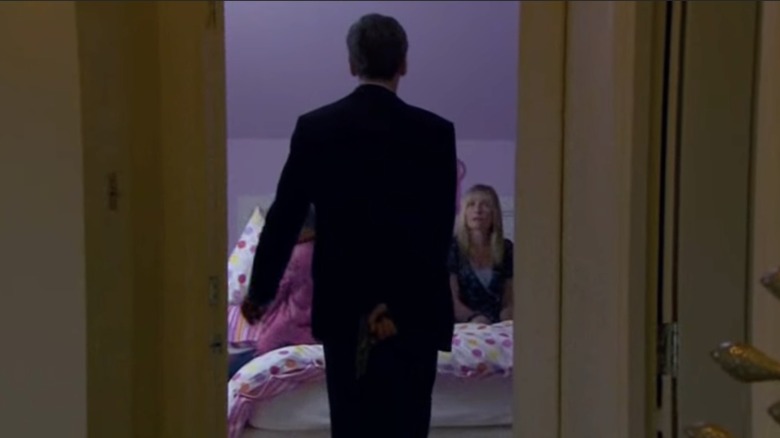 BBC
Prior to being cast as the Doctor, Capaldi was actually already a resident of the very "timey-wimey" universe depicted in the show. He first appeared in a Series 4 episode that starred David Tennant as the Doctor, called "The Fires of Pompeii." He played Lobus Caecilius, the father of a family that the Doctor gets involved with when the man unwittingly buys the TARDIS from a street vendor as a piece of "modern art" — and whom his companion Donna (Catherine Tate) begs him to save, as the volcano threatens to engulf the island. The Doctor acquiesces, and the two become synonymous with the "household gods" the family prays to following the disaster. 
He then appeared in the "Doctor Who" spinoff "Torchwood" during the "Children of Earth" season, playing a bureaucrat in an untenable situation named John Frobisher. While not exactly a main antagonist in that storyline, his actions (which basically amount to collaboration with the enemy) cause major obstacles for the Torchwood team led by Jack Harkness (John Barrowman). When prime minister Brian Green (Nicholas Farrell) orders him to sacrifice his daughters, Frobisher acts in desperation. 
Doctor Who's producers worked Capaldi's previous role into the plot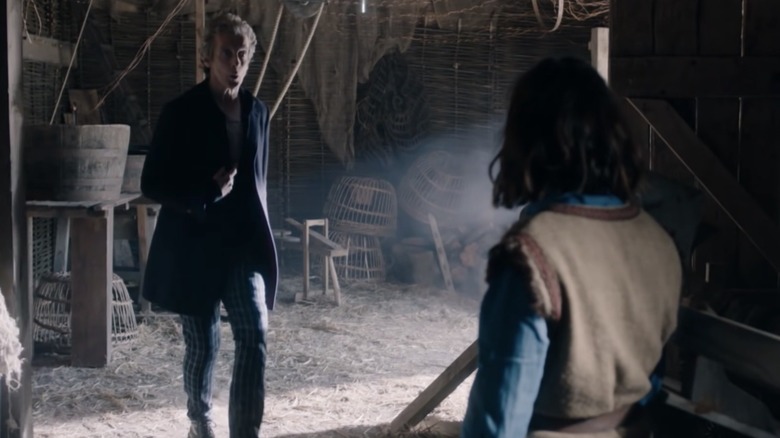 BBC
So, how did the show's producers then explain the third appearance of the same face within the "Doctor Who" universe? The 12th Doctor first ruminates about the source of his chosen facial features in his first full episode from the eighth season, "Deep Breath." Then, in the episode "The Girl Who Died," the Doctor has a revelation. "Why'd I choose this face?" he asks himself, as viewers see flashbacks to his adventure in Pompeii. "I know where I got this face and I know what it's for ... to remind me. To hold me to the mark. I'm the Doctor, and I save people."
Interestingly, Capaldi was previously asked to audition for the role of the Doctor years before that — for the 1996 television movie. You'd think that a fan of his caliber would jump at the chance, but the actor turned it down. At the DVD launch of his first season, he told media (via Wales Online), "I loved the show so much that I didn't want to have anything to do with it unless it was going to be me. I just didn't want to have the disappointment to go through all the palaver and the jumping through hoops for something I would never get because I knew it was an American pilot and they would go for somebody who was well-known and Paul (McGann) was and he was fantastic. So I said 'No, I won't come along.'"
He clearly changed his mind about being involved in the universe without being the Doctor, but he also got the role he wanted — eventually.